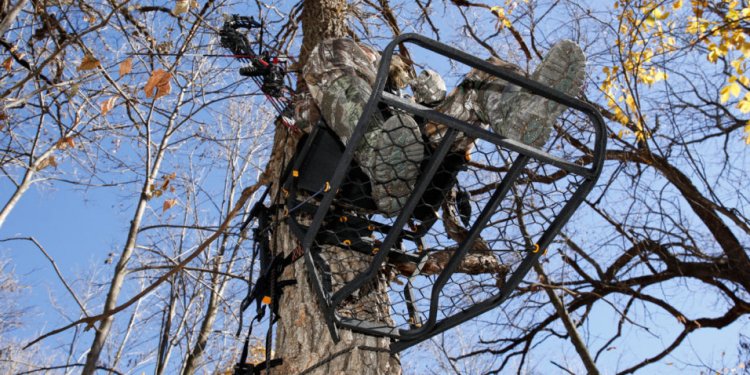 Climbing Tree Stands
Hazard:A weld in the treestand's frame can break during use, posing a fall hazard.
Remedy: Replace
Consumers should immediately stop using the climbing treestands and contact Summit for instructions on returning the recalled product for a free replacement.
Consumer Contact: Summit Treestands toll-free at 800-353-0634 from 8 a.m. to 5 p.m. CT Monday through Friday, or online at and click on recalls for more information.
Recall Details
Units: About 270
Description: This recall involves Summit Treestands Explorer SD closed front climbing treestands used for hunting. The treestands have a metal frame, a suspended foam-padded seat in a camouflage pattern material and weighs about 20 pounds. The seat platform on the stand measures about 38 inches long by 22 inches wide and the foot platform on the stand measures 36 inches long by 20 inches wide. The recalled stand can be distinguished from other models by the size of the platform and by a bar that encircles the user and folds down flat for packing. The model also includes folding stirrups.
Incidents/Injuries: None reported
Sold at: Sporting goods stores nationwide during .
Importer/Distributor: Summit Treestands LLC, of
This recall was conducted, voluntarily by the company, under CPSC's Fast Track Recall process. Fast Track recalls are initiated by firms, who commit to work with CPSC to quickly announce the recall and remedy to protect consumers.
About U.S. CPSC:
The U.S. Consumer Product Safety Commission is charged with protecting the public from unreasonable risks of injury or death associated with the use of thousands of types of consumer products under the agency's jurisdiction. Deaths, injuries, and property damage from consumer product incidents cost the nation more than $1 trillion annually. CPSC is committed to protecting consumers and families from products that pose a fire, electrical, chemical or mechanical hazard. CPSC's work to ensure the safety of consumer products - such as toys, cribs, power tools, cigarette lighters and household chemicals – contributed to a decline in the rate of deaths and injuries associated with consumer products over the past 40 years.
Federal law bars any person from selling products subject to a publicly-announced voluntary recall by a manufacturer or a mandatory recall ordered by the Commission.
To report a dangerous product or a product-related injury go online to or call CPSC's Hotline at 800-638-2772 or teletypewriter at 301-595-7054 for the hearing impaired. Consumers can obtain news release and recall information at on Twitter @USCPSC or by subscribing to CPSC's free e-mail newsletters.
Share this article
Related Posts