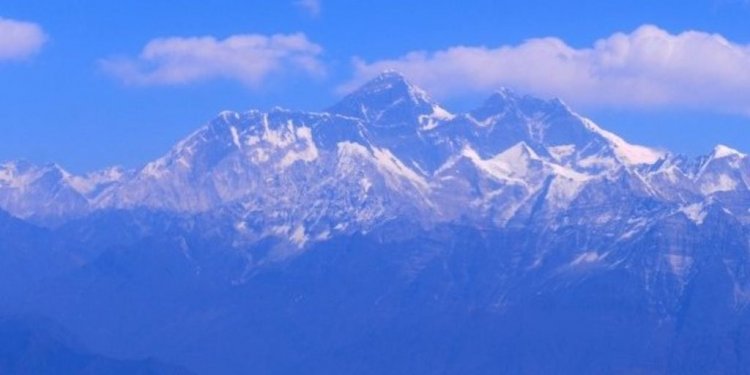 Routes to climb Everest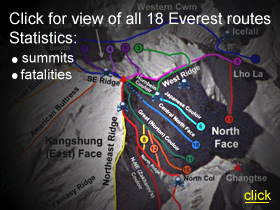 Chomolungma Nirvana - the Routes of Mount Everest
We saved the best for last. Pete Poston has created an outstanding map of all the routes on Mount Everest (including the Central North Face). Click the image to view larger, and then mouse over the route symbols and the fatality symbols for statistics (by AdventureStats).
But before you do, here's Pete's story:
Eighteen-fold Path to Chomolungma Nirvana – the Routes of Mount Everest
By Pete Poston for MountEverest.net
So you've decided that you want to climb Chomolungma, Goddess Mother of the World. As if climbing the mountain wasn't hard enough, now you have to decide which route you want to take to the top, because the path to Everest-Nirvana follows not an eightfold path, but is at least eighteen-fold (see accompanying routes graphic)!
Depending on whether you are a professional climber mounting your own expedition, or an amateur considering joining a commercial outfit, the smart climber considers the objective dangers as part of their decision.
In this article we will consider each of these fifteen routes in terms of objective dangers, successful summits, and as morbid as it may sound, fatality rates as well.
The Buddhist practice of Right Association
If you want to be guided to the top in a commercial expedition, then you need to practice the Buddhist practice of right association. In our context, this means joining a reputable commercial outfit. In terms of routes followed by commercial expeditions, the choices are basically limited to either the traditional Western Cwm-Southeast Ridge (route 1), or the classic Mallory route to the top following the North Col-Northeast Ridge (route 2).
These are good choices for the safety conscious, because the routes are well-known, the objective dangers well understood, and there are plenty of guides available who have climbed them before, like Apa Sherpa who has summited via the Southeast Ridge a staggering fourteen times!
Share this article
Related Posts