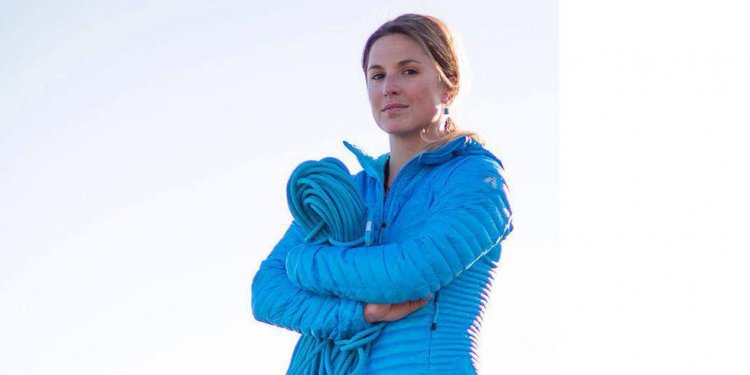 Who has climbed Mount Everest the most?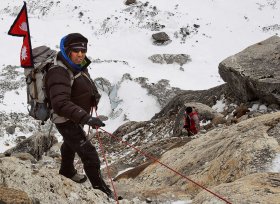 No human knows Mount Everest as well as Apa Sherpa.
That's because no man has climbed the mountain as many times as Apa has, for which he even got a nickname — Super Sherpa. Three years ago, he extended his own world record by making 21 successful ascents to the highest point on Earth. Since 1990, Apa has climbed Everest every year except 1996 and 2001, scaling the summit twice in 1992.
After the avalanche on Everest that killed more than a dozen Nepali mountaineering guides last month, Apa says the Everest should be left alone. In an interview with the Salt Lake Tribune, he said that the mountain needs to rest and that people can always try climbing it next year.
We asked Apa six questions on his ascent to the summit, the challenges that mountaineers face and why Nepal's government and the mountaineering community should pay attention to the Sherpas' plight.
Washington Post: What made you keep wanting to go back to Everest?
Apa Sherpa: Climbing the Everest is a routine for Sherpas like me. We are way behind in education. There are no other options to meet our most basic of ends. So, regardless of all the risks involved in climbing the mountain, the Sherpas do it. It was same in my case as well. People climb Everest once in a lifetime to experience the adventure. Things are different for us. We keep on climbing more than once because we have to do it.
I climbed the Everest the first 16 times to support my family. I took my children to the United States for their education. However, besides my need to support the family, I wanted to do something for the country. So I collected funds in America under the Apa Sherpa Foundation and in Nepal under Eco Everest Expedition. After this, I increased the number of my expeditions from 16 to 21. In 2008, I started a campaign to encourage the climbers to bring back their wastes along with them. I retired after I climbed for the 21st time. Since then, I have been working under my foundation in the education, health and environment sectors. My heart aches when Sherpas, who carry luggage twice their own weight, lose their lives.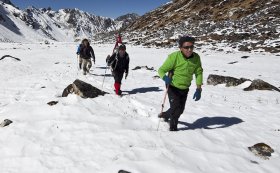 (Watch a video from 2010 in which Apa explains how he plans to climb the deadly Khumbu icefall)
What was the biggest difference between the time when you first climbed the peak and the time you last climbed it? Can you describe the emotions, physical challenges you had to go through?
It's never easy to scale the Everest. But the technologies that have changed now have made things different. When I started climbing in 1990, all we had in the name of technology was a short-range walkie-talkie. We had no Internet, and we had no access to weather reports.
Since 1990, I have climbed Everest once a year. I climbed it twice in 1992, and I did not climb in 1996 because my family requested me to stay at home that year as we were building a house for ourselves.
The only major difference we have now while climbing the Everest is weather. We can now buy weather reports from America, Switzerland and India, among others. Such are our advancements in technology that I called my family in America from the summit in 2011.
That said, it's never easy to climb. Earlier, there used to be more snow on Everest. Now lesser snow on the ice-rocks means higher chances of falling. Even the high human traffic creates problems today. For instance, we have to wait at the Hillary step if the traffic is too high up there. This may result in shortage of oxygen, and the risks of sustaining frostbites are very high when you are running out of oxygen.
Share this article
Related Posts