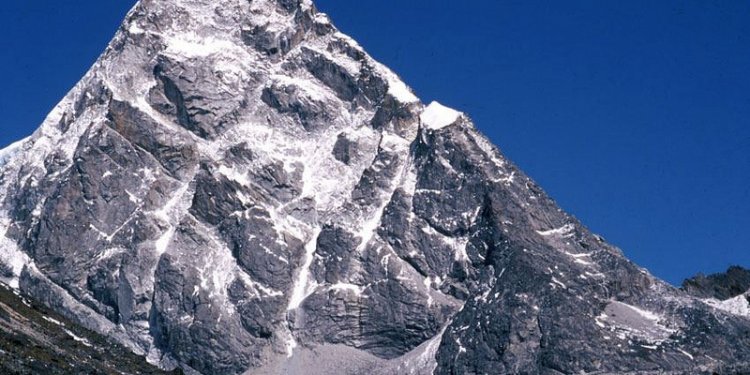 Why climbing Mount Everest?

Safety is RMI's number one priority and nothing trumps its importance.
The most experienced and renowned guides in the profession.
Our guides are well regarded climbers and mountaineering instructors. They are highly trained in technical rescue and in wilderness and mountain medicine.
Small team ratios of 3:1 climber-to-guide and 1:1 climber-to-Sherpa.
Small team ratios facilitate stronger team dynamics, excellent communication, and individualized attention.
RMI is involved in every step of the planning, preparation, and packing of our expedition.
Our behind-the-scenes logistics are not left to others, ensuring that each and every detail of expedition planning is addressed and met.
Small ratios and extensive logistical support give us a high level of flexibility and the individual focus needed on the mountain, from acclimatization scheduling to individual food preferences.
We intentionally avoid locking our expedition into predetermined itineraries and plans, choosing instead to tailor our climb to the needs of our climbers and the realities of the mountain conditions.
With years of experience, our phenomenal Sherpa staff are among the most experienced and well regarded in the Himalaya. They each have dozens of Himalayan summits and offer superior attentive support for our expedition.
Our Sherpa pursue ongoing technical training between expeditions under internationally accredited guide training programs.
All of our Sherpas receive equipment stipends as well as First Ascent down suits for each expedition and have complete access to medical consultation and care on Everest.
We outfit a comprehensive and comfortable Base Camp on the mountain, including heated dining tents, hot showers, communications tent with re-charging equipment, private toilets, individual sleeping tents, full-time cooks and great food, as well as a selection of entertainment and games.
We address all of the necessities, as well as luxuries, to keep our climbers comfortable and happy - and ultimately strong and healthy - throughout the climb.
Dedicated professional cooks at Base Camp and Camp 2 (ABC) who prepare excellent, healthy meals.
We have well-stocked inventories that include hundreds of pounds of specialty food brought from the U.S., offering excellent variety and selection.
A flexible and diverse menu accommodates our differing tastes and changing appetites.
A full time, dedicated, experienced Base Camp Manager supports our team throughout the entire climb.
Our mountain camps are well stocked with emergency supplies, and medical and rescue equipment.
A full-time cook staffs Camp 2.
Our guides are highly trained in medical and technical rescue and carry medical and rescue equipment with them at all times.
As partners with the Himalayan Rescue Association's (HRA) Everest Base Camp Clinic, our entire team of climbers, guides and Sherpa has unlimited access to the Clinic and consultation with their full-time doctors.
We use a private weather forecasting service with Himalayan experience to keep us current with the latest trends and developments in weather patterns throughout the expedition.
All of our climbers, guides, and Sherpa are outfitted with personal radios.
We provide access to phone, email, and satellite communications at Base Camp.
We can help arrange personal cell phone, email, and satellite communications equipment as needed.
RMI posts daily expedition updates to our blog, including photos and audio dispatches, to help keep friends, family, and general followers up-to-date with the latest progress of the climb.
Share this article
Related Posts