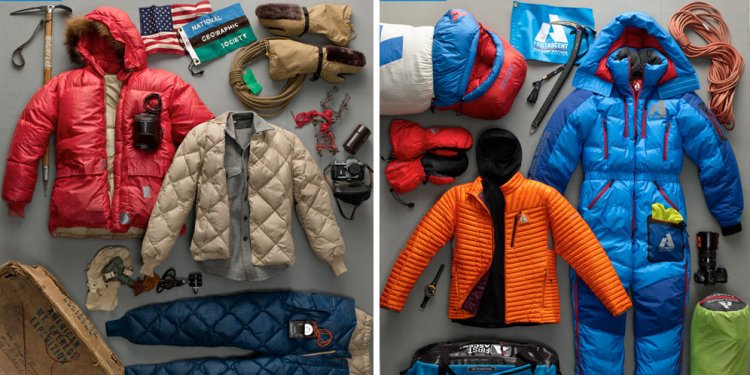 Mountaineering gear
Engineered to withstand fierce winds and substantial snow loads, mountaineering tents can be used in any season. Their chief function, though, is to stand firm in the face of seriously inhospitable weather, principally in winter or above the treeline.
They use more poles and heavier fabrics than 3-season tents. Their rounded dome designs eliminate flat roof spaces where snow can collect. They offer few mesh panels and rainflies that extend close to the ground. This hinders ventilation and can make them feel warm and stuffy in mild weather. But when foul winds begin to howl, a 4-season tent provides a reassuring place of refuge.
Packs for Mountaineering
While you may be able to use your backpacking pack for mountaineering, there are specific features on mountaineering packs that make them ideal for climbing peaks.
Most mountaineering packs (also called climbing packs) have a narrower, sleeker profile to allow unencumbered arm movement while you're scrambling, climbing and handling ropes. Many of them also allow you to strip down the pack by removing the lid, framesheet and possibly the hipbelt to reduce the weight and size for summit attempts.
Mountaineering packs include ice axe loops for attaching one or two axes, and many of them have gear loops for clipping on extra gear, and a reinforced crampon patch that prevents crampon points from tearing holes in the pack.
Tip: Bring a couple heavy-duty trash bags along. You can use them as a pack liner and pack cover to keep your gear dry in a rainstorm and also to protect your pants while you're glissading down snowfields.
Insulation Considerations for Mountaineering
Down vs. synthetic: When shopping for an insulated jacket and sleeping bag, you'll need to decide between down and synthetic insulation. Both down and synthetics work well and will keep you warm. Down is lighter weight and more compressible, saving weight and space in your pack; however, it's also more expensive. Synthetics tend to perform better when wet and they are usually less expensive.
Water-repellent down: Many manufacturers now offer jackets and sleeping bags with water-repellent down. Compared to regular down, water-repellent down is typically able to retain more loft and warmth when damp. However, if you're caught in steady rain, the water-repellent down will eventually get wet and lose loft, so you need to try to keep the down as dry as possible. If you expect to be out in consistently wet weather, synthetic insulation may be a better choice.



Share this article
Related Posts