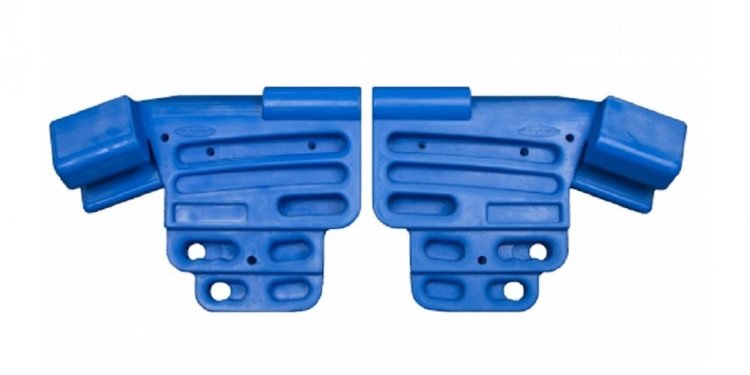 Rock Wall climbing gear
Special shoes for rock climbing differ from mountaineering and hiking boots in many important aspects. Many types and styles of rock climbing shoes are available and are listed below with their features.
Breakdown and explanation of the sections of the rock climbing shoe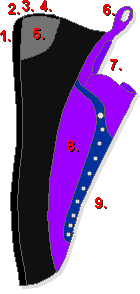 There are different features that would make a style or brand better suited for the different forms of rock found in mountaineering, and the different types of climbing.
1. Rubber. All rock climbing shoes have sticky rubber on the sole and rand. The qualities of rubber vary. The difference in rubber characteristics is minor. Hard rubber will perform better for edging and small ledges. Soft sticky rubber performs better on face climbs.
2. Sole. The sole of the shoe is several millimeters thick. The thickness varies to provide firmness or flexibility.
3. Midsole. This section is composed of a thin layer of material between the sole and the upper section . The rock climbing shoe gets its stiffness from the midsole.
4. Heel Rand. A thick piece of rubber that extends from the sole to the top of the heel. The heel rand is used during heel-hooking. It provides protection to the shoe and traction on the rock.
5. Heel. The shoe's heel should cup your heel. Some don't cover the sides of the heel with rubber. This generally provides a better fit, but makes heel hooking a little more difficult.
6. Heel Loop. A rock climbing shoe should fit tight. To get tight shoes on your feet, you will need a loop on the heel.
7. Lining. The inside of the shoe may be padded or bare. Padding makes the shoe feel more comfortable but adds a little weight.
8. Material. The side leather or cloth should breathe. This will allow moisture from your foot to escape and keep your foot securely in place.
9. Lacing. Both lace up and slippers are popular, and perform equally well. It is a matter of preference whether you get a lace up or slipper style rock climbing shoe. The real test is if your foot feels comfortable, tight at the toes, but not painful.
10. Curvature. The curvature is the shape of the "last". This is the basic shape of the shoe. The shape of the last provides advantages for different types of climbing. A down turned toe gives the rock climber support for edging and technical climbing. A "last" that shapes to the foot is more comfortable and performs better for longer climbs.
Share this article
Related Posts