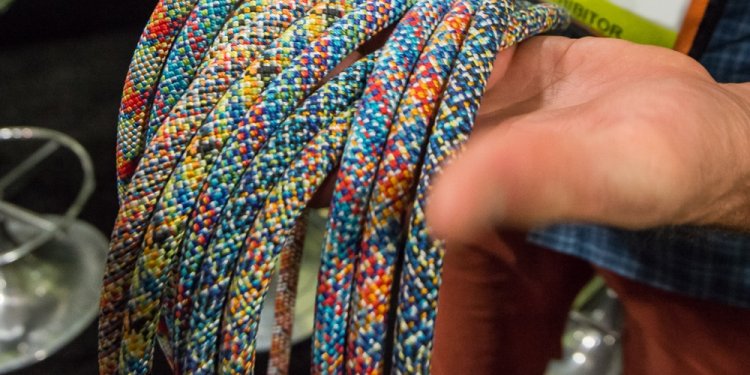 Rope climbing gear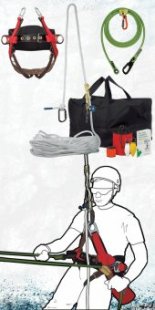 WesSpur's Entry-level Rope Climbing Kit
We've put this kit together to be the best starting kit on the market. This is our recommended kit for entry-level climbers who have a limited budget but nonetheless want quality equipment.
For 2016, we've upgraded the rope in this kit to Samson Arbor-Plex, and switched out the split tail system for an eye and eye prusik (the same climbing system as the Deluxe kit.) These changes make ascension and canopy movement smoother, and offer more versatility in how you use your kit. A Hawkeye rope flipline is included to aid in work positioning. The split-D harness is durable and comfortable, featuring a wide, padded back and a leather-lined sit sling.
This kit includes the Tree Climbers Companion, an essential guide to knots, techniques, safety, and gear for beginning climbers. It also comes with a burly, military-style duffle bag to hold all your equipment, and built-in savings.
Your kit will contain:
Wide-back harness
150' Arbor-Plex rope
9mm RIT Prusik
2 RockO carabiners
SMC micro pulley
164' Excel throw line
10 and 12 oz weights
Throw line pouch
12' Flipline (16-strand Rope)
US Standard adjuster
1 Pirate carabiner
Tree Climber's Companion
Canvas gear Bag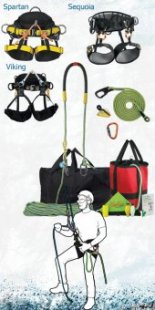 Rated: Excellent Review by: Mike & Sommer author
"This kit is great for us beginners. Within an hour we were off the ground enjoying our new hobby."
Rated: Excellent Review by: Al
"We ordered this kit for some additional tree work we were doing on our property and quite frankly we should have bought it sooner. After spending dollars elsewhere for equipment that really wasn't suited for the job we bought this one...WOW! It really is a complete tree kit all you need is your PPE and a saw! The best thing was that if an item in the kit needs to be upgraded just call WesSpur before you order and they will swap it out for you - no problem. Have to agree with the first review for simplicity and price this is quite a bargain."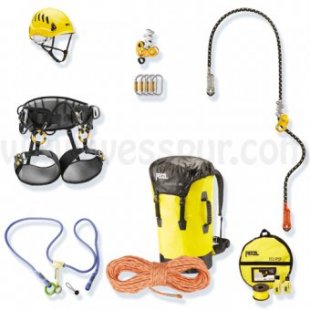 Rated: Excellent Review by: Arboristnoob
"While I have not purchased this kit yet, I have looked up each contained item separately. I've done the math, and this kit is 0, compared to 9 for each of the contents separately. That's a 9 savings! This kit is definitely a good deal! "
Kit with Viking Harness
KIT24-V
Kit w/ Small Harness
Kit w/ Medium Harness
Kit w/ Large Harness
Kit w/ XL Harness
Kit with Spartan Harness
KIT24-S
Kit with Sequoia Harness
KIT24-P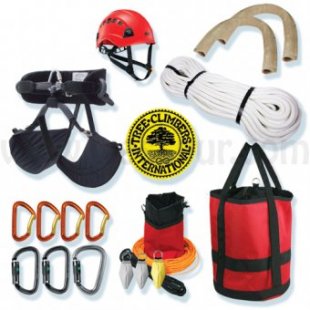 Kit w/ Size 1 Harness
Kit w/ Size 2 Harness
The perfect kit for professionals who spend a lot of time in the canopy.
ArborMaster® Bigfoot 16-strand line is a high-strength, high-performance arborist climbing line with great hand feel. The new Edelrid Cambiumsaver has been added as the kits friction saver, and the throw line has been upgraded to Samson Zing-It, a popular, high-strength throw line. A canvas gear bag, WesSpur rope bag, and throw line cube provide storage and deployment solutions.
You have 3 high-performance saddle options for this kit:
The Viking is a professional harness that is a great all-around workhorse.
The Spartan is modeled after the Buckingham Ergovation, and is a heavy-duty, super comfortable saddle.
The Petzl Sequoia is lightweight, sleek, and low-profile.
Choice of harness
3' Cambiumsaver
150' Bigfoot Rope
CR Micro Pulley
12' Hawkeye Flipline
Rockgrab 90 Adjuster
Pirate Carabiner
190' Zing-It Throw Line
10 & 12 oz Vinyl Throw Weights
WesSpur Throw Line Cube
WesSpur Medium Rope Bag
Canvas Gear Bag
Share this article
Related Posts