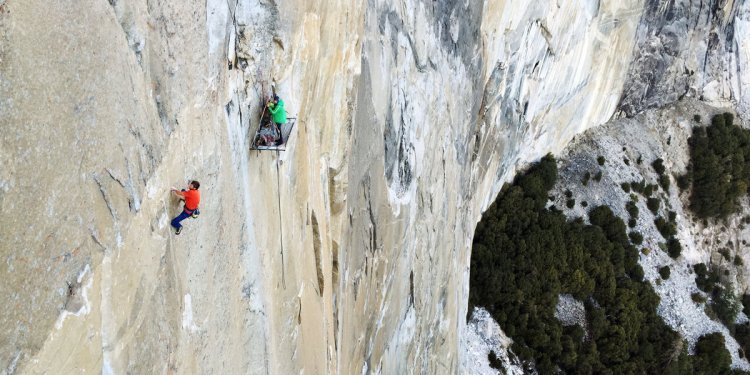 Hardest Climb in the World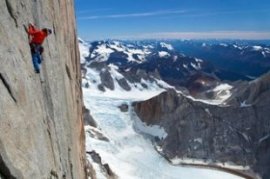 Trad: Rhapsody, E11 7a or 8c+, Dumbarton Rock, Scotland, Dave MacLeod
In 2006, after 70 days of effort on the route over two years, Scottish climber Dave MacLeod finally finished the legendary testpiece at his home crag: Rhapsody, the world's first E11 traditional climb. It was difficult, tricky climbing (8c+) on 'trad' – that's using natural protection and no bolts, except there was no gear for the last 60 feet.
MacLeod took dozens of huge falls on his many attempts, and, after finishing the route, he said: "The other aspect is the danger. It's a 60-70ft (20m) fall from the top, sometimes glancing off the belay ledge. The swing in is extremely violent, sprained ankles, badly cut and bruised feet, legs and back and a crushed calf muscle were experienced."
David Lama on the head wall of Cerro Torre © Lincoln Else/Red Bull Content Pool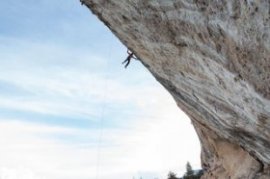 Alpine: Compressor Route, Cerro Torre, Patagonia, David Lama
After more than three years of trying, David finally realised his dream of becoming the first person to free climb the infamous Compressor Route on Patagonia's Cerro Torre in 2012. The 22-year-old conquered the east face of the 3, 128m-high mountain using only natural pro with partner Peter Ortner. "It's probably the greatest adventure in my life, " Lama said afterwards. Check out the film here.
Just hanging out © Boone Speed
Sport: La Dura Dura, 9b+, Oliana, Spain, Adam Ondra and Chris Sharma
La Dura Dura became a focal point of hard sport climbing in 2012 and 2013, and even the subject of a film, when two of the world's strongest sports climbers chased the first ascent.
Chris Sharma heading up La Dura Dura © Boone Speed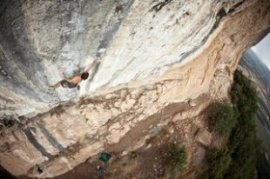 Chris Sharma bolted the line, and encouraged Adam Ondra to try it. Ondra eventually sent it in February 2013 after about 70 attempts and called the route 9b+. Sharma sent the route six weeks later.
Tim Emmett on Wolverine at Helmcken Falls © Courtesy of Tim Emmett
Ice: Wolverine (WI11), Helmcken Falls, British Columbia, Klemen Premrl and Tim Emmett
When Will Gadd discovered the spray ice at Helmcken Falls in Canada, he announced it was the coolest ice he'd ever seen or climbed anywhere in the world, and put up a climb he and Tim Emmett rated WI10, a full two grades higher than anything ever climbed – there are no WI8 or WI9 ice routes anywhere. In February 2012, Emmett and partner Klemen Preml returned to Helmcken Falls and bolted and climbed Wolverine, a route they rated WI11.
Bouldering: Gioia, V16, Varazze, Italy
When Christian Core put up Gioia in 2008, he proposed the rating of 8c (V15), and it stayed that way as it awaited a second ascent. In 2011, Adam Ondra spent 11 days working the problem, and finally succeeded, suggesting the problem be upgraded to 8c+. Nalle Hukkataival notched the third ascent in February 2014, and has yet to suggest a grade, only saying, "It's certainly harder than most 8cs out there. The real question is, is it a full grade harder?"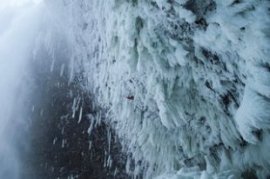 Mixed: Iron Man, M14+, Eptingen, Switzerland
Robert Jasper's Iron Man, at M14+, is the hardest mixed climb in the world, but also challenges the definition of what a "mixed climb" is – Jasper first climbed the 40m line when no ice was present. Call it a mixed climb or a "dry-tooling route", it's hard.
El Capitan, on the left, looms over Yosemite © De Agostini/Getty Images
Aid: Nightmare on California Street, A5, El Capitan, Yosemite
Still unrepeated as of 2014, Warren Hollinger and Grant Gardner's several aid climbs fall in the A5 range, where a fall means death. Two climbs in Utah's Fisher Towers have been proposed at A6 and A6+, but then downgraded. So there is no "world's hardest aid climb, " only contenders. Yosemite's Nightmare on California Street is a strong contender.
When big-wall legend Ammon McNeely finally repeated nearby El Cap route A5 route Wings of Steel in 2011, the route's first repeat in 29 years, he wrote that it would be the hardest, but because of the 20 falls he took on the route, all of which were relatively safe. Nightmare on California Street, he wrote, had hard moves – and had dangerous falls. Which is why it hasn't been repeated, yet, since it was put up in 1998.
Share this article
Related Posts