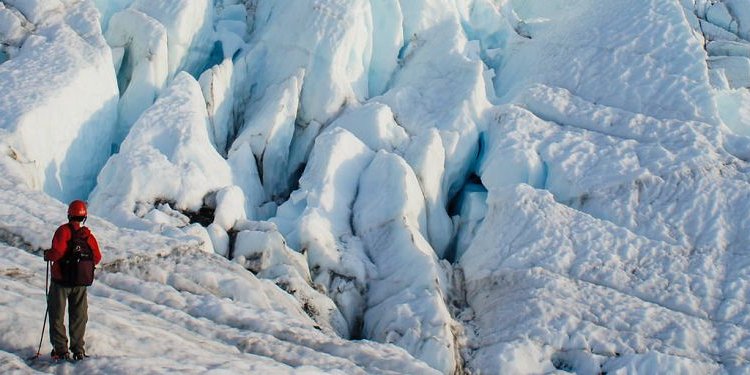 Alaska Ice climbing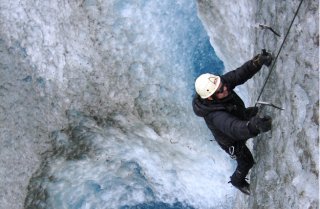 (1 – 5 days)
These courses are designed to give participants a hands-on introduction to ice climbing. Building solid climbing skills and confident climbers is the main focus. The courses are conducted in the heavily glaciated mountains surrounding Haines. This is ideal terrain to practice and hone climbing skills amidst a spectacular alpine backdrop! A partial list of the climbing skills covered includes anchors, belaying, rope management, knots, protection systems, rappelling, and crampon and ice axe technique. The two and three day programs provide an excellent introduction to ice climbing. The five-day programs include all of the skills covered in the two and three-day courses, and progress to more advanced techniques such as the fundamentals of lead climbing. These programs are designed to give participant's solid climbing skills and judgment in a safe, fun, environment. Our low instructor to student ratio allows us the flexibility to accommodate individual goals and expectations. No previous experience is necessary.
Hey AMG,
My name's Eric, and I spent 5 days this summer on the Matanuska Glacier with 4 of your climbing guides. Just wanted to say it rocked, and thanks to Billy, Daymond, and Bill for leading an awesome trip!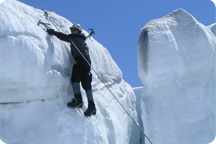 Eric L.
Highlights
HAINES: Haines Alaska is the starting/finishing place for this trip. Haines is a small community located along the majestic fjords at the top of the Inside Passage. The natural beauty and wilderness access in Haines have given it the much-deserved reputation as a center for wilderness adventure in Alaska.
GETTING TO THE MOUNTAINS: This trip is scheduled to use ski planes to access the mountains. The flights are beautiful and take us over some of the most heavily glaciated terrain in the world! If for any reason we are unable to fly into the mountains, we will use private vans to transport us to alternate sites in nearby northern British Columbia, or, the Yukon Territory, in Canada.
THE MOUNTAINS: Haines borders Glacier Bay National Park. The Park and the adjacent 27 million acres comprise the largest protected wilderness area on the planet. It is a heavily glaciated landscape containing several of the largest non-polar ice caps in the world. This terrain is uniquely suited to learning mountaineering skills, and the climbing here is truly spectacular!
OUR GUIDES: Alaska Mountain Guides & Climbing School Inc. instructors and guides are professionals. They bring a wealth of experience from guiding throughout Alaska, and the world, to every trip. All of our guides are also climbing instructors who genuinely enjoy sharing their knowledge. Their skill and experience insure our guests the best possible experience during their trip. Your safety and enjoyment are their primary goals.
INCLUDED: Ground transportation in Haines, all food during the trip, guides, and all group climbing and camping equipment.
NOT INCLUDED: Airfare to/from Haines, hotel and food in Haines, and personal equipment.
ADDITIONAL TRAVEL OPTIONS: Haines based trips have the option of including rafting, sea kayaking, and mountain bike trips. Please contact us if you would like any further information.
Share this article
Related Posts