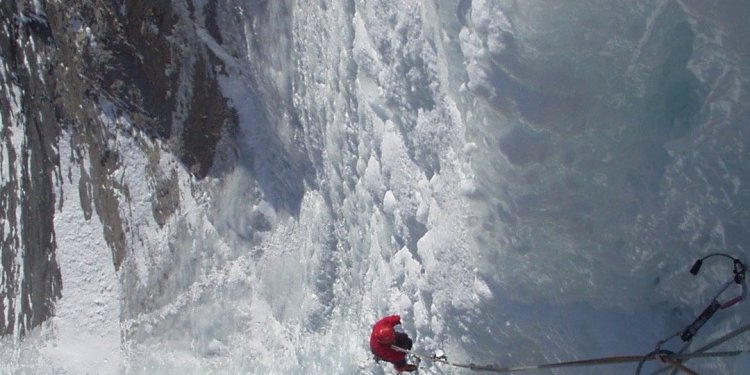 Colorado Ice climbing conditions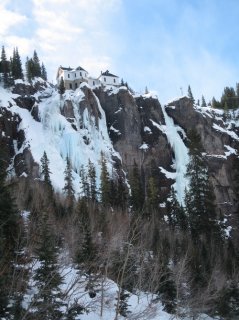 2. Cascade Canyon - is a small but exciting area close to Hwy 550. The area is about 1 mile north of the Durango Mountain
There are many short climbs here, and it is a great place for top roping or when little time is available. Lots of curtains,
hanging pillars, and cool mixed climbs.
Bridalveil Falls
1. Bridalveil Falls WI5+/6 - a climb of legendary stature and beauty, first ascended in 1974 by Jeff Lowe and Michael Weis.
2. Bear Creek Canyon Falls WI3/5- approach from town of Telluride. The climb follows the Bear Creek drainage. The gorge is full of challenges for beginners and experts alike. The approach is short and if you get cold the lovely town of Telluride with its cafes and pubs is only a short walk away. You can top rope the route (the approach is from the top), and it almost resembles a miniature ice park.
Guiding is not permitted here (Bear Creek Preserve). The trail is very popular in the summer with hikers.
3. Ames Ice Hose WI5/6 M6 - this climb is located at Ophir/Ames area, another classic beautiful line, very popular. Many times the first pitch is done in rock shoes, but some years the first pitch comes in fat and is a pure ice climbing joy. They say that the first pitch is generally psychological and physical crux pitch if not enough rice. They recommend to bring a head lamp since many parties underestimate the time needed, however I have done it in 2.5 hrs when ice was in great conditions. SP site for Ames Ice Hoses.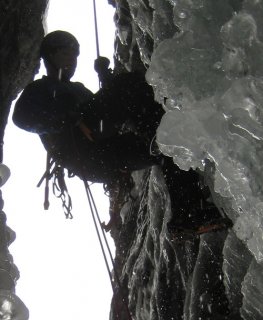 4. Ames Falls WI4/5 - located behind the power plant in Ames. There are upper and lower falls, you can towrope both falls. The Lower Falls are easer and offer WI3 climbing, the Upper Falls are steeper and slightly shorter WI4 and about 30 meters long. Approach is about 15 minutes. Fun outing.
(?December). November - you can just drive in, later on during the season (typically starting from December) expect a long approach on skis, snowshoes and an avalanche risk. It is 4.5 miles from the Hwy 550 to the campground.
1. Campground Couloir WI4 - This is striking blue strand of ice visible from the road. The first 3 pitches are WI4, and most parties rappel the route from here. There is some WI2 ice above.
2. Direct North Face WI4/5 - this route wanders up thinly iced slabs and ramps, which lead to steep pencils of ice dropping over short rock bands. There are usually about five steps of ice, any of which may be easily walked away from.
3. Snowblind WI4 - This is obvious ice filled chimney that drops off Peak 12, 579. It is much longer than it looks from below. Most parties do the first five pitches.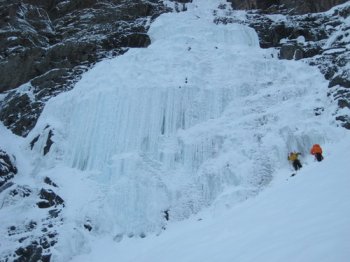 4. Cataract Creek WI 3/4 - This streambed can be fun in the early season when there isn't much snow to slog up between icy steps and chimneys. Descend by walking off to the left of the cliff.
5. Sundance WI4/5 - This is the waterfall that should be visible from Hwy 550. One very long rope length of WI4 or WI5 climbing. Descend by walking off to the right.
1. Whorehouse Hoses WI4/5 - this climb is located in a deep chimney system that ices up pretty thickly. The route follows this chimney, and the first pitch is 68 meters long. Bring 2 ropes to rappel down (you can leave the 2nd rope at the top of the first pitch). There are short walks in between the pitches, and the whole climb is incredibly scenic.
6. Highway 66, AKA Highway to Hell WI4 - slightly easier than Stairway to Heaven. Located on the right side of Stairway. Climb is about 3 pitches long.
7. Hoser's Higway WI5 - located left of Stairway to Heaven, climbs up Peak 13, 419. The crux is a thin pillar.
8. Bad Ass Pencil WI5/6 - this climb is located in Eureka Gulch, on the left (east side). This strenuous pillar does not form every year.
Ouray Area Ice
Rapping through the Skylight
Gravity's Rainbow in super fat condition 1/2008.
1. The Ouray Ice Park - this is the most popular area in San Juans for climbers off all abilities. You can top rope many climbs, more than 200 different routes right next to each other. It a free park. Supporting the park with a membership is strongly advised to keep it open and operating. The ice is farmed from water running along the top of the gorge and sprinkling it overnight. Ice farmers turn the water on around 4 PM (time to leave).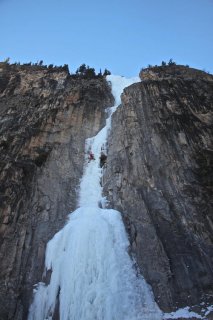 Annual Ouray Ice Festival - held every year in the beginning of January is very well attended with famous professional climbers.
The ice park was developed by tapping into the aqueduct above the canyon and allowing the water to flow and freeze along the canyon's length. It is absolutely amazing place, unfortunately getting crowded, especially on weekends.
2. Camp Bird Road Area - another very popular area for ice climbing located just a little bit above the town of Ouray. Great place if you get tired (or need a break from the ice park). Many different routes, you have to be able to lead climb, and many dry tooling routes too. See this SP site Camp Bird Road for more information.
3. Engineer Pass/Red Mountain Pass Area - beautiful road between Ouray and Silverton. Many of these climbs face south and come in only for a short period of time. The closest to town would be Horsetail Falls - very popular climb, get there early. Expect lots of spectators from Hwy 550.
4. Kennedy Gully - became really famous after this You-Tube video is located at the Engineer Pass turn-off. The route comes in yearly only for a short time around x-mas and New Years. It gets a lot of sun and melts out quickly.
5. Gravity Rainbow WI5 - faces south and does not come in every year, and if does it is usually only for a couple of weeks. Jack Roberts says in his book Colorado Ice "When in shape, this is among the top five routes in San Juans". The approach is short and is the route is nicely visible from Million Dollar Highway.
6. Dexter Creek Slabs WI3/4 - located just north of Ouray. Another popular climb, relatively wide, 2 parties can climb next to each other under good conditions. Usually done in 3 pitches. Descend either rappel or walk-off.
3. Slumgullion & Spring Creek Passes - located southeast of Lake City are two moderate and popular waterfalls that are found just off Hwy 149 near Spring Creek Pass.
Spring Creek Pass is the southern portion of a double summited pass that links Lake City with Creede, South Fork, and Hwy 160.
- from Lake City travel south of Hwy 149 toward Creede for 21.5 miles. Turn left on FR 510 at a sign for "Falls". Walk or ski 0.5 miles
Share this article
Related Posts