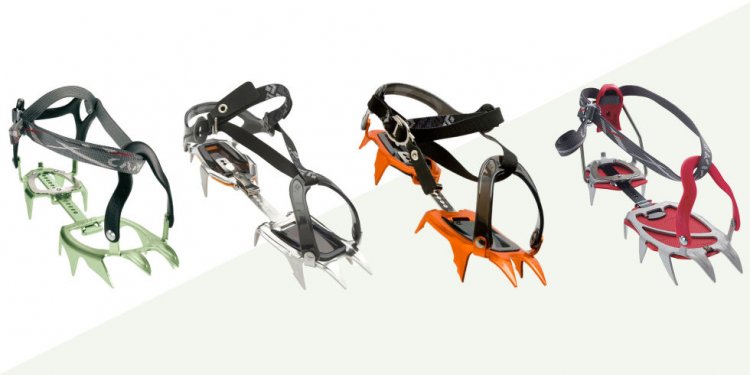 Crampons for Ice climbing
FLEXIBLE Flexible, or "hinged, " crampons are best for climbing snow and walking on glaciers. They are designed to flex with the boot, making walking more natural. If you plan on more hiking than technical climbing, flexible crampons will really shine. Of course, you will only be able to take advantage of flexible crampons if you have a flexible boot. Most ice-climbing boots, especially the more technical models, are very rigid. Still, most boots flex to some degree. Flexible crampons can be used on technical vertical ice, but only with a very rigid climbing boot, and even then they don't climb as well as rigid crampons.
RIGID Rigid crampons are the most technical ones, and the model you will want for vertical ice and modern mixed, or essentially rock climbing in ice gear with the occasional patch of ice. They work for mountaineering and alpine purposes, though their stiffness will make walking more strenuous. However, your boot will likely be rigid, so it won't really matter anyway. Rigid crampons are designed to provide a stable platform for you to stand on, reducing fatigue and increasing precision.
ATTACHMENT Three different methods attach crampon to boot: step-in, straps and hybrid. The attachment system you choose will depend on your boot. Boots with toe and heel welts are the most versatile, as they accept almost any crampon. Boots without welts are lighter, less technical models (but more comfortable to hike in), and will only accept crampons with straps, or perhaps hybrid models.
STEP-IN This is the easiest, most precise and fastest attachment system. A wire toe bail fits into the boot's toe welt, and a heel cable or wire bale with a tension lever snaps into place on the heel welt. Typically, the crampon comes with an ankle strap that snugs the whole system down and prevents the heel lever from accidentally popping loose. Make sure your boot and crampon match perfectly—some crampons fit certain boots better. Step-in attachments are found on both flexible and rigid crampons, and nearly all technical crampons, or those meant for water ice and mixed, are step in because this system provides the most solid and wobble-free attachment.
IT IS CRITICAL THAT YOU TEST YOUR CRAMPONS ON YOUR BOOTS BEFORE YOU BUY. Unlike ski bindings which are universal and conform to the same DIN standard, crampon bindings vary drastically from one model or company to the other. Some crampons, due to their shape or height or thickness of the bail won't work on some boots—they'll pop off under the stress of frontpointing. This is a big problem that manufacturers are only now beginning to address; some offer different bails for different models of boots.
Share this article
Related Posts