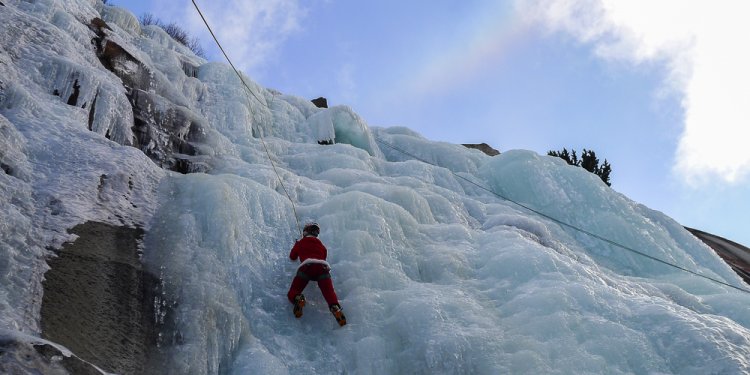 Ice climbing California
We are lucky to have in our backyard California's premier ice climbing locales: June Lake and Lee Vining Canyon.
June Lake is an ideal place to start learning the skills since the flows offer a variety of terrain and generally good climbing conditions.
Once you become more comfortable balancing on the front points Lee Vining is the place to go to hone your ice skills on icicles and pillars ranging in steepness from 70 degrees to vertical. Legend has it that it was in Lee Vining that Yvon Chouinard developed his ice climbing tools that started the modern ice climbing revolution.
Weekends are often busy at the ice and so we run holiday and weekend ice trips at a lower ratio than weekday trips. Small groups help with safety and crowding concerns since ice is a limited commodity in sunny California.
We have a variety of ice climbing courses and programs to suit all objectives and skill levels and for all programs we provide necessary climbing equipment including the latest in ice tools, crampons, helmets and harnesses.
We divide our programs into two types:
"" These are programs that get you started with the fundamentals.
"" These are programs that get you out using the skills you acquired in the initial courses and putting them to use, solidifying them and practicing them.
Acquiring the Skills
These are more formal instruction courses where you are taught the skills in a structured manner with as much time as we can to practice them. Such skills are the foundation upon which to grow and expand your abilities.
Introduction to Ice Climbing — 2 Days
Our complete progression takes you through all the skills at the heart of modern ice climbing. From flat footing to front pointing, we'll give you a thorough introduction to climbing technique as well as opportunities to use the latest specialized equipment. Although these are group lessons we like to keep the group size small with usually no more than six participants and two guides to a group. This allows you to get in more climbing then you would with a large group and rather than standing around in the cold belaying we aim to give you maximum time on the ice. Prior rock climbing experience or familiarity with rope handling, knots and belaying is required.
A Day on the Ice — 1 Day
If you have climbed ice before but want to get back into the swing of things (so to speak) this one-day program will get you there. We choose location and climbs depending upon what the group has done before, review the techniques and then cut you loose to climb until you can climb no more.
Applying the Skills
Once you have learned the skills you still need to learn how to incorporate them into your climbing. These peak ascents and seminars are designed to take you to the next level under the tutelage of an expert guide and instructor. You will push your limits in a learning environment, expanding your skills and becoming more comfortable in the mountains.
Advanced Ice Climbing — 2 Days
The advanced programs are for those who have climbed before and want to get out onto steeper terrain as we concentrate on techniques for continuous vertical terrain with small stances and more demanding climbing. This program is in the Lee Vining area.
Private Ice Climbing
If you have had your eye on one of the long Bard-Harrington Wall routes or want to climb long routes a private trip this is the way to go.
Related Programs
In the spring we offer Snow Skills Course. The heart of this course is ascending and descending snow, and using the ice axe to stop a slip or fall on snow. Learning to ice climb doesn't cover these skills and it's quite conceivable, common even, to find an experienced ice climber who doesn't know how to self-arrest with an ice axe.
Alpine Ice Climbing: Fall is the gully ice climbing season in the Eastern Sierra. With world-famous climbs such as the Mendel Couloir, the V-Notch, and the U-Notch, the Eastern Sierra is a fantastic alpine ice climbing destination.
Share this article
Related Posts