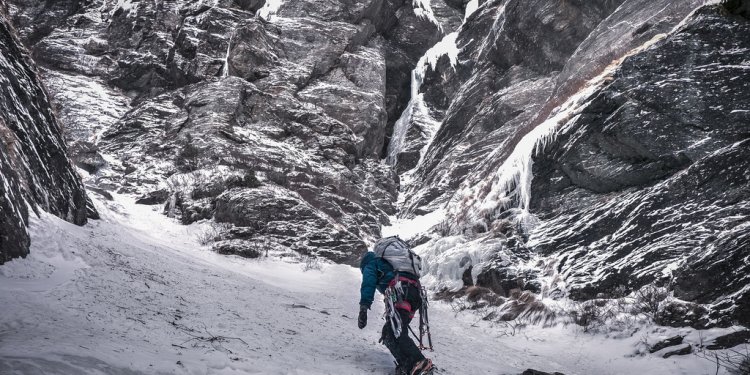 Ice climbing Vermont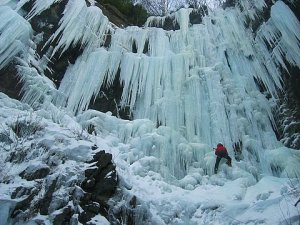 Come winter, the spidery fractures of Vermont's schist spin a web of ice delights that will capture any ice aficionado. While the choices are extensive, fortunately whatever locale you settle on, you'll find yourself surrounded by unsurpassed, stark, and serene winter vistas. Locales like Smugglers Notch offer easy access for the winter weekend traveler looking to mix snow and ice. Unsurpassed views of the Notch's rugged, rocky expanse meld in with that of the Stowe village below. Bristol Cliffs and Lake Willoughby offer similar access combined with nothing but wildness. Here's a bit more about some of our select ice picks:
Bolton Quarry—Just 25 minutes outside of Burlington, Bolton Quarry's fractured flanks now provide ample avenues for steep ice. Columns, corners, and curtains of ice in the WI3-5 range stand side by side, waiting to challenge you to your fullest pickin' potential.
Bristol Cliffs—Just west of Vermont's Green Mountain's rises up the Taconic Range. These shaggy mounds of stone and ice offer jaw-dropping views of farmland, Lake Champlain's expanse, and the Adirondacks beyond that etch your memory for long after the sun sets on your climbing day.
Smugglers Notch—Craggy, steep, and narrow, it feels like you could stretch out a touch both sides of Smugg's steep aperture with two ice tools in your hands. During the winter months the road in the valley far below is closed to all but intrepid winter travelers. Ice climbers quickly find that the crags and cliff potentials abound. The Driving Force area offers top-roped climbing in the WI 2-3+ range. Ent and Elephant's Head Gully offer adventures at a similar grade, leading you up narrow ice-encased, mystical caverns for several pitches. Those more comfortable with the idea of hanging off of frozen water with sharp points of steel will enjoy Dave's Snotcicle (WI3-4) and the Blue Room (WI4). Whatever the objective, the reward of seeing Mt. Mansfield's snowy cap from this vantage point is ample reward.
Share this article
Related Posts