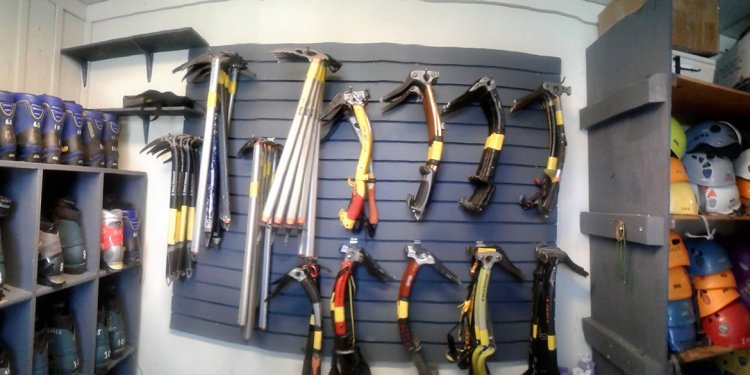 Used Ice climbing Gear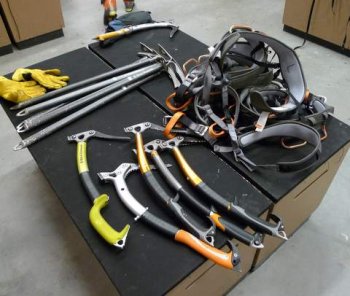 If you're a Gear Junkie, then Ice Climbing and high angle mountaineering may just be your kind of sport. The sheer amount of new gear you need to get started is dazzling, and can be confusing. It's one thing to take an ice climbing class at Eastern Mountain Sports or another climbing school where they loan you all the gear you need, but acquiring your own gear can be quite a challenge. It seems like you need to have slings, quickdraws, wire gate carbiners, ice climbing axes, ascenders, bent gate carabiners, wire gate biners, screw-gates, belay devices, static and dynamic rope, hollow core webbing, prusiks, cordelettes, and ice axes to do even simple climbs.
If you've just started ice climbing or are thinking about getting into the sport, here are some instructional videos that explain what gear you'll need and why it's important to have. However before you buy anything, get some qualified instruction and find some experienced climbers to climb with. Chances are they'll have enough extra gear to get you started, and they can also help you understand what the best cost/features trade-offs are.
Carabiners
There are lot of different kinds of carabiners used in ice climbing, from wire and bent gate carabiners to screw gates. They all have different purposes and limitations. Understanding what these are and when to use them is a foundational ice climbing skill.
Quickdraws
Quickdraws are used to guide a rope around obstacles and make it easier to pull through a series of anchor. They consist of two different kinds of carabiners attached with a piece of webbing and climbers usually bring a half dozen or more, depending on the route.
Static and Dynamic Rope
There are two main kinds of climbing rope: static rope and dynamic rope. Static rope has very little give in it, so it's good for rappelling. Dynamic rope has a significant degree of stretch in it which is used to brake a fall to prevent injuries. It is mainly used for ascents.
Slings, Prusiks, and Cordelettes
Slings, prusicks and cordelettes are used to set up anchors. Slings are very strong nylon loops. Prusick cord and prusik knots are used to set up backpacks for repel devices and an important safety technique. Cordelettes are short lengths of static rope that can be tied together using double fishermen's knots.
Share this article
Related Posts