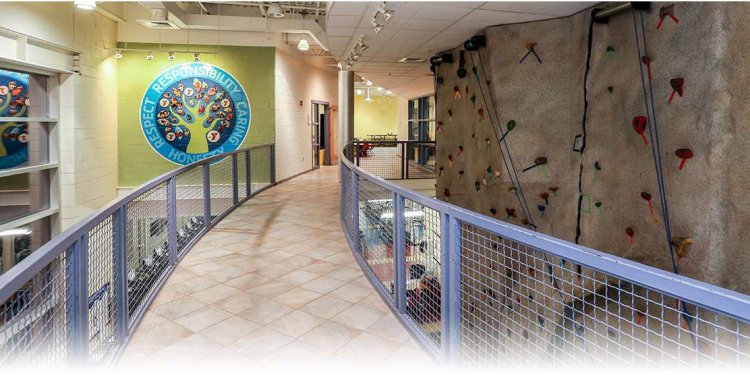 Baltimore climbing Gym
Big Vanilla Athletic ClubBig Vanilla Athletic Club
40 ft wall with 5 faces.
Baltimore
YMCA at Stadium PlaceYMCA at Stadium Place
25 foot high indoor climbing gym with four faces. 12 trials ranging from 5.3 to 5.10 in skill level.
Columbia
Earth Treks
7125-C Columbia Gateway Drive, Columbia, MD 21046
(410) 872-0060
Earth Treks
Major expansion with new bouldering, lead and top rope walls plus state-of-the-art fitness area. Walls to 44 ft. high and now over 20, 000 sq. ft. of climbing gym surface including a huge bouldering cave, overhangs, arêtes, roofs, dihedrals, cracks, chimneys, and slabs.
Lifetime Fitness
7220 Lee Deforest Drive, Columbia, Maryland 21046
410-953-0022
Lifetime Fitness
35-foot high climbing gym features top rope climbing, lead climbing, bouldering and auto-belay options. Climbing routes/problems for beginner and advanced levels of climbing available. The climbing facility is just one part of a full-service state-of-the-art health club which also features pilates, yoga, weight training, aquatics, and more.
Cumberland
Cumberlin YMCA Climbing Gym +1100 square feet of climbing area with 5 faces, a chimney and new features on the way, Mt YMCA teaches beginners the basics of climbing as well as challenging the seasoned climber.
Laurel
ClimbZone Indoor Climbing
13200 Mid Atlantic Boulevard, Laurel, Maryland 20708
(301) 317-1970
ClimbZone Indoor Climbing
A family-friendly climbing atmosphere where parents and children can enjoy indoor rock climbing. 70 routes.
Rockville
Earth Treks - Rockville
725 Rockville Pike, Rockville, Maryland 20852
(240) 283-9942
Earth Treks
Earth Treks' Climbing Center in Rockville, MD is the LARGEST indoor climbing gym in the country. With more than 38, 500 square feet of climbing, it is 20% larger than the country's second largest gym. 40 feet tall walls with over 200 top-rope climbs with lead routes interspersed. Extra, extra large bouldering cave. Four separate teaching areas, state-of-the-art fitness area, pro-shop, and locker rooms.
St. Mary's City
Athletics and Recreation Center
18952 East Fisher Road, St. Mary's City, Maryland
Athletics and Recreation Center
1, 500 square feet of vertical indoor rock climbing gym including cracks, overhangs and a bouldering area with varied terrain.
Timonium
Earth Treks - Timonium
1930 Greenspring Drive, Timonium, MD 21093
(410) 560-5665
Earth Treks
Over 20, 000 sq. ft of indoor climbing up to 50 feet tall wall and a huge bouldering cave to 16 feet tall. Facility also includes locker rooms and a complete cardio and strength training area. In 2009 a new top rope wall was introduced adding 2, 000 sq. ft. of climbing.
Share this article
Related Posts