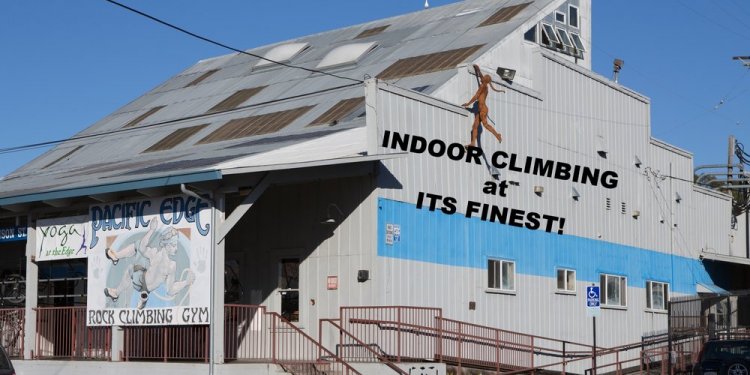 Climbing Gym Santa Cruz
Pacific Edge Exists to Create a Culture of Climbing Competency, Community, Safety, and Success
We are the Santa Cruz Resource for Fitness, Fun, & Community - Since 1993
We strive to preserve climbing areas, save the environment, and save the planet; to be worthy benefactors of the wonderfulness
Caution: Contents may provide greater stimulus than anticipated!
OUR HISTORY
Pacific Edge was founded in 1993 by Tom Davis and a group of dedicated climbers and craftsmen. Having worked for Outward Bound and UCSC as a climbing and wilderness instructor for 4 years, he longed to make a career out of his passion for climbing in all its forms.
After visiting California's first gym, City Rock in Berkeley, Tom was struck by the possibilities for training, fun, and community. Running a climbing gym could make the dream possible without the nomadic lifestyle required by a career as a mountain guide. In 1992, Tom quit his construction job and dove headlong into raising money and designing our dream facility. The closest climbing gyms were in Colorado, so our team toured the three gyms there to gather ideas.
The climbing gym "industry" was just emerging in 1993. Pacific Edge was the second gym to open in California, and for a couple of years it was believed to be the largest climbing gym in the world. At the time, this was a huge risk; climbing gyms had little track record, and building such a world class facility in Santa Cruz was a stretch. But Tom's father (our first investor), was adamant that we go first class all the way. In the end it served us well, but it nearly bankrupted us during the first 3 years.
Building Pacific Edge was an exciting and harrowing experience. It was thrilling to see our dream slowly becoming a reality, and we suffered from lack of funds, problems with permits, torrential rains while the roof was off (at one point we paddled a kayak across the floor), and one serious accident. In the end we barely made it to opening day, out of money and in debt to our local lumber store, San Lorenzo.
As we neared completion, we began looking for employees. At the time Tom had read about Diane Russell in Climbing Magazine because she was a top-ranked competitor in the new sport of climbing competitions. In 1993, the Santa Cruz climbing community was so small, he could not believe that they had not crossed paths. So Tom looked her up in the phone book, and cold-called her. At first, she turned us down, but as we closed in on opening day, we asked her to re-consider, and the rest is history. She quickly became an indispensable member of the team and eventually Tom's business partner. Officially, Larry Leo was our first employee, and along with Diane and Tom, he is the only remaining team member from our first year of operation.
Tom started climbing in 1976 at the age of 14. He had a very traditional tutelage with the Skinner Brothers in Wyoming, and the Sierra Club here in California. Tom was determined that any school he was part of would be based in solid traditional climbing skills and safety. We would people teach the right way, right from the start. Having started climbing in Boulder CO, also at the age of 14, Diane had a long and traditional history in the world of climbing and thus the two of them taught most of the classes we offered over the first few years. Tom and Diane developed the foundation of the curriculum we offer with huge contributions from Peter Carrick, Scott Lappin, and many other staff over the years.
There has been an endless stream of characters that have spent time under our roof. Notably, a 12 year old named Chris walked through the door the second month after we opened. He took our Basic Safety class (with Andy Puhvel), and Tom's Lead Class, then proceeded to march straight through the grades until he hit his first "plateau" at 5.14, when he was 14 years old. Chris Sharma was climbing 5.12 in less than a year and 5.14 in a little over 2 years. He went on to establish the world's first 5.15, Realization, and to become one of the most pivotal and successful rock climbers in the history of our sport. Other well-known climbers that got their start at Pacific Edge include the Big Wall master David Allfrey (7 El Cap routes in 7 Days with Alex Honnold, after honing his aid climbing skills with Scott Lappin), and Josie McKee who learned to climb here and is now one of the few female climbers linking El Capitan and Half Dome in a day, soloing El Cap in a day, and climbing major alpine routes in Patagonia. We are so proud of all of our people.
We have improved the facility numerous times over the years. It has always been our philosophy to reinvest in this business as demand and funding allows. The numerous cracks, the Weight Room, the Anchors Wall, the Red Wall on the boulder, the Yoga Studio/ Program, our Proprietary System Walls, and the new Bouldering Room are the prominent examples of these improvements. We have remodeled the Lead Cave and the Boulder Cave as well. Next up is a second location on the West Side…. We'll keep you posted.
Share this article
Related Posts