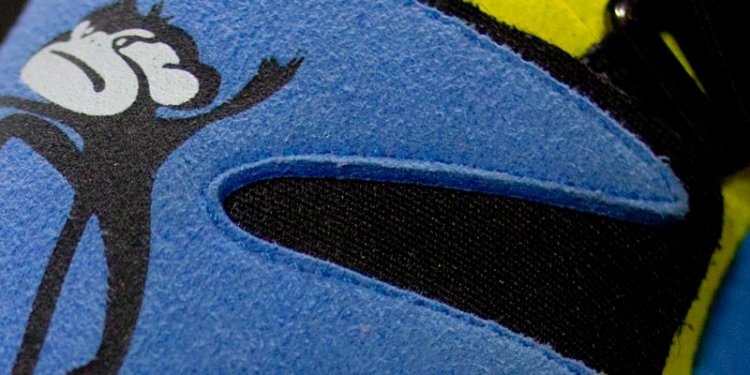 Rock Climbing shoes for kids
The time to transition your child to climbing shoes is when they begin to develop the ability to place their toe on a specific spot and begin to improve footwork. When kids first start climbing, they use big jugs and specially made kids climbing holds. These large holds are big enough to support a large portion of the kids' foot. Kids climbing shoes are not really needed at this level of climbing. When a child begins to climb slightly more difficult routes and you see the tennis shoes slipping off the smaller foot holds, then it is time to move into a kids climbing shoe.
Fitting a Kids Climbing Shoe
A child may find a climbing shoe uncomfortable. To a kid, comfort is more important than sticking. The best compromise is to get a slightly larger shoe. If there is a lot of extra room, wearing socks may help fill up some space. This strategy will allow you to buy a shoe big enough to let them grow into the shoe and give you a year or more good use. For kids, a little room for comfort and growth is better than too tight. When trying on kids climbing shoes, be sensitive not to force your child's feet into a tight fit. A child does not have the same control of foot placement. As a result, a tightly fitting climbing shoe will not significantly improve their climbing ability. Painful footwear will only discourage them from climbing. Look for a soft feeling shoe with room in the toe box. The toes should be able to wiggle, but not slip side to side.
There are several signs a child is uncomfortable in their climbing shoe. One indicator is if they take off the shoes immediately after climbing. While this may be copy behavior, it also may also be a sign it is too tight. For adults, technical rock shoes should fit tight. Adults have the discipline to accept a small amount of discomfort in exchange for improved performance. This is not true with kids. An uncomfortable climbing shoe will only make the child less enthusiastic about climbing. Check your kid's feet for redness, or even blisters.
The Best Type of Climbing Shoe for Kids and Children
The old style of climbing shoes had high tops. The purpose was to protect the ankles and provide support. Modern climbing shoes are low cut for dexterity and freedom of movement. This is also true for kids climbing shoes. There are no modern high-top climbing shoes for children. However, there are high top kids shoes for approach and hiking.
Leather. Synthetic material does not stretch. Leather will stretch and form to a child's foot, and allow for some growth over the year.
Sole. This may be unlined and a few millimeters in thickness for flexibility. Kids do not have as much weights as adults so it must feel pliable and flexible.
Rubber. An of the popular climbing rubber will be sufficient. To a kid, it is more important to look cool and feel good.
Curvature. A kids climbing shoe should have a low asymmetrical curve.
Closure System. The easier to get on and off the better. Kids (and the moms and dads who help them) prefer Velcro or a hook-and-loop type closure for ease.
Share this article
Related Posts