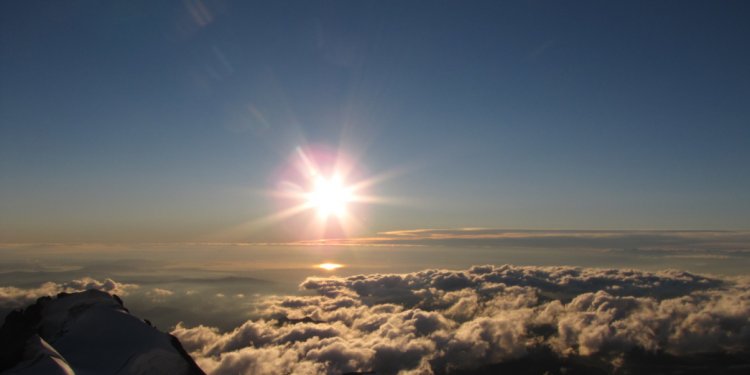 Mt. Baker climbing conditions
Take I-5 to just north of Mount Vernon and go east on SR 20 (North Cascades Highway) and turn left on Baker Lake Road. Continue 12.5 mi to just past the Rocky Creek Bridge, turn left onto Forest Road 12. Go 3.5 mi to Sulfur Creek Road (Forest Road 13). Turn right and follow it 6 mi to its end in a logging patch at 3, 400 ft.
Approach
Cross Sulfur Creek, through Schreiber's Meadows, through timber, across melt water streams, and up forested slope (switch backs) to Morovitz Meadows (2 mi). From Upper Meadow take right fork to Baker Pass. Head up on a trail to the crest of the Railroad Grade. Campsites are in trees behind eastern moraine around 5, 500 ft, and on ridge east of Railroad Grade at 5, 800 ft. High camps are possible north of Baker Pass at 6, 000 ft, and as high as 6, 800 ft in low snow conditions.
Ascent Route
From high camp get onto the Easton Glacier and ascend almost due north aiming at or a little west of Sherman Peak. Near the base of Sherman Peak, go west to the eastern base of the Roman Wall. Go up snow slopes or ascend to rocky ridge, keeping right of Roman Wall. Ascend steep snow past the Roman Wall to large summit plateau. The summit (10, 778 ft) is at the far east-northeast side.
Descent Route
Descend the climbing route.
Trip Profile
Segment
TIME (HR)
ELEVATION GAIN (FT)
Seattle to TH
2.5
TH to Camp
3-4
2, 400
Camp to Summit
5-8
5, 000
Summit to Camp
2-3
Camp to TH
EQUIPMENT
Standard glacier equipment including wands.
NOTEs
The route described stays east (right) of the major crevasses. (In low snow conditions, a route can be found that borders the Deeming Glacier.) The upper snow slope is steep enough to pose problems, if icy. In early to mid season, a direct line up the Easton Glacier may be possible, crossing the bergschrund on snow bridges.
Get permit at the Baker Lake ranger station in Sedro Woolley.
IMPORTANT NOTES TO LEADERS
Suitable Activities: Climbing
Climbing Category: Basic Alpine
Seasons: June, July, August
Weather: View weather forecast.
Difficulty: Technical 3, Strenuous 3, Basic Glacier Climb
Length: 14.0 mi
Elevation Gain: 7, 500 ft
High Point: 10, 778 ft
Share this article
Related Posts