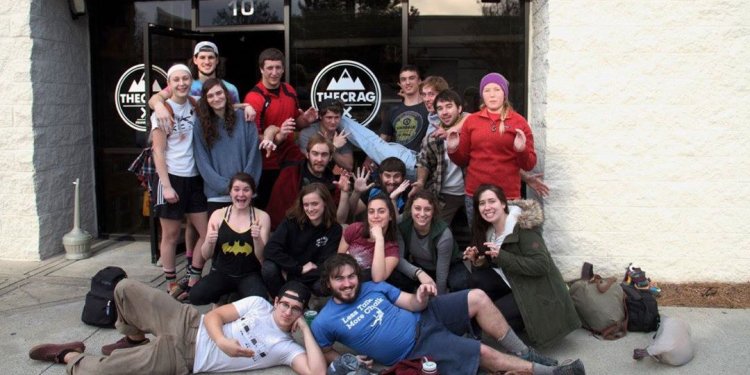 Rock climbing Franklin Tennessee

The man behind the steering wheel…Newton Dominey is the proud owner of the best little climbing gym in the south. If you don't already know him, he is most likely the guy you see behind the front desk intently working away on his laptop. Why at the desk you say? Because his office, the only office in The Crag, is so often doubled as a storage unit. You can take the office from the man but you can't take the man away from the office! Involved in all things Crag, one would wonder if he ever sleeps. Born in Texas, where he once ran over himself with a three-wheeler, Newton moved to Nashville when he was 17 to attend Lipscomb University.

When he's not at The Crag, he's either hanging out with his wife Brooke and their son, Luke, or seeing what other types of outdoor adventure he can get into. One day, Newton plans to own a cabin in the woods.
MATT LOSHIN
COMMUNITY DEVELOPMENT / FREE SPIRIT / JACKHAMMER OF POSITIVITY
FAMILY SINCE: 2010
Affectionately known around The Crag as "Vizaldo, " Matt Loshin is our resident beat poet and electronic music aficionado. His friendly and encouraging spirit is infectious.

Try as you may, it is impossible to have a more positive view on life's happenings than this hunk of joy. Notable mentions on this already powerful life; Matt has climbed in Hawaii, visited Jack Kerouac's grave, driven from Tennessee to California, and yes, he served as the DJ and Master of Ceremonies for The Crag's first ever Dance Party.
ERIN BARTKE
MORNING MANAGER | ADVENTURER | HAIR COLOR ENTHUSIAST
Hailing from The Garden State, Erin is the person most likely to greet you if you come in for climbing or yoga on a weekday morning. She recently discovered that she can lick her elbow, a trick she's been known to show off at parties from time to time. As comfortable performing aerial acrobatics as she is climbing, she once hung her aerial silks off from a bridge and performed while suspended twenty feet above the water. Erin is adventurous and optimistic, and set a goal three years ago to take herself to a new city every year. So far that goal has taken her to Seattle, WA; New York, NY and Asheville, NC!
Share this article
Related Posts