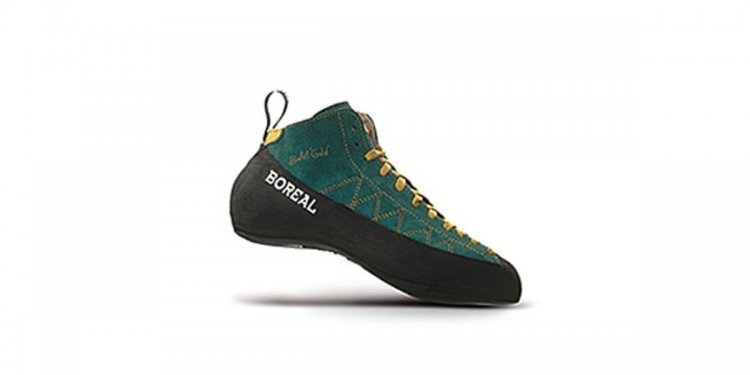 Boreal Rock climbing shoes
The Kintaro is the sort of shoe that makes you want to pack up and move to Spain, where the 3-D limestone cave climbing demands an aggressively downturned shoe that grabs like a lemur's tail but also stays on capably for scumming, heel hooking, and foot cams. Sure, America has its Madness Caves and Arsenals, but the footwork on those flatter surfaces tends to be less, well, European.
Grab Monster

The main attraction with a slip-lasted, downturned shoe is "grabbing" ability—digging your big toe into a foothold and tractioning, to align with the rock on extreme overhangs. That is the beauty of such shoes, which does, however, make them a specialist's boot: try them on a slab or crack climb and you'll scream for mama.
The Kintaro has an elegant downward curve and a pointy toebox that focus power into the forefoot: They're grabbing machines, with reliable precision and heightened sensitivity in the red zone. With a low-volume foot, you should be able to maximize this fit, getting all the way down and into the point. The stickiness of the rubber helps as well—the Kintaros excel at their métier.
Velcro closure
One downfall of Velcro shoes is the pressure that the strap exerts across your foot top when it is too thin and you cinch down for a performance fit. I've even noticed this with triple-closure shoes—an annoying tendency to cause pressure and cramping. Boreal solved this problem by vari-sizing the Kintaro's two straps. The upper one, which overlays a comfortable mesh tongue, is extra wide to ameliorate pressure points on the foot's meatiest area, complemented nicely by the medium-sized lower strap. Boreals don't stretch much, so the bulk of your fit-control lies in the two straps.
Stick-um

Boreal's new Zenith rubber (also on their face boot, the Lynx) is a soft, grippy formula well-suited to the grabbing and smearing of the über-steeps—the rubber practically molds into the rock's features. That said, the soles come thick (5 to 5.5mm) so they tend to roll/compress while edging, giving them more of a "smedging" (smear-edging) feel until you wear the rubber down. Softer rubbers do wear more quickly, so perhaps this width represents a compromise between performance and durability.
Share this article
Related Posts