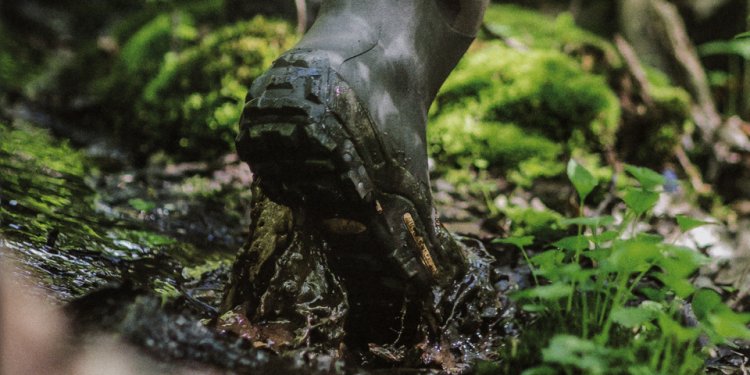 How to choose climbing Shoes?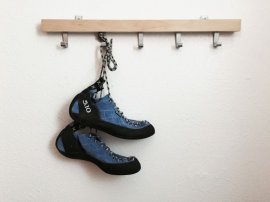 I went to REI to help a friend find some new climbing shoes the other day. His previous experience with sticky rubber footwear had been a Goldilocks story: pair number one was too big and kept him from trusting his feet on small holds. His second pair, relatively new, were too small and pained him to wear for any length of time. I wanted to help him find shoes that would be comfortable yet supportive and precise, so he could climb better and have more fun. (He ended up with La Sportiva Mythos and seems to be stoked.)
The goal of this post, with its five simple steps and warning signs for ill-fitting shoes, is likewise to save the new climber time and needless suffering by explaining how to choose climbing shoes that feel good and climb well. The basic principles of fit apply to all climbing shoes, but for the new climber, I recommend a flat, all-around design that can swing from the gym to the crag to all-day moderate multi-pitch routes. (As always, feel free to post up questions or add anything you think I've missed in the comments.)
The most important thing about buying a pair of rock shoes is fit, so skip the deals on Amazon and head to your local brick and mortar store. Even if the shop doesn't have particularly knowledgable staff, you'll be able to try on several kinds and sizes of shoe there, which is a necessity.
Bonus tip: Make some calls to local gyms and outdoor stores to ask about their shoe selection. Some places have only one or two brands and a handful of models. The more options, the better.
Try to find at least three different shoe models within your price range, preferably from two or three manufacturers, as every make and model of shoe will fit slightly differently. If you just pick the one pair off the shelf that looks cool, even if you get the right size, you might well be missing out on a shoe that more naturally contours to the shape of your foot. For new climbers, shoes with a flat profile are probably best, as they allow the foot to remain in a relatively natural, and therefore comfortable, position; to find these place the shoe sole-down on a table or floor—if there's more than a half-inch of space under that arch, it probably a more aggressively downturned shoe than a new climber needs.
Bonus tip: Opt for shoes with laces or velcro straps, as these will allow for more customization of fit than elasticized slipper style shoes.
I'd recommend starting with your street shoe size when trying on shoes. From there, you'll want to move up or down the sizing scale until you find the right fit. The ideal shoe is snuggly glove-like from heel to toe and everywhere in-between. Your toes should be pressed all the way up against the front of the shoe, as this is the point where you'll make contact with the holds, and looseness here will lead to sloppy footwork. Despite what those sand-bagging old school climbers might tell you, however, acute pain does not have to be par for the course. Climbing shoes should to be tight enough to offer support, but sharp pain from overly tight shoes will only make you less likely to put weight on your feet, which is the most important part of climbing technique. Try on both the left and the right shoes, as most of us have one foot that's larger than the other.
Bonus tip: Skip the socks when you try on climbing shoes, unless you plan to wear them while climbing. Few people do this, however, as it reduces your ability to feel and control what's going on between your toes and the holds.
Most outdoor shops and all climbing gyms offer some sort of surface on which to demo shoes. Without this, it's hard to get a real sense of fit. If you experience any hotspots (see "Climbing shoe warning signs, " below) or areas of sharp pain, the shoes are too small or just don't fit your foot.
Bonus tip: While giving a pair of climbing shoes a spin, stand via your toe tips on a small edge, preferably shallower than an inch, and try to let the edge support your full weight. The climbing shoes, by nature of their snug fit, should offer a feeling of support and not just fold back. If your feet slide significantly inside the shoes, or if your heel lifts up out of the heel cup, you probably need to size down.
After trying on three or more different shoes, and moving up in down in size until you get the right fit, you'll probably have noticed which pairs stand above the others in comfort and fit. If that's the case, pick whichever one looks coolest or best fits your budget. If none of them feel very good, don't be afraid to hold out until you can try on a few more options. A poor-fitting pair of climbing shoes can hold you back and make climbing less enjoyable.
Bonus tip: saving money is always nice, but don't get a pair of shoes that doesn't feel right just to save 30 bucks. If you plan to climb with any regularity, pony up for the right shoes; in the end you'll get more use and enjoyment out of them.
When trying on your shoes, be sure to watch out for the following common bad-fit warning signs:
Hotspots –Rubbing or sharp pain in the ares of the toes or toe nails, heels, or sides of the foot can lead to raw skin and blisters and make climbing an unhappy exercise. Typically, these don't go away as the shoe breaks in. A properly fit pair of shoes should have no hotspots. Most shoes today, particularly the ones made from synthetic materials, won't stretch much over time, so try to get the right fit out of the box.
Baggy heel – While wearing the shoes, pinch the sides of your heels and push up on the bottom of the heel. There should be little no dead space. You shouldn't be able to easily move your heel within the shoe's heel cup. If the heel cup looks or feels baggy, you either need to size down or try a different model.
Shallow heel – Your heel might also slip out if the heel cup is too small. The cup should rise above the bony point on the back of your heel and fit closely all around without causing discomfort on the Achilles tendon.
Sloppy toe – You shouldn't be able to easily move or wiggle your toes inside the shoe. When standing, expect to feel pressure (but not pain) on the tops of your toes where they are bent at the knuckle, due to the snugness in the toe box.
Smashed toe – If your toes are so knuckled under they scream in pain, your shoes are too damned tight. Loosen up.
Folds – If the leather or fabric sides and top of the shoe are folded and full of dead air space, the shoes are probably too loose to be supportive.
Arch cramps – If you pull the shoe on and feel the muscles on the underside of your foot immediately clench up, your shoes are too tight. This is more common in downturned shoes designed for steep climbing.
Share this article
Related Posts