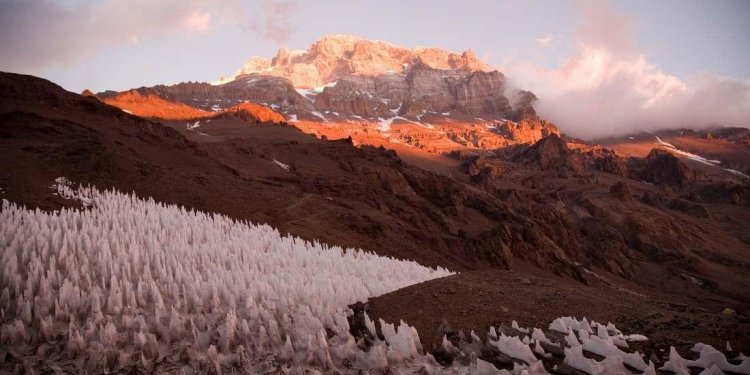 Mountain Equipment Vega Jacket
The Vega feels seriously, reassuringly sturdy. Some of that is down the reassuringly generous down fill, and some to the tough-feeling and highly water-resistant DRILITE® Loft outer fabric. The down quantity, by the way, is carefully calibrated according to the needs of each individual baffle for maximum effectiveness.
It undoubtedly adds a little weight, but it's the reason ME hasn't bothered with water-resistant down here. The jacket's too warm to be worn in normal wet conditions anyway and that fabric is designed to cope just fine with snow, condensation drips and the odd thawing ice-fall. It'll deal with the odd shower too – we tried – but like we said, the jacket's too warm for rain.
Construction is weight-saving, simple stitch through. Not as outright warm as a box-wall jacket, but lighter and simpler and cheaper to produce.
Alpine Cut
The cut is trim and technical. It fits over a sleek, technical soft shell, no problem, so you could conceivably use it as an alpine belay jacket, and the hood is well-filled and super warm. It'll accommodate a helmet, but also sits well on a bare head, though your noggin will move slightly within it. It also uses ME's head-hugging EXL lining to give a close, efficient fit – it's a development of the brand's elasticated sleeping bag inner technology.
Otherwise the Vega's hard to fault. We love the smooth-running moulded-tooth YKK Vislon zip – no snagging or dragging, the easy-to-use pulls and adjusters and subtle but effective, off-set insulated main-zip baffle. Also neat are the DRILITE® Loft linings on the inside of the drop-tail and the hood, both areas which can get damp easily.
Share this article
Related Posts