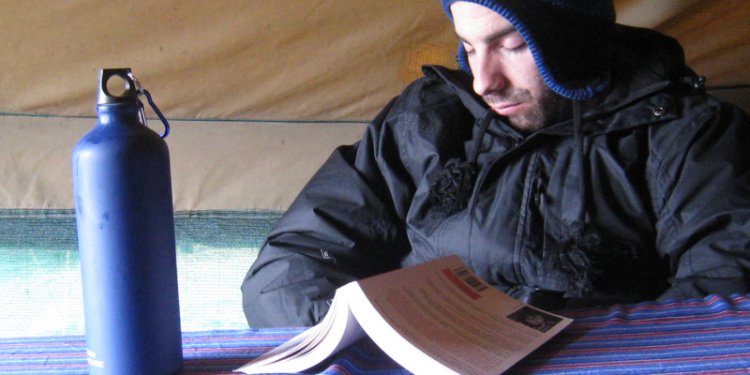 Books on climbing Mt. Everest
Fischer created his adventure travel company, Mountain Madness, as a way to make a living while "cruising." He climbed some of the world's toughest mountains, sometimes with clients and sometimes without, but the big prize — Everest — eluded him until his third try in 1994. Fischer and a handful of others stood at the center of the mountain's transformation from an elite mountaineering arena into an amateur's deadly challenge. In 1989, some of today's best-known Everest climbers were still struggling to post their first summit. Only two years later they were guiding clients up the South Col. In late 1995, a little over a year after his own first summit, Fischer was telling prospective clients, "We've got the Big E wired."
Fischer didn't have it wired, of course, and the following spring Everest took his life. His death seemed to put an exclamation mark on the closing of an era. In 1996 Fischer and his guiding colleagues invited the world to follow them via satellite phone and Internet updates — and the floodgates opened. "The privacy of an expedition, " Birkby writes of that infamous climbing season, "so long one of its basic aspects, was about to disappear."
Privacy was the least of the losses. In the years after Fischer's death, camaraderie and common decency all but disappeared too. According to Michael Kodas, the author of "High Crimes, " base camp today is a lawless village, complete with thievery, extortion, prostitution and occasional violence. In 1996, 98 climbers made it to the top. In 2007, more than 500 summited. "Along with that rush of visitors, " Kodas writes, "has come a new breed of parasitic and predatory adventurer." It's gotten so bad that some expeditions hire Sherpas to stand guard against burglars.
Photo
Credit
Guy Billout
Kodas, a reporter for The Hartford Courant, knows the situation firsthand, having tried to climb Everest in 2004 and 2006. (He was turned back by bad weather and poor health.) "High Crimes" looks at the mountain through the eyes of a fascinated and appalled climber. Kodas weaves accounts of his own hilariously awful adventures with the not-so-funny story of Nils Antezana, a 69-year-old American doctor who fell victim to the underhanded practices now common on the mountain. (Both attempted Everest in 2004 but never met. Kodas climbed the mountain's north side, from Tibet; Antezana took the southern route, from Nepal.)
Like too many of today's Everest climbers, Antezana wasn't a mountaineer. He was a man with a dream: to conquer the world's highest peak. To reach that goal, he hired an Argentine guide named Gustavo Lisi. In climbing circles, Lisi was known as a scoundrel who once stole a dying climber's Everest summit photo and claimed it as his own. Antezana was unaware of Lisi's history because he hadn't spoken with any climbers who could have clued him in. He knew only that Lisi's Web site claimed — falsely — that he had conquered Everest.
In May 2004, Lisi actually made it to the top. He led Antezana to the summit but then high-tailed it down the mountain, leaving his staggering client to die 1, 500 feet below the peak. Lisi mounted no rescue and waited hours before telling anyone about his abandoned client. He did manage, however, to call his Web master and give him the good news. "Summit! Gustavo Lisi has conquered Everest!" his Web site boasted — without a word on Antezana.
But honorable guides still worked the mountain. One of them, Willie Benegas, was guiding that season for Scott Fischer's old company, Mountain Madness. Benegas's twin brother, Damian, who is also a well-respected guide, spotted a plea for help from Antezana's daughter on an Everest Web site. He called her, then called his brother, who told Damian that a storm had moved over the mountain, preventing a rescue. Damian called Antezana's daughter and offered to fly from his home in Salt Lake City to Katmandu and trek to base camp to investigate the death of her father, a stranger to him. Better yet, he did it. Gallantry: not dead yet.
Meanwhile, on the other side of the mountain, Kodas was dealing with his own problems. His expedition was guided by George Dijmarescu, a Romanian-born, Connecticut-based climber whose temper proved as short as his climbing résumé. "He had little experience with crevasses, no avalanche training and few navigational skills, " Kodas says he discovered.
Kodas watched in alarm as his teammates bickered, fought and schemed. Things got so bad that Russell Brice, a veteran Everest guide, called the author over for a chat. "In the frontier town that is Everest Base Camp, " Kodas writes, "Russell is something akin to Wyatt Earp." The sheriff gave it to him straight: his expedition was the kind of shoddy parasitic operation that put everyone else in danger and gave Everest a bad name.
The best guides require their clients to work their way up to Everest, but cut-rate operators don't, Kodas learned. Top outfitters often turn away inexperienced applicants only to see them in the base camp chow line of a less scrupulous company.
"They know you're going to be there, " one guide told Kodas, "so they're going to be using your tents, stealing your oxygen, eating your food and needing your help, but being completely unable to do anything to help you. When they get into trouble, they're going to expect you to save them. And if you don't, the world press is going to execute you."
Strong, experienced mountaineers — many of them Scott Fischer's friends — still climb Everest, but "High Crimes" poses the question: How long before the bad drive out the good? "To climb Everest" has become such a powerful cultural metaphor that some climbers arrive seeking little more than career makeovers. They go up as schoolteachers; they come down as motivational speakers. If you ask a real climber where the best mountaineering is taking place nowadays, they're likely to agree with Sir Edmund Hillary: anywhere but Everest.
HIGH CRIMES
The Fate of Everest in an Age of Greed.
By Michael Kodas.
Illustrated. 357 pp. Hyperion. $24.95.
Share this article
Related Posts