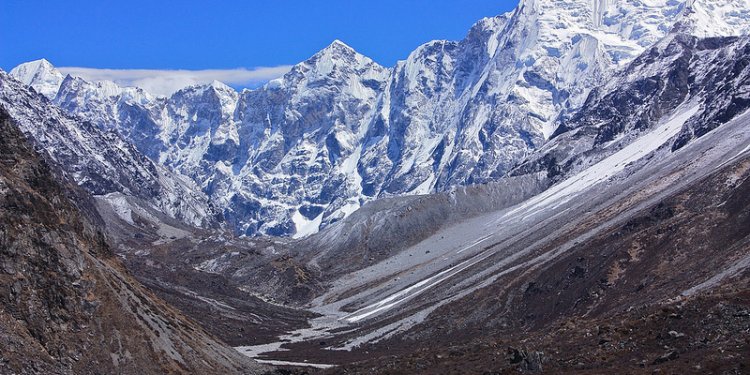 Everest climbing companies
IMG's Everest programs are recognized worldwide as simply outstanding, with a reputation for our highly professional staff of leaders, climbers and Sherpas, first-rate logistics and our resulting safety and success record on the mountain. Since 1990, over 600 IMG team members have summited the world's classic 8, 000-meter peaks, including over 380 on Everest.
Note from Eric Simonson
I've been organizing Everest expeditions for over 30 years, and each year I do my best to put together a strong team with compatible climbers and top notch western and sherpa guides and leaders. We fill our trips, and thus can be picky; we've turned away many climbers who I feel will not be a good fit with our program.
IMG has long been a leader in innovative climbing programs to the Himalayas. We were one of the very first companies to offer guided programs to Everest (1991), the first company to offer a stand-alone climb to the North Col (1994) and to 8000m (2001). We were one of the first companies to guide Shishapangma (1990) and Cho Oyu (1995), first to guide Khumbu Icefall as a stand-alone program (2000), first to offer the option of personal sherpa guides to climbers (2002), first successfully guided climb of Lhotse (2009), first with the Hybrid concept (2010), first to offer an Everest "Express" itinerary (2010), first to rappel alternate route around Hillary Step (2013).
With over 600 summits of 8000 meter peaks to our IMG credit, including over 380 of them on Mount Everest, I am still never satisfied and continue to look for ways to improve our IMG Everest program. For 2017 we continue our tradition of innovation and attention to the details. We put in place first class logistics and staffing. We don't cut corners. My goal is to conduct the very best program that we can, at a fair price. I don't think you will be disappointed.
Please let me know how I can be of further assistance.
—Eric Simonson
IMG Himalayan Programs Director
Overview
The 2017 IMG climbers and trekkers will travel to Everest Base Camp in three separate teams, each led by IMG guides and sherpas and composed of a nice mix of climbers and trekkers.
Lobuche Base Camp
Our Lobuche Base Camp strategy has been working great the last few years, and we'll do it again in 2017 for the trekkers and climbers. Three nights of camping at Lobuche BC (with gorgeous day hiking in the area) provides for excellent acclimatization and means our climbers and trekkers will feel good when it's time for them to move up to the Everest Base Camp! We'll have our own sherpa cook team preparing meals at Lobuche BC to keep our team members healthy.
Everest Base Camps
We will have three separate (adjacent) base camps, one for the Classic team, one for the Hybrid and Western Guided climbers, and one for our Sherpa team. Each camp will have a separate dining, toilet, shower, and kitchen facilities. In between the camps we have our common meeting facility—the giant Eureka Military MGPTS tent, complete with 70, 000 BTU military hazmat tent heater that runs outside the tent and pumps the heated air inside (so no danger of carbon monoxide). This is the place to be if you want to hang out in a carpeted and warmed environment, watch movies, read, work on the computer, make a phone call, or just socialize! We have good charging capacity with both 12v solar and backup generators. Wireless internet will be available at Base Camp (price TBD). In our Communication tent we have a VHF radio base station and large antennas that let us talk with the South Col and all the way down to Pheriche. We subscribe our climbers and Sherpas to the service provided by the HRA Base Camp Medical Clinic so you have access to unlimited consultation with the HRA doctors.
Share this article
Related Posts