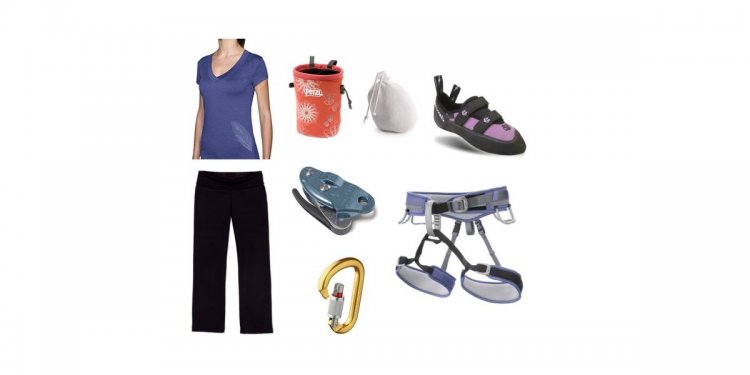 Basic rock climbing gear
This text is aimed at the person who has done a small amount of top-rope/lead climbing at an indoor climbing wall or single-pitch crag, and is looking to purchase the basic equipment to allow them to progress as a lead climber, under the stewardship of an experienced climber or instructor.
As you peruse the pages of our website or visit a technical climbing store you soon come to realise there is a plethora of rock climbing brands and equipment to choose from, and deciding on what is required and what is a luxury purchase can, on the face of it, seem mind bogglingly complex. Rest easy – providing you have an experienced person to take you out, and guide you through the relevant skills and etiquette of the crag or climbing wall – with a little guidance it's relatively straight forward to sort out what you do and do not require in the way of equipment.
As an entry-level rock climber it is most likely that you will have been engaging in 2 main areas of climbing: sport style climbing (i.e. leading on bolts at your local indoor wall) and single-pitch climbing on outcrops crags, with the possibility of moving into the area of multi-pitch mountain routes, once you are fully competent in single-pitch techniques.
Safety Ratings & Standards
There are well enforced European safety standards for climbing equipment manufacture and distribution – PPE (Personal Protective Equipment) standards have been a legal requirement in Europe since the 1980's. Equipment that satisfies these ratings (all the equipment on sale on our website) will be marked with a "CE" (Conformite Europeene) stamp. This shows that the equipment conforms to all the relevant European manufacturing and safety standard legislation.
The CE stamp is the minimum rating anything we sell has attained, and many goods we retail – predominantly from DMM, Wild country and Black Diamond – have attained additional safety ratings, such as the 3-Sigma standard.
Harness
There are many different harnesses available, however when you strip away all the various design features and differing adjustment options available there are three basic connotations of harness – adjustable, semi-adjustable and Alpine.
As you would expect Alpine harnesses are designed for lightweight Alpine use and as such are not recommended for the uses referred to in this text.
Many instructional guides advise the novice climber to purchase a fully adjustable harness – a harness with adjustable waist and leg loops – proclaiming that this covers you for year-round climbing. On the face of it this is a reasonable statement, and one we would not choose to argue against. In reality as the entry-level climber is just finding their feet, and is generally interested in climbing in relative comfort while they adjust to the sport and find their niche, a semi-adjustable – a harness with adjustable waist but fixed leg loops – is more than adequate for most new climbers. On top of this you will save weight and money.
Whichever adjustment style of harness you choose the most important features are:
General Fit – The waist belt should be above your hips and the leg loops tight enough so that you can get no more than a finger's width between your leg and the leg loop. Women can purchase female specific models, these have larger leg loops compared with the waist and a higher rise.
Gear Loops – You should be looking for a harness with no less than 4 gear loops. A harness with more than four loops should be considered a plus, as this increases your racking capacity and adds little to the overall weight of the harness.
Helmets
Whilst not essential this is often a wise purchase. The most common head injuries are those caused by incidents of falling objects, such as rocks – something the potential target has little influence over.
Share this article
Related Posts