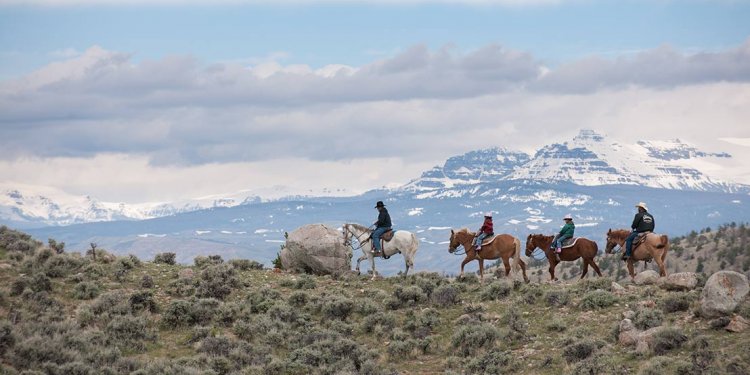 Absaroka Mountains
When I think of the Absaroka Mountains an image of the pinnacles stretching jaggedly to the skyline immediately comes to mind. They form a skyline as distinctive to me as that of the Tetons.
If ever there was a place in Wind River country to experience Wyoming's wildness, it is perhaps in these mountains.
Known for its meadows of vibrant wildflowers and robust population of grizzly bears, this is a place often overlooked, given only an appreciative, but quick glance as people head to Grand Teton National Park or to the Wind River Mountains. That's a mistake.
As one Dubois resident told me, these mountains are a "geological wonderland." Millions of years ago a massive volcanic eruption caused tons of volcanic material to flow in the form of mudflows, which helped created the base of the mountains.
If you look at the mountains you can see the striations in the rock where lava flowed hundreds of thousands of years ago. Eons of lava from volcanoes were sculpted by glaciers, wind and water into an incredible architectural masterpiece of spires and turrets.
This is a range with plenty of human history, as well as geological. The Mountain Shoshone Indians, also known as the Sheep Eaters, migrated into the Greater Yellowstone area. The Absaroka Mountains were one of several areas the people made their home. The mountains provided protection, water, food and rocks to make tools.
The range runs 150 miles, its southern end reaching near Dubois. It reaches up to 13, 140-feet at Francs Peak. Despite its impressive peaks, this is not a place known for its climbing. The sharper breccia peaks are notoriously loose – climbers and mountaineers sometimes call it "kitty litter" when describing it.
The range is located in the Bridger Teton and Shoshone National Forests and the Absarokas are famous for horse packing opportunities. There are numerous outfitters you can hire, or you can bring your own horses and start down a trail.
Those pinnacles standing so stoically always seemed to promise a sense of adventure as I drove by, but I'm more of a hiker than a horse-person, so I turned to Margo Clark the owner of an outdoor store in Dubois for a suggestion on the best way to fully experience the Absarokas on foot.
She directed me to Jade Lakes, but offered a reminder most people will repeat if you mention you are heading to the Absaroka Mountains- take your bear spray and know how to use it.
The well-traveled trail to Jade Lakes starts at Brooks Lake. There's a kiosk to sign in and read up on any reports of bear sightings or signs. There's a picnic area at the trailhead to indulge in a snack and dispose of your waste in bear proof garbage cans before setting out down the trail.
She promised a hike of about two hours one way of moderate difficulty for those not accustomed yet to elevation.
It's a stunner in the scenery department. The lakes (there is an upper and lower) are named for the water's color and sit at the base of the pinnacles which are often reflected in the water. There's a meadow full of wildflowers nearby.
If you aren't up for the hike, the trip to Brooks Lake is still worth it. You can see some of the range's signature wildflower fields. If you own a canoe, bring it along and paddle while taking in the alpine scenery and perhaps fishing. Brooks Lake is also a great starting point for taking your horse back into the mountains.
Brooks Lakes its own campground or you can continue about half a mile to the Pinnacles campground. It features sites surrounded by spruce trees in the woods, spots on the creek or even near the lake.
I asked around for other Absaroka spots and was directed to Brooks Lake Falls. Two different rock layers underneath the creek eroded at different times and from a cliff or "knickpoint, " which created the water fall. It's an easy hike from the Falls Campground. The recently remodeled campground has 54 sites surrounded by mature pine and fir trees. There are bear boxes at the campground and proper food storage is required.
It's important to check for campground and area closures before heading to the Absarokas. It's not uncommon for areas to be closed for portions of the summer season due to bear activity. Check in with the forest service or at local outdoor stores.
It's so easy to fly by these mountains. I've done it countless times, admiring the pinnacles, but keeping my foot on the gas. I quickly learned it's the fact that so many people do drive by without stopping that makes these mountains so special.
If you are looking for a true Wyoming adventure, you need to stop. Even more so than the Wind River Mountains the Absarokas are unpopulated and untrammeled. They offer a perfect respite to clear your mind and experience the vastness of Wind River Country.
Share this article
Related Posts