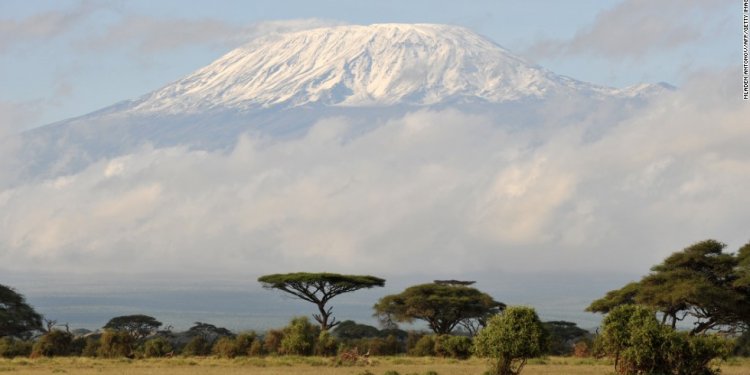 African Mountains
In Africa, no mountains reach higher than 6000 metres above sea level. By comparison, Mount Everest is 8848 m a.s.l. In Africa, Mount Kilimanjaro is the highest mountain with an elevation of 5199 metres above sea level, followed by Mount Kenya, also the highest mountain in Kenya. The Rwenzori range has an elevation of 5109 m (with Mt Stanley being the highest peak). To name a few other 'giants', Mount Meru, an active stratovolcano in Tanzania, has an elevation of 4565 m, while Mount Elgon is an extinct shield volcano located on the border of Uganda and Kenya, north of Kisumu and west of Kitale with an elevation of 4321 m.
The snow line is restricted to the highest peaks, specifically Mt Kilimanjaro (5900 m) and Mt Rwenzori (5109 m), and on no other African mountains. In African mountains, there is no real 'tree line' – although there are zones of unique woody vegetation – including bamboo and giant heather. On Mt Kenya, the 'tree line' is a complex mosaic of different elements including tree Senecios. Rwenzori and its peaks have five vegetation zones, ranging from tropical rainforest through alpine meadows to snow. The Rwenzori mountain range supports its own species and varieties of giant groundsel and giant lobelia, including a 'six metre high species of heather covered in moss' that is found on one of its peaks. Mt Kilimanjaro has also has a mosaic of zones with woody tree-like Lobelias. Further south, the Lesotho Drakensberg (+/-3000 m) is different. Thabana Ntlenyana in Lesotho is the highest point (3482 m) and has grasslands and wetland vegetation at high altitude rather than wooded elements.
In general, the mountain ranges and peaks of Africa are known for their unique and highly adapted and zoned vegetation, often adapted for UV radiation, drought and cold. There is now growing concern about the glacial retreat evident in Africa's glaciated mountains. For example, Rwenzori's and Kilimanjaro's glaciers are rapidly disappearing, with unknown consequences on both mountain biodiversity and on lowland human activities that depend on glacial melt water.
Photo credit: Rob Marchant
The mountain ranges of Africa include the Aïr Mountains, the Atlas Mountains, the Aurès Mountains, the Bambouk Mountains, the Blue Mountains, the Cameroon line, the Central Pangean Mountains, the Chaillu Mountains, the Drakensberg, the East African mountains, the Ethiopian Highlands the Great Escarpment, the Great Karas Mountains, the Guinée forestière, the Imatong Mountains, the Jebel Uweinat, the Loma Mountains, the Mandara Mountains, the Marrah Mountains, the Mitumba Mountains, the Nuba Mountains, the Rif Mountains, the Rwenzori Mountains, the Sankwala Mountains, the Serra da Leba and Serra da Chela, the Teffedest Mountains and the Tibesti Mountains.
Share this article
Related Posts