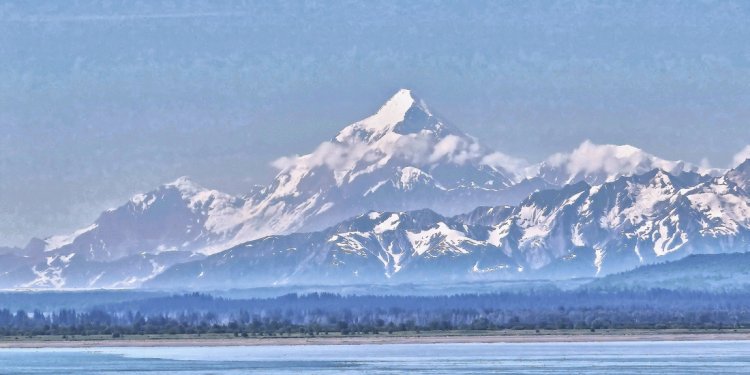 Alaska Mountain Ranges
1. • 2. • 3. • 4. • 5. • 6. • 7. • 8. • 9. • 10. • 11. • 12. • 13. • 14.
Alaska Range
The Alaska Range is perhaps the most well-known mountain range in Alaska. It is home to Denali National Park and the giant mountain itself, Denali (you may know it better by its white-man name, Mt. McKinley). This mountain range is one of Alaska's largest, starting at Alaska's eastern border with Canada, arcing across the north of Southcentral Alaska, ending to the west of the Kenai Peninsula.
On November 3, 2002, a massive 7.9 earthquake was caused by a fault running through the Alaska Range. For several weeks afterwards, thousands of aftershocks were recorded. Due to Alaska's sparse population, earthquake damage was only about $20 million.
If you measure from base to peak, you'd find that Denali is much taller than Everest. Denali's base is only about 2, 000 feet (610 meters) above sea level, whereas Everest's base is around 14, 000 feet (4, 267 meters). In fact, Denali is one of the most massive mountains in the world.
Highest Peak: Denali, 20, 320 feet (6, 194 meters)
Notable Mountains:
Denali, tallest mountain on North American continent; measured base-to-peak, one of the tallest mountains in the world.
Spurr, an active volcano west of Anchorage that erupted in 1992 and covered Anchorage with a thin layer of ash.
Aleutian Range
The Aleutian Range begins on the western shores of Cook Inlet, across from the city of Kenai on the Kenai Peninsula. It extends to the southwest along the Alaska Peninsula, eventually entering the Pacific Ocean and forming a chain of islands over a thousand miles long. These islands gradually arc northwards towards Siberia.
Collision between continental plates has created a 1, 400 mile (2, 253 km) chain of active volcanoes in this mountain range.
Share this article
Related Posts