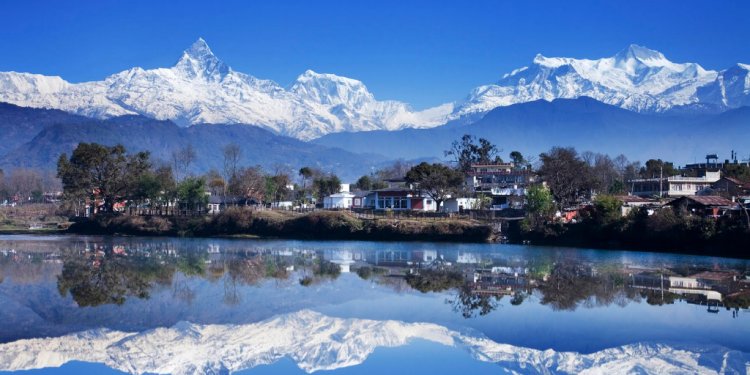 Annapurna Mountain
On March 24, Mingma Sherpa and his 12-member expedition team stood on the summit of Annapurna (8, 091 meters; 26, 545 feet)—the tenth highest and most dangerous mountain in the world. Two of those climbers wouldn't make it back down.
Samuli Mansikka, of Finland, and Pemba Sherpa, from Sankhuwasava, Nepal, died in a fall while descending from the summit in the dark.
The goal of the expedition team—consisting of seven foreign climbers, six Nepali climbers and two cooking staff—was to find a new, safer route up the mountain.
Summit Count: Mt. Everest, 6, 971. K2, 385. Annapurna, 204.Mingma Sherpa had seen a possible route, farther from avalanche fields, when he attempted Annapurna in 2014, and having failed to summit that year, returned this season.
The team succeeded in finding what they believe to be a safer variation up Annapurna, in terms of avalanche danger, but lost two lives during the descent.
Mingma Sherpa named the new route Rolwaling Route, after his hometown. Their ascent is the only ascent of an 8, 000-meter peak so far this season.
Of the 14 peaks over 8, 000 meters (26, 200 feet), Annapurna was the first to be climbed, by a 1950 French Expedition, but it's also the least climbed and the most dangerous. With a death rate of 35 percent, compared to K2's 26.5 percent and Mt. Everest's 3.87 percent, Annapurna is the deadliest mountain in the world.
Excerpt from Mingma Sherpa's Annapurna Diary
We woke up at 11 p.m. and started preparing ourselves. When [we] were about to move it was already 12:07 a.m.
It took [a] long time to reach the French couloirs and it was our bad luck because we already lost our calculated time but all team members wanted to continue because we were closer to summit. Going through French couloirs was not easy too. It was deep snow and stepping on such snow was very time consuming and unsteady.
We couldn't see the summit and it was already 1:38 p.m. so I thought to return. I asked to turn back together but Samueli was very sure about the summit and he said, "Once we finish the French couloirs we can see summit and we will reach the summit easily." After climbing around 20-25 meters, I could see the summit as Samueli said.
So, we just kept moving. Closer to the summit, my eyes were getting watered. My aim of climbing Annapurna was getting closer and closer. Finally at around 2:50 p.m., we reached the summit.
Annapurna has been always my dream so the moment was one of the most important and happiest for me. It was [a] really nice moment because we all, 13 climbers, were on the summit and it was one of the biggest successes on Mt. Annapurna.
Summit of Annapurna (8, 091 m):
on Saturday, March 28, 2015
Descending from Summit
[After] taking pictures, we left the summit. As soon as we passed the French couloirs, Pemba moved forward continuously without saying anything. Nobody knows the reason why he went like that. Some of our members tried to call him but he didn't listen and wait.
We followed Pemba's footprints and continued to descend. There came [a] point where we couldn't move forward because we felt we are lost. We tried to move down but we didn't find [any] clues. Kazi and Nima went to find the way but couldn't. We all were on a rope that we fixed there.
I heard Nima say Sameli fell down while coming back to [the] rope. I got shocked at that point. I looked down and saw a torch light so I thought Sameli was stuck there. Keeping Aydine and Nima Wangchhu on the rope, I went down to the light to see if he was there.
Share this article
Related Posts