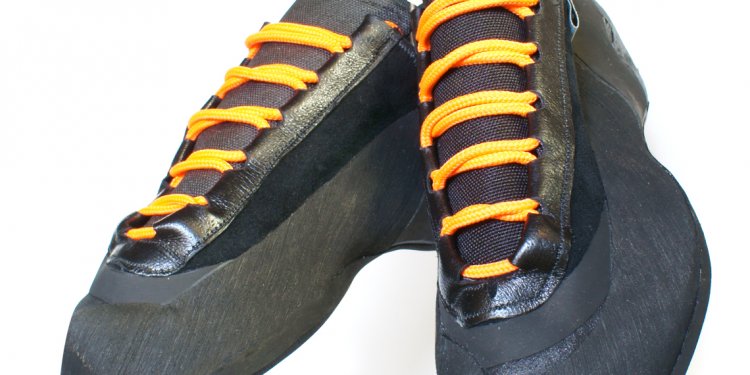 Custom climbing shoes
I made some marks on the shoe sole with some white artist pastel chalk (conte crayon) indicating approximately where I thought the heel should start. I very carefully cut down both sides of the back spine of the shoe to the point where I thought the sole should begin to bend upward to form the heel cup. I wrapped (and overlapped) the sides around the back of my heel, then pulled the spine over that to sort of make the back of the shoe "closed". I found that I had to trim down the sides as there was more leather than I needed. I also found that the rubber reinforcing wear panels on the sides of the shoe were too thick, and not needed at all since the spine (the former bottom of the size 15 shoe) was going to cover up the overlapping sides behind my heel.
Here I'm getting ready to tape up the heel to see if I've cut deep enough. You may want to have a friend step in the shoe so you can experiment with how to fold up the wings and spine. Wings (sides) go inside, spine (back of shoe) goes outside.
The curve that you cut in the wings controls how the heel cup is formed. I ended up cutting about three quarters of an inch deeper before I finally got them short enough, but was glad I'd done it incrementally or I could have ruined them.
I tried to sand off the rubber heel side panel strips, but they were bulletproof. I got out a $30 torch from home depot and heated up the unneeded rubber to the point where it started to crackle and smoke (Don't try this indoors!).
When the rubber is hot, you can peel it back from the leather like a banana.
I found that I got more control if I masked off the rubber I didn't want to remove with either aluminum foil(not too good), or brass shim material (great stuff, [3'x6"x0.005"]), which you can buy at Tacoma Screw Products. Machinists use it to shim machinery when the parts don't fit as tight as they should.
Here I've removed (heated and peeled off) the extra rubber, leaving the trimmed "wings", which are folded under the heel spine.
Share this article
Related Posts