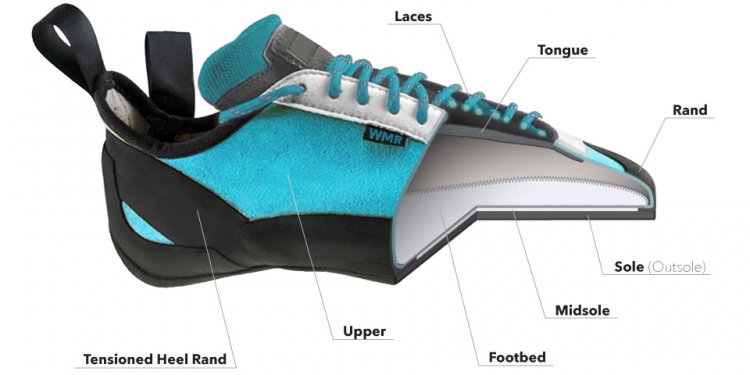 Types of climbing shoes
A climber's connection to rock (or indoor holds) is as dependent on feet and shoes as it is on hands and good grip. This article explains climbing shoes for someone just getting into the sport.
Rock climbing is a sport of subtle variation. Climbers ascend different types of rock, in different ways, and for long or short routes that can take anywhere from a few seconds to multiple days.
Climbing shoes are designed for every niche — bouldering, traditional, crack, sport, overhangs, approach, gym, and big walls — each with unique demands.
Here we break down the gamut of climbing footwear to help you pick your quiver. Experts Dan Hare, a 45-year climbing veteran and buyer at Golden, Colorado's Neptune Mountaineering, and Dave Kassel, a manager at footwear giant Five Ten, offered advice to help distill the category of climbing shoes:
"I suggest beginners start on a less aggressive, more comfortable shoe, " said Kassel. He recommended a pair with a rounded toe, medium stiffness, and a neutral shape. "It takes a while to get used to the feel of climbing shoes [when you start the sport], and if you wear a pair with a lot of heel tension, downturned shape, and a pointy toe box, it won't be as comfortable." You'll be focused on the pain of your feet, Kassel said, rather than technique or the moves on stone above.
Climbing Shoes Explained
Rock climbing shoes are critical gear for those who want to climb vertical stone. The "sticky rubber" of the sole provides a level of traction unlike any other type of shoe, allowing climbers to stand on barely-perceptible imperfections in otherwise blank rock.
The shoes tend to fit snug for high performance, and they are worn without socks. You'll find climbing shoes vary widely, but a few important factors will help you chose one that's right for you.
1) Climbing Shoe Fit
The cardinal rule? The fit of the shoe will depend on the shape of your feet, and it needs to feel good — meaning, fitted but not miserable or painful. To start, head to your local outdoors shop or a shoe demo at a climbing gym.
"Have an open mind, and try on as many pairs as possible, step on holds. Think about if you want that stiffness, like that shape, and if the shoe will feel good as it stretches out, " said Kassel. When you pull on the shoes your "toes should be curled a little bit, but not to the point where they are really crammed. For width, you want it snug around the foot, but not so tight that it's painful, " Hare noted.
Share this article
Related Posts