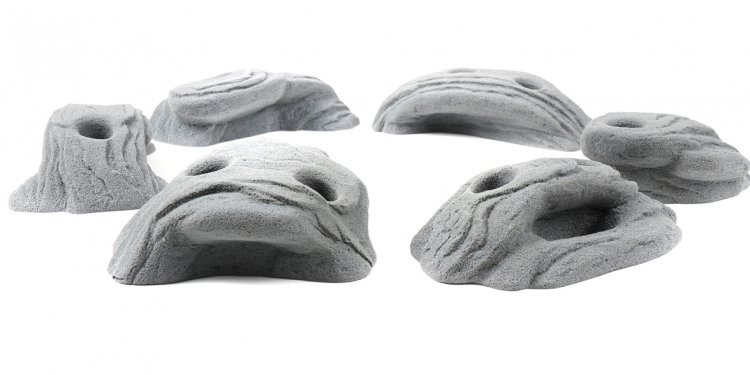 Rock Climbing holds
Climbing holds by Three Ball Climbing are made with the finest materials available. We manufacture top quality climbing holds that will last. Since you won't be buying new holds to replace the broken ones all the time, you will spend Less, and climb more.
We offer climbing hold packages including all the hardware needed for your situation. When ordering you get exactly what you need. You can specify the depth of your wall, and select steel bolts & t-nuts for indoor climbing walls or stainless steel t-nuts and bolts for outdoor climbing walls. In addition, you can specify your color preference for free!
Polyurethane:
Our climbing holds are made with high-quality polyurethane.
This makes for Virtually Unbreakable Non-Toxic holds.
These climbing holds will last longer than your climbing wall!
Whether you own a climbing gym or a have a climbing wall in your garage you can get exactly what you want.
Imbedded Washers:
All our bolt on holds have an imbedded washer.
Hardware Options:
For screw-on holds you may specify 'No Hardware', 'Indoor / Outdoor Screws' or 'Masonry Screws'. When Indoor / Outdoor Screws is selected we'll include the appropriate length Deckmate brand deck screws and a #3 driver. When Masonry screws are selected we include Masonry Screws and 1 or more 5/32" masonry bits.
For bolt-on holds the T-nuts and Bolts can be included if needed. If you already have lots of bolts and t-nuts you can purchase holds with 'No Hardware'.
When + Indoor Hardware is selected, we'll include a steel bolt and 4 prong zinc plated t-nut for each hold ordered.
When + Outdoor Hardware is selected, we'll include a stainless steel bolt and zinc plated 4 prong t-nut for each hold ordered. When ordered with hardware we'll also include the necessary set-screws for the holds that need them. * It is not recommended to pair Stainless bolts with Stainless t-nuts. Stainless Steel has a much higher friction coeffecient than alloy steel, and the hardware tends bind together permanently.
Its always better to have more t-nuts installed in your wall than climbing holds. If you have extra t-nuts you can change the location of the holds in the future.
You can also specify the depth/thickness of your wall. If your wall is 3/4" plywood, select 'wall size 3/4"'. This way we know how far the bolts need to stick out past the back of the holds in order to reach the t-nuts. You will get EXACTLY what you need!
Share this article
Related Posts