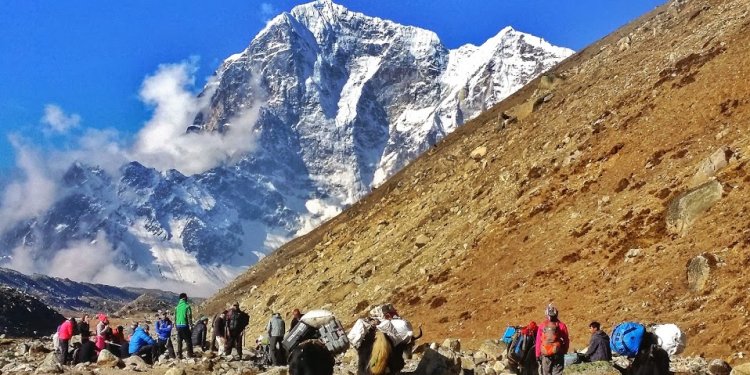 Trekking to Everest Base Camp
Before you read our Top 10 Tips you really need to consider have 3 nights in Namche Bazaar. Having an additional nights acclimatization will give you the best chance at being successful, safer and having a more enjoyable experience in the Everest region.
1. Train Before you go. The trek to Everest Base Camp is a stunning walk through the world famous trail to Mount Everest. It is not a technical climb; you do not need to have any previous technical climbing experience or even any altitude experience to complete the trek. However, you do need to be physically fit and have excellent strength, conditioning and endurance to be able to complete the trek and to fully enjoy the journey. If you have not trained your body to withstand the pressures of constant strain at high altitude, you will find it a very difficult task to complete the trek, risking your and other people's safety. I would recommend that you spend at least four days a week doing some sort of intense physical exercise for approximately three to four months prior to your starting date of your trek. Personally, I would have spent at least four days a week either walking up hill on a treadmill or walking on a stair-master for one hour to two hours building up to 10 kilos (22lbs) in a backpack on my back. I have always been lucky and lived in a place where I had access to hills to train on the weekends, and I found that this was the greatest training I could get for trekking. I would spend at least one day a week out in the hills or mountains for at least a 4 hour walk and up to 7 hours in a row. I cannot stress enough how important this was to my training. Having built the muscle strength needed in the hills, I had the muscle memory needed to complete the task of walking long distances day after day for 12 days continuously. If you do not have access to mountains or hills to train on, you can always add extra weight to your backpack and just do longer walks on the treadmill or in the gym. Contact us and we will help you prepare and train for this amazing adventure. 2. Mentally Prepare. Depending on your level of comfort with the outdoors, you may need to prepare yourself for life in the mountains. Luckily, I am a lover of the outdoors and very comfortable with the mountain life, including camping, bugs, dirt, baby wipe showers, and going to the toilet outdoors! However, for some who are more comfortable with the four seasons than a campsite, you may need to prepare yourself for what is to come. All accommodation on our trek to Everest Base Camp is in small tea houses, run by the local Sherpa people. You will have a bed to sleep in (albeit not the most comfortable bed in the world, but a bed to say the least), in a twin-shared room. There are options for showers lower down on the trail, if you decide to use them, however, many people keep clean by using baby wipes and a bowl of warm water each day. The toilet situations can be difficult at times, as in the tea houses they are generally not Western-style toilets, rather just a hole in the ground instead of a toilet bowl. You will also need to be prepared to use the great outdoors at times when you are on the trail with no tea house nearby. You do need to prepare yourself for these things, as you do not want to arrive on the mountain and have higher expectations and be disappointed. 3. Get the Right Gear. There are many parts of your gear that are essential for your trek into Everest Base Camp, and I am not going to go through every piece of gear you need for the trip. Click on the link and view our packing video. I am just going to highlight some of the specific pieces that I found to be essential. First of all, your feet are one of the most important parts of the body to take care of when trekking. Never skimp on footwear when you are going to be walking multiple hours a day, for twelve days in a row; your feet need to be comfortable and dry all the time. Buy a good, sturdy, waterproof pair of trekking boots and make sure that you break them in before you leave for Nepal. Number two, buy yourself a good down jacket with at least 650 fill down, but if you can afford it I would stick with a 700 or 750 fill down. Remember that every brand and style is different and if you are questioning your down coat, make sure to ask the advice of a professional before the trip as this piece of gear can be essential during the cold nights and mornings on the mountain. Usually the tea houses are quite cold higher up the trail and I found that I wore my down jacket every night during dinner. Number three, having both a platypus (ie, Camelbak brand) water carrier and a Nalgene style plastic bottle. Drinking water is essential in the mountains (See Tip #4) and I find that having a Camelbak helps you to drink more water as you do not have to stop to get the bottle out to drink, you can be sipping throughout the walk. I also carry a Nalgene style bottle on the trip so that I can have it filled with boiling water every night to help heat my sleeping bag. Another essential on Everest Base Camp, is having a sun hat. The sun can be extremely powerful in the Himalayas, and you want to have as much cover from the sun as possible. Now those few tips are obviously not the only gear you will need on the trip, but these are three essentials that I would make sure to have in your kit bag. Another good thing about traveling to Kathmandu before we leave for the trek is that you can purchase a TON of gear in the City. While I would not go to Nepal without the majority of your gear already packed and tested, however, if you need to pick up a few last minute things, you probably can find them in Kathmandu. We can help you with this.
4. Hydration is Key. If there is one tip that I can give you while in the mountains, it is to make sure that keeping hydrated is one of your top priorities. At higher levels of altitude, your body will dehydrate much quicker than it will at sea level, and you will have to make sure you are drinking plenty of water to compensate. I would recommend that you are drinking around five liters of water throughout the day while in the mountains. This is where the different types of water bottles come in handy. My routine in the mountains with regards to water is generally the same daily. Every evening, before I go to bed, I would fill up my Nalgene bottle full of boiling hot water and that bottle would immediately go into my sleeping bag to keep my feet and body toasty in my room while I sleep, and then, as that water had been boiled, I would be able to wake up in the morning and immediately begin drinking. I would hope to finish that bottle before we left for the day's trek, then try and drink another three liters while walking and another one liter at least when we get to the next tea house that afternoon/evening. This process of drinking five liters of water a day can be daunting to many, but I find it to be essential to people's success in the mountains.
5. Don't be Afraid of a Little Headache. I hate to say it, but it is almost inevitable that you will get some sort of headache at some stage on the trip. Unfortunately, I suffer from bad headaches at altitude and have had to learn ways to manage them and not let them ruin my experience. One of the best ways to combat these headaches is by listening to the advice of Tip 4; always drink plenty of water while in the mountains. One of the greatest causes of headaches in the mountains is due to dehydration, so drinking water can greatly help to eliminate or lessen your headaches. Another trick that I have found to be helpful is to add a Disprin to my water every morning and another each evening. This will help to slightly thin out your blood and help to reduce headaches caused by the thickening of your blood at altitude. These headaches are completely normal to experience at altitude and they are not something to be too afraid of, however if these headaches get very extreme and limit your ability to think straight, eat, sleep, or walk in the mountains, you may need to seek medical attention.
6. Slow and Steady. When taking on a challenge like hiking to Everest Base Camp, or any long trek/climb, you have to remember that it is a marathon, not a sprint. Acclimatization to the low levels of oxygen in the mountains requires you to take your time, to slowly get your body used to lack of oxygen. All the research suggests, spending more time at 3, 500m/ 11, 500ft. So we spend 3 nights acclimatizing in Namche Bazaar. This is absolutely key to your success in the mountains. There is never a time on the trek where you should need to walk at a fast pace, you should only be walking at a pace that you can carry on a conversation with others, without feeling too much exertion physically. Obviously, there are tougher sections throughout the trek where you may need to stop talking and catch your breath, however you always want to try and keep your pace to a snail's pace, not a rabbit's! More acclimatization means a safer and more enjoyable trekking experience.
7. Bring Some of your Favorite Treats. For many people, including myself, it can be very difficult to eat at altitude. Even with all of the physical energy you are exerting, for some reason, food does not always sound good when you are at altitude. Personally, I am not sure if it is nerves of the unexpected for me or the altitude at all, but forcing myself to eat in the mountains can be a daunting task. The main thing to remember regarding this is that you are burning a TON of calories while trekking in the Himalayas and your body needs to replenish these calories if you want the best possible chance of being successful. It is so important to eat, whatever it may be, to get in these much needed calories. This is why I always pack a few extra goodies in my bag before leaving home! Having some familiar food favorites in the mountains can be just the push you need on tough days to get through them. I have been known to bring anything from protein bars to peanut butter and a bag of my favorite sweets in my pack, when I might need an extra kick! Don't let this scare you into thinking that you will not have enough food to eat in the mountains" this is far from the reality. You will be overwhelmed by the plethora of food on offer every meal, everything from eggs to stir-fry and spaghetti is always on offer as you order your food from a menu at the majority of the tea houses. There is always plenty of food to choose from in the mountains, but when your tummy is having a hard time with the altitude, those familiar snacks may be all you can get down. So remember, within reason (you definitely do not want to be carrying too much un-necessary weight up the mountain), bring yourself a little treat when for you may need it the most!
See also:
Share this article
Related Posts