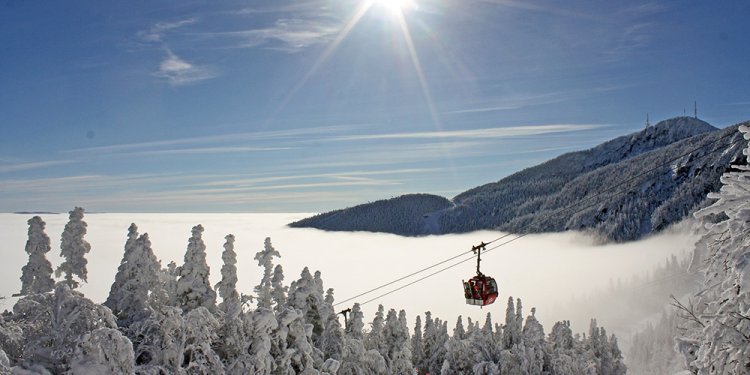 Vermont Mountains
Whether exploring the peaks or admiring views from the verdant valley below, travelers soon understand why Vermont is called the Green Mountain State. No visit is complete without at least a little reflection on these rolling peaks. Whether embarking on the nation's oldest through-hike, the Long Trail, or savoring local cheeses at a mountain-side resort, there are options for all varieties of mountain-life enthusiasts.
Endless recreational opportunities abound and every season is stunning! Vermont is 76 percent forested, so it's incredibly easy to find yourself immersed in autumn's blazing red and orange hillsides, bright white peaks against bluebird skies in winter, witness the springtime awakening of seemingly neon tree-buds and fiddleheads as they reinvigorate forests to the lush, glorious green of summertime.
The mountains are well known for offering up "Winter in its Original State, " with a legacy of "firsts" in skiing and snowboarding history as well as touting a disproportionately high number of winter Olympians in residence. But you need not be a pro to to savor the wonders of winter. World-class and family-friendly resorts offer beginners and children as young as age three top-notch lessons and progressive terrain. Off the slopes, activities abound as well. Try dog-sledding, horse-drawn sleigh rides, tubing, zip-lining, ice skating, snow-shoeing or Nordic skiing!
In summer, the mountains and resort towns offer up golfing, mountain biking, waterparks, or natural swimming holes and waterfalls, tennis and hundreds of miles of hiking trails. Mountain towns and resorts are often bustling with a variety of sports clinics, arts events and beer festivals as well! The more adventurous travelers can soar through the air on gliders or explore ropes courses. Of course, there's always the option to simply relax with a massage and savor fine dining at mountain resorts in any season. Often, after experiencing Vermont's mountains in summer and winter, many choose to visit again for fall foliage. Fiery red maple canopies and seemingly glowing mountainsides provide stunning drives and picturesque outdoor recreation in the mountains; plus, being harvest season, a farm-fresh picnic and crisp, fresh cider are perfect treats while enjoying the views.
Burlington serves as a perfect starting point and base for mountain adventures. Within 30 minutes to 1.5 hrs, find yourself at five nearby mountain resorts: Bolton Valley Resort, Stowe Mountain Resort, Sugarbush Resort, Smugglers' Notch Resort, and Jay Peak Resort.
Share this article
Related Posts