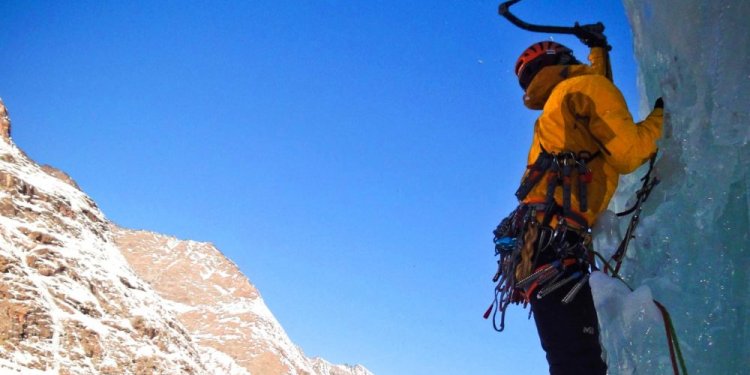 Best Ice climbing Gloves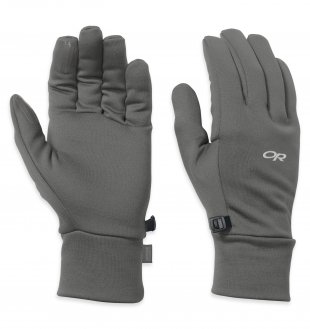 Picking the gloves or mitts you need this winter can be a daunting task. There are so many options that it often seems impossible to find gloves that will fit your every need.
Well, the first answer to the question is simple: No one pair of gloves will fit every need. However, knowing what you will be doing and where you will be doing it will help pinpoint the gloves that will best suit your fall and winter adventures. Whether you're an afternoon hiker or getting ready for a climbing expedition, your gloves will need the right amount of insulation, waterproofness, dexterity, coverage or a balance between these. But when do you need what?
Before you pick the first gloves that show up in the search results or throw your bare hands up in defeat, let's look at what features are most beneficial for what activity.
Gloves for Hiking or Layering
For hiking or to use as a first layer underneath other gloves, you'll want stretchy gloves that offer dexterity and lots of breathability. Gloves and mitts in our PL Series are made with a light, stretchy Radiant Fleece® and come in a variety of thickness options from the ultralight PL Base Gloves™ to the double-layer PL 400 Gloves™ or the versatile PL Sensor Gloves™ with touch-screen compatibility. Excellent for gripping your hiking poles, the PL Series gloves and mitts provide an extra layer of warmth and have strategically placed silicone grip pads on the fingers and/or palm to reduce slippage.
Ice Climbing and Alpine Climbing Gloves
For ice climbers or mountaineers that live in cold and dry conditions, you will want a glove that is warm, water resistant and provides an ample amount of dexterity to ensure that you can confidently handle your gear, like your ice axes. Just ask Outdoor Research climbing athlete Shingo Ohkawa: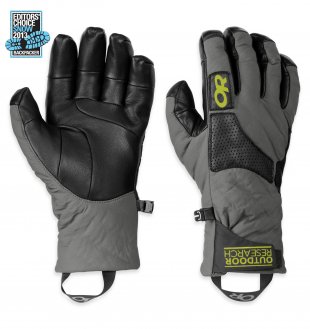 "The inspiration behind the Lodestar Gloves–lightweight, insulated soft shell gloves with unparalleled dexterity and designed with high, dry and bitterly cold environments in mind – dovetailed perfectly to my needs, both for alpine climbing, as well as for ski-mountaineering here in the American Rockies, " says Ohkawa.
The Lodestar Gloves™ are an ISPO Gold Award winner and most recently a 2013 Backpacker Magazine Editors' Choice Award winner, which noted the "…precise ergonomic design results in crazy dexterity and off-the-charts comfort."
The three-layer Polartec® Power Shield® High Loft fabric of the Lodestar Gloves™ is wind- and water-resistant and hyper breathable. While the breathability makes them great for the heart-pounding rhythm of ski touring, the unique pre-curved seam construction and leather palm and fingers makes them soar in the vertical world of climbing. These construction features aid dexterity and grip.
Ski and Snowboard Gloves
While dexterity is the main focus for climbers, if you're backcountry skiing you will want solid waterproofing and supreme insulation. For this, the Stormbound Mitts™ give a new meaning to warm and dry in treacherous conditions.
"Down mittens?" Says Outdoor Research ski athlete Molly Baker. "How could it get any better than that?"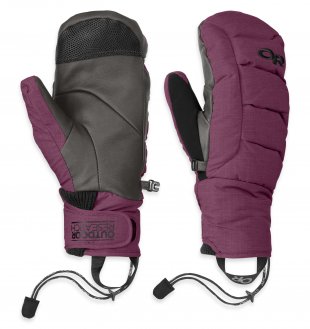 Made with a Pertex® Shield outer, the meat of this mitt's performance is in the layers of insulation, which is why Baker says they are "…the warmest, driest down mitten on the market."
Just like your clothing's layering functions as a system to create the ideal inner environment, we applied the same idea to this glove's three-layer insulation system. The outer layer of insulation is made up of PrimaLoft® One which is hydrophobic and resists water from penetrating the glove. The middle layer is made up of the cozy warmth of 800+ fill down. And the inner layer – closest to the skin – is made with another PrimaLoft® One layer that wicks moisture away from the skin to keep your hands dry. Sandwiched together, the insulation of the Stormbound Mitts™ makes them our warmest mitt yet.
A price point glove for skiing and snowboarding that is waterproof, warm and has excellent coverage are the Men's and Women's Riot Gloves™. The Riot Gloves™ are made waterproof with a Ventia® Dry membrane and a fully seam-taped construction. Insulated with water-resistant Enduraloft® for maximum warmth in cold, snowy conditions, the undercuff design has a zippered closure to seal out snow.
A throwback to the classic yet still wildly popular Mt. Baker Mitt™, we collaborated with our friends at Holden Outerwear to update the mitt with Holden's two-layer camo ripstop fabric for a more fashionable touch. Meet the Classic Modular Mitts™. Beyond the style, these gloves have been time-tested and athlete approved – the warm construction and weather-resistant, breathable fabric provides protection from cold, snowy conditions. The wool blend liner glove adds a layer of warmth and the gauntlet-style cuff provides excellent coverage.
For many winter sports enthusiasts, connectivity is a valuable feature. For skiers looking to stay connected, the Northback Sensor Gloves™ are our first GORE-TEX® equipped touch-screen sensitive gloves. The completely waterproof GORE-TEX® insert, TouchTec™ leather palm and fingers, gauntlet-style coverage and warm Enduraloft® insulation gives this glove the waterproofness, warmth and coverage ideal for today's versatile skier.
Share this article
Related Posts