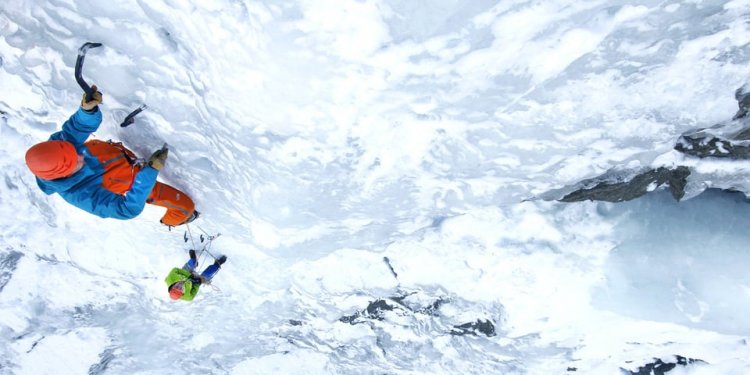 Ice climbing basics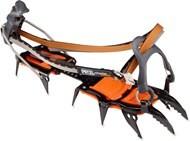 Getting Started Climbing Ice
Ice climbing typically brings to mind frozen waterfalls. Here, a climber works his or her way up vertical ice with 2 axes, crampons toe-in to the ice.
Climbing alpine ice, though, can also include walking flat-footed with crampons and a single ice axe. A glacier is a larger and more variable beast than most winter-only waterfalls, so you need to use different techniques for changing ice conditions and slope angles.
First, we'll look at how you use your feet on the ice.
Though it's possible to climb low-angle ice by using rough features or by chopping steps with an ice axe, at a certain point crampons need to be used for efficiency and safety.
Alpine climbing involves techniques adapted to different terrain. These styles are known as French and German techniques, for the areas in which they originated.
French technique Also known as flat-footing on ice, this is the preferred technique for low-angle to moderately steep ice (slopes up to about 40°). All crampon points but the very front are kept in contact with the ice for traction. This is the most efficient way to travel over hard snow or ice. On lower-angle ice, climbing is simply a matter of pointing your feet uphill and planting them solidly, including your heels. As the slope angle increases, climbing requires greater ankle flexibility. It is easier to turn your toes outward to walk ducklike in order to keep the feet flat. On steeper slopes, you can progress diagonally up a slope with all points in, but with toes pointing across the slope or even slightly downhill.
Eventually, it becomes necessary to sidestep up the slope. To do this, plant your uphill foot solidly, then cross your lower foot over it and plant solidly. This cross-over upward progression requires care, as it is easy to catch your crampon points on the opposite boot, gaiter or crampon straps. It is important in the French technique to plant all points except the front 2. It is tempting to try to "edge" into a slope, placing only the inner row of points and leaving the outer points in the air. This is easier on your ankles, but your crampons can skate over the ice, allowing you to skate down the slope.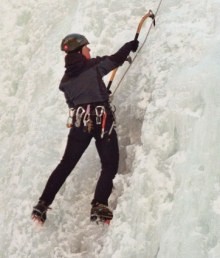 German technique: This is more commonly known as front-pointing, due to the fact that only the front-facing crampon points come in contact with the ice. It's commonly used on slopes of about 45° and up. The climber faces the slope and kicks his toes in to plant the 2 or 4 front points. It is the most direct way to ascend a steep slope but also the hardest on calf muscles since only the crampon frames support your feet. Unlike French technique, which takes some practice to get the footwork down, German technique is fairly straightforward. Kick, plant the front points, stand. Your body weight must rest on the few sharp points of your crampons and tools, so secure footholds are essential.
Combined technique: One way to make climbing moderately steep ice more comfortable is to mix the German technique (or toe-in to the slope) with flat-footing. This combination technique is known as the "3 o'clock position" or "pied troisieme" and is usually less tiring than straight flat-footing. It involves planting the front points of one foot while keeping the other foot splayed out to the side, sole flat against the slope.
Two common mistakes:
Try not to kick repeatedly to set the crampon points. This and kicking too hard are not only tiring, but can weaken the ice you're standing on. You learn quickly enough about "dinner plates, " or flakes of ice that come crashing out when you're too rough with tools or crampons.
Another tendency is to keep one's heels up too high, allowing the front points to pop out. Lowering your heels leverages the front points farther into the ice and will help to avoid an unnecessary slip. This is especially important at the end of a steep section or a pitch that ends in a shelf or on flatter terrain.

Walking on level or low-angle ice does not necessarily require the use of an ice axe. In fact, it's a good idea to practice your flat-foot technique (with and without crampons) without relying on your ice axe(s) so you learn the "feel" of the ice underfoot.
Share this article
Related Posts