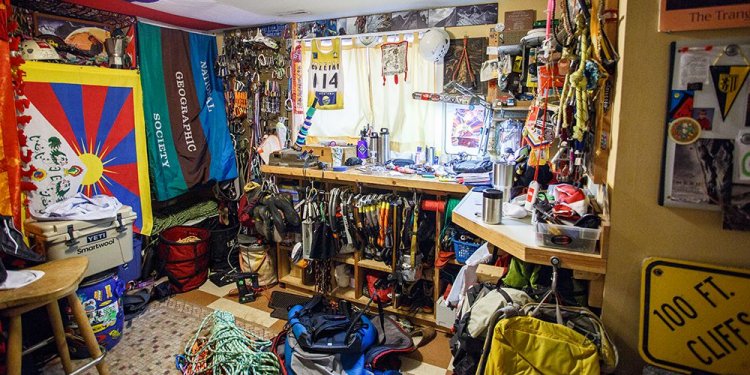 Ice climbing rack
A pair of modern bent-shaft tools designed for vertical ice. Leashless tools have made climbing more efficient. If you haven't tried them, you should. Don't forget a spare pick, bolt, and wrench for your tools.
Rack:
About 8 to 10 sharp screws of varying sizes are sufficient. The majority of climbers use 16cm screws for most applications and carry a few long screws (22cm) for belays and a few stubby screws (10/13cm) for thin ice.
A mixture of about 12 slings and quickdraws with carabiners should be adequate. Screamers are becoming more and more popular and are even replacing some of the quickdraws on most climbers' racks.
Two cordelettes with 2 pear-shaped locking carabiners each
A rock rack for the leader has become a standard item: nuts, Tri-cams, and cams to 3 in., plus big cams (up to a #5 C5) for some of the mixed routes.
About 75 ft. of static rope or webbing for top rope anchors will come in handy.
Crampons
Either dual-point or mono-point crampons designed for vertical ice; the best advice I can give is to make sure they fit your boots properly.
Helmet
This is a no-brainer. Everyone climbing should own and wear a helmet, for your safety and that of your group.
Harness
A harness that has adjustable leg loops is a wise choice for those days when you may need to put your harness on over your boots and crampons
Rope
A 60m dry-treated rope will work for most areas; a 70m is handy for the taller areas. Look for details on rope options in each chapter.
Boots
In the Catskills, you can choose to wear leather or plastic boots. If you want to buy one pair to do it all, I suggest plastic. They are not only warmer, but you can also use them for other winter or mountain pursuits.
Clothing:
While ice climbing, prepare to be outside moving and standing in temperatures ranging from 10° below zero through 40° above. Layers are your best choice. The hike up to a route in Stoney Clove can start you out at the car with everything on as you wait for your partner to pack but can leave you stripping down to your first layer on the steep hike uphill. Remember that "cotton kills" and avoid it at all costs in all of your outdoor winter clothing. Be sure to wear clothing made from synthetic materials or natural insulating fiber (wool, down). Use a layering system that consists of some of the following:
A wicking first layer such as: wool, capilene, polypro, etc.
A lightweight insulating layer: wool, 100- or 200-weight fleece, etc.
A heavier insulating layer: 200- or 300-weight Polartec or down
A protective windproof/breathable outer layer. Soft shells have taken over, and are the best choice in all but wet conditions.
An optional protective waterproof/breathable outer layer for wet climbs or precipitation: Gore-tex, eVent, etc.
A large insulated parka is highly recommended and should be roomy enough to be worn over all the clothes you have on. You definitely won't regret having it when you are belaying for long periods of time.
Two different weight hats or balaclavas to be worn separately or together
At least two pairs of gloves and/or mittens.
Be sure to have good-quality synthetic socks. Bring extras.
High gaitors to keep the snow out of your boots
Share this article
Related Posts