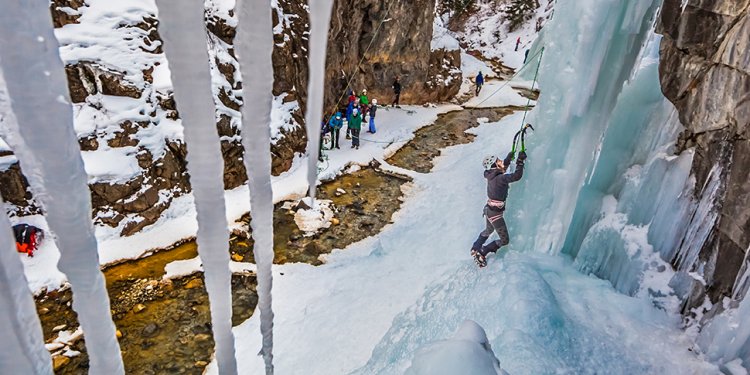 Ouray Colorado Ice climbing
Climbing Equipment
Provided by SJMG, you are welcome to use your own.
Harness: Adjustable leg loops are essential.
Locking carabiner: Pear shaped, wide mouth.
Belay / Rappel device: ATC or similar.
Climbing Helmet
Boots: Leather insulated ice climbing boots.
Crampons: Step in crampons with vertical front points.
Ice Tools: Technical ice climbing tools
Training & Follow Up Climbs
As always, being in excellent physical shape is an important component of our our programs. A good mixture of cardiovascular fitness, muscular fitness, and especially core strength will help you to maximize the potential rewards that are possible on a great climbing trip.
1Before Your Trip
Familiarity with basic climbing principles such as knots, belaying, rappelling, and rock climbing technique can be very helpful for our Intro Course participants. Though not required, prior rock climbing experience will help you to acquire and assimilate the information covered in our ice climbing course progression as quickly as possible.
2Follow Up Climbs
We very much enjoyed our time in Ouray! The private 2-day climbing program was impressive. Our guide, Mark, was/is an excellent teacher. He took the time to build the skills for each of us, listened to the concerns and course corrected to ensure we were achieving what we wanted to achieve. Basically, Mark rocks! We look forward to coming back. – J. Bowers, 2011 Private Program
Ouray, Colorado: Getting Here
Ouray is located in the SW corner of Colorado, approximately 30 minutes south of Montrose. Known as "The Switzerland of America", the town of Ouray is a vibrant outdoor oriented community. All local businesses are very friendly to the ice climbers who flock each winter to climb in the Ouray Ice Park and surrounding areas.
Flights: The best option for flying to the area is to fly into Montrose, CO. Many airline options exist, and most connections originate from Denver, CO. It is also possible to fly into Durango, CO, Telluride, CO, or Albuquerque, NM. It may be necessary to rent a car and drive to Ouray if you'd like to fly into one of either of these airports.
Share this article
Related Posts