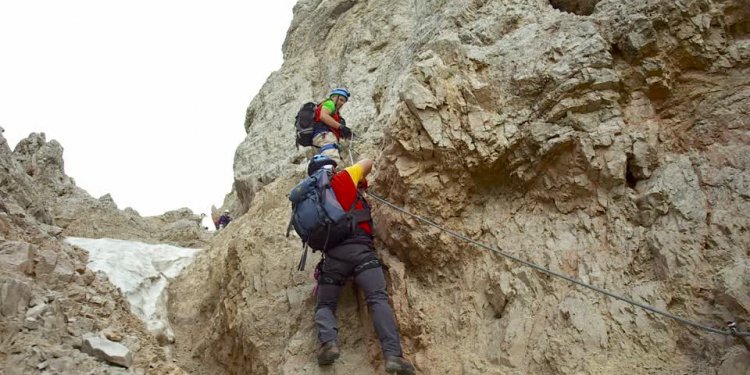 Rocky Mountain climbing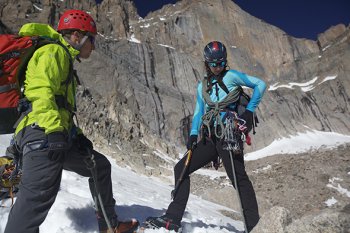 Rocky Mountain National Park is an ideal alpine playground, complete with sheer rock walls, steep couloirs, and craggy peaks—everything a budding climber needs to cut his or her teeth.
Climbing is a surefire way to get intimate with the park. Searching for handholds on a granite slab, swinging an ice ax into a frozen flow, or kicking steps up a snowy slope, you transform from a mere observer to part of the landscape itself. And as a result, you can find deep inner tranquility.
Take it from Enos A. Mills, the father of Rocky Mountain National Park: "Among the serene and steadfast scenes you will find the paths of peace and a repose that is sweeter than sleep."
When to Go:
Snow blankets the park's higher elevations for much of the year, compressing the climbing season into a few months.
The best time to go depends on what sort of terrain you seek. Hit the rocks from April to October, ice from December to March, and snow from May to July.
Mixed climbing on rock and snow is best in May, June, November, and December.
Essential Gear and Tips:
The key to climbing is to dress in warming layers. It can be mighty cold and windy at 12, 000 feet. Choose synthetic fabrics or wool, which wick moisture away from your body and dry quickly, while avoiding cotton (which does quite the opposite) at all costs.
Always bring warm gloves and a waterproof jacket and pants, regardless of the weather report. Storms roll in fast in the mountains, and can transform a bright sunny day into a freezing snow- or hailstorm, even at the height of summer.
While you're at it, slather on the sunscreen and don a hat and sunglasses, as the rays are more intense at high altitudes.
Gear: For technical climbing, you'll need a harness, helmet, ropes, belay device, carabiners, and protective gear, which you can rent or your guide will provide.
Specialized climbing shoes with sticky rubber soles are standard for rock climbing. If you'll be on snow or ice, you'll want sturdy boots, crampons, and an ice ax and/or tool. When rappelling, wear leather gloves to protect your hands from rope burn.
Altitude: Altitude can be debilitating. If you're coming from sea level, wait a day or two before trying anything strenuous in order to give your body a chance to adapt to the change in elevation. And drink lots of water throughout the day, even if you don't feel thirsty. This is especially true when you get into the field.
Timing: Start early, and plan to get off any peak by 10:00 a.m. Thunderstorms build quickly, especially in the summertime. You don't want to be above the tree line when lightning strikes.
Where to Go:
You could spend a lifetime exploring all of the nooks and crannies of Rocky Mountain National Park. Here are a few great spots to give climbing a shot:
Longs Peak: At 14, 259 feet, Longs Peak is the park's highest point and offers a great taste of mountaineering.
The classic route—the Keyhole—is 15 miles round-trip and takes 10 to 15 hours. The route involves hiking and scrambling and crosses several exposed ledges, so bring a steady set of nerves and climb cautiously.
The season for Longs is mid-July to mid-September.
The YMCA of the Rockies offers a program where hike masters lead you on a succession of progressively more difficult hikes until you are ready to tackle Longs Peak. Colorado Mountain School offers guided trips up even more technical routes.
Lumpy Ridge: The bulbous slabs and cliffs here make for an excellent technical rock climbing experience.
With everything from entry-level to expert climbs, Lumpy Ridge is also a great place for first-time climbers and those wishing to take their skills to the next level.
Due to the ridge's relatively low elevation, climbing season starts in April, before the rest of the park has thawed.
Dreamweaver: This classic couloir is a stout snow climb (with a couple of short ice sections) that's challenging yet within reach for beginners.
As you kick steps up the increasingly steep gully, your jaw will drop in awe at views of the Flying Buttress rock formation alongside you. The couloir tops out just below the summit of 13, 911-foot Mount Meeker.
Where to Stay:
If you're heading out with Colorado Mountain School, you can stay in and enjoy an inexpensive climber vibe. Expect bunk rooms, shared bathrooms, ping-pong, and a communal kitchen. And don't forget your earplugs.
Surrounded on three sides by Rocky Mountain National Park, the has been around longer than the park (the YMCA held its first summer school in 1908, more than six years before the park was officially established). Sleeping options run the gamut from lodge rooms to family cabins to eight-bedroom houses for large groups. The 860-acre property and huge roster of activities make you feel like you're a kid at camp.
Staying at the is like stepping back in time. The stately Estes Park establishment, which opened in 1909, is on the National Register of Historic Places and is just six miles down the road from the park. Despite being the inspiration for Stephen King's The Shining, it's not really haunted—though it's fun to ponder.
More Great Climbing Destinations:
Grand Teton National Park (Wyoming, United States): Rising 7, 000 feet from the valley floor, the Grand Tetons are a prime place to try climbing. Exum Mountain Guides will take you to a perfect rocky training ground near Hidden Falls and show you the ropes.
Yosemite National Park (California, United States): The towering walls of Half Dome and El Capitan make Yosemite climbing the stuff of legends. Yosemite Mountaineering School can teach you how to tackle the rocks.
Chamonix (France): Mountaineering heritage is woven into the soul of this charming town. Climbing options abound, from glacier trekking to the top of Mont Blanc—the highest peak in western Europe—to the Cosmiques Arête, a thrilling mixed route that finishes at the top of the Aiguille du Midi tram. Plenty of outfitters are on hand to guide you.
Share this article
Related Posts