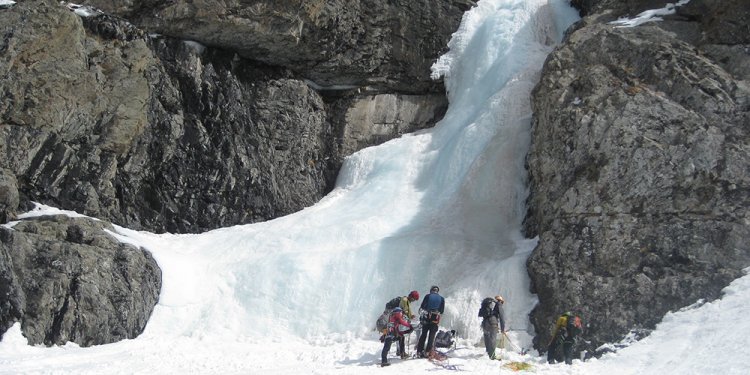 Ice climbing clothing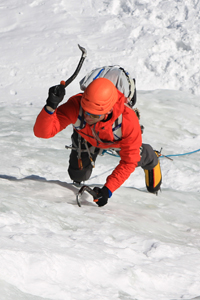 Clothing is as important as your boots and ice axe. Being properly dressed is essential to enjoying your outdoor adventures. Cotton has no place in your winter layering system: it keeps you cold if you sweat and it takes a long time to dry out. Synthetic fabrics or wool keep you warmer when they become wet with sweat and certain synthetic base layers are designed to wick the sweat away from your skin to keep you drier and warmer. In order to make your experience more enjoyable, please do not wear any cotton as layering pieces. Also, remember, you have to carry all your clothing with you, so packing efficiently is important. If you can't wear it all at once, you don't need to bring it. We expect that you will be dressed and ready to go upon arrival to the School.
The items below are REQUIRED unless otherwise specified. If you have questions about what to bring please call the Climbing School at 800-310-4504.
Clothing
Base Layer (top & bottom)
There's no way around it. You sweat. Wear fabrics that wick moisture away from your skin. Unlike 100% cotton that gets wet and stays wet, wicking fabrics help you regulate your core temperature and avoid overheating or chilling. Great examples of winter base layers include EMS® Techwick® Lightweight and Midweight polyester which wicks, packs, wears, and washes like nothing else. Top and Bottom. Light to mid-weight synthetics, snug fit and close to skin.
Over-Base Layer (top only)
Mid-layers add mild insulation to help retain heat that your body creates, and are worn between the base layer and insulation if needed. Examples of over base layers are EMS® Techwick® Midweight or Heavyweight or any lightweight wool shirt. Top only. Light-weight fleece or heavy-weight EMS® Techwick®. Power-Stretch and micro-fleece are ideal materials for this layer.
Insulation Layer (top only)
Mid-layers add insulation to help retain heat that your body creates, and are worn between the base layer and outer jacket. Examples of insulating mid-layers include a fleece jacket or a synthetic jacket made of Prima Loft® or Thermore®. Jacket only. 200 to 300 weight fleece, heavy weight soft shell or light weight Prima-Loft sweater.
Uninsulated Waterproof/ Windproof Shell (jacket & pants)
Forget about bulky coats. Wear an outer shell (over your base and insulation layer) to shed water and snow. Layering will give you more versatility, depending on the weather and your activity. Outerwear that is waterproof with increased breathability will be more adaptable and can help transfer moisture away from your body to keep you dry and protected from the elements. Jackets and pants. EMS System III, Gortex®, or similar waterproof/breathable material. Jacket MUST have an integrated hood. Flimsy "stow-away" nylon hoods are not adequate. Full side zip on pants are very helpful.
*Soft shell pants and jacket can be very appropriate on days when we are not expecting heavy snow or wet weather. They provide wind and water protection while still allowing you to breath. Fabrics that fall into the category are PolarTec Powershield and Scholler.
"Over-it-All" Hooded Down or Prima-Loft Jacket
This crucial layer is often added when you stop for a break. It helps to maintain your body temperature while you are resting and is essential for keeping you warm on those cold descents and during inconvenient breaks above treeline in high winds. This layer is generally worn over your outermost layers–yes, even over your Gore-Tex® or System Three® jacket.
Gloves or Mittens, and Glove Liners
We recommend having 3 pair of gloves/mittens with you. Glove liners are very useful for the more aerobic approach to your climb. Insulated gloves (like ski gloves) with a windproof/waterproof shell are a must for higher elevations and more technical climbing. Mittens with a windproof/waterproof shell are essential for those colder temperatures at higher elevations (tip: you will not be dexterous in mittens, so if you couple a pair of liner gloves inside your mittens, you can have both!)
Fleece Hat
You've probably heard that most of your body heat escapes from your head. When you're feeling cold the first piece to add to your clothing system is a hat. This hat should cover your ears and can be made of fleece or wool. Remember to fit the hat so you can wear it under a helmet.
Wool or Synthetic Socks
How many times have your feet been way too cold? Wool or wool blend socks are great natural insulators, even when wet. For most cold-weather sports, wear wicking liner socks and mid weight wool or synthetic socks. Make sure you fit footwear with heavier socks for more warmth. No matter how thick your socks are, if your footwear constricts your toes, your blood flow will slow down and cause your feet to be cold–fit your shoes accordingly.
Footwear
EMS will provide all climbers with appropriate plastic winter mountaineering boots. Boot sizes range from women's 5 – men's 16. If you have a larger or smaller foot please let us know before you arrive.
Accessories
Backpack
2, 000-3, 000 cubic inches or 30-40 liters is recommended, max 20lb load. A properly fitted pack will make your day 100 times better! It is essential to have a backpack which has a comfortable hip belt to help support the bulk of the weight. Use a backpack large enough to stow all of your gear on the inside without having to strap any of your personal gear on the outside where it is exposed to the elements. Also, make sure your backpack has ice axe loops you can use to carry your mountaineering axe when you are not using it and side compression straps to cinch the load close to you. Tip: Pack your backpack with your gear before you arrive and make sure you still have enough room to stow your puffy jacket, gortex jacket, and extra warm layers for the initial hike in. This will save an enormous amount of time in the morning!
Winter Gaiters
Gaiters cover the top of the boot to keep out rain, snow, and ice. They should cover your entire calf and be able to fit over a plastic ice climbing boot. They also cover your Gore-Tex® pants and provide a clean surface around your legs. This way, you are less likely to trip on loose pant legs and damage them while walking and climbing in your crampons.
Meals
Food
Fuel your body. In the mountains, lunch starts when breakfast ends and ends when dinner starts. In other words, we eat all day. A typical climber or skier will consume about 3, 500 calories during the course of a day. Pack foods that don't freeze hard, cover all the food groups and are easy to eat. Pre-make peanut butter sandwiches, or bring last night's pizza, and those oh-so delicious candy bars. Carry your bars inside your jacket to keep them warm and gooey.
Water
Wide-mouth water bottles are recommended for winter. 2+ liters is a minimum to keep us hydrated during the day. Please, do not use hydration systems, metal water bottles, or thin plastic, Poland Springs, narrow-mouthed bottles. All of these systems freeze easily making the water unavailable to you. Before coming to the school, please consume ¾ to a liter of water. This will ensure you are starting your day well hydrated.
Share this article
Related Posts