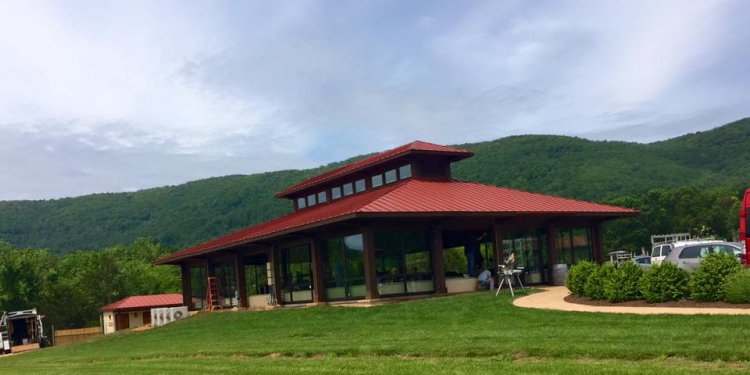 Afton Mountain Vineyards
Afton Mountain Vineyards is one of Virginia's first farm wineries with original vines planted in the 1970s. Our focus is on making wines of unrivaled quality from our own estate-grown grapes. Surrounded by 360 degree mountain views, our Tasting House is a beautiful place to enjoy the fruits of our labor.
Our vineyards lie on the southeastern slope of the Blue Ridge in a place of unparalleled beauty and excellence of terroir, that elusive fusion of sun, earth, air, and water which Europe's "noble" wine grapes need to thrive. We make Chardonnay, Cabernet Sauvignon and Cabernet Franc, but we also make wines such as Gewurztraminer, a super-Tuscan red blend, and a sparkling wine made in the traditional methode champenoise.
Winery Story:
Elizabeth and Tony Smith both grew up in nearby Albemarle County, went to Albemarle High School, and were married at the UVa Chapel.
After spending twenty years in the Tidewater, VA region, their love of Virginia and wine lead to their search for the best local vineyard site in 2009. There they enjoy the grapes and wines they make today.
Winemaking Philosophy:
Afton Mountain Vineyards believes in the expression of the grape and the terroir. Some years may produce lush whites, or big bold tannic heavily-extracted reds, or other times a lighter, more delicate style of wines. The most important aspect of the wine for them is "balance" – the components singing together in the proper harmony for the vintage.
Winemaker: Damien Blanchon
Wines Typically Available:
Whites: Albarino, Chardonnay, Gewurztraminer, Rosé, Bollicine (sparkling made from Pinot Noir & Chardonnay).
Reds: Cabernet Franc, Merlot, Cabernet Sauvignon, Petit Verdot, Festa di Bacco (super-Tuscan), VDN (port-style red).
Hours: 11-5:30 Every Day (call for winter hours)
Closed: Easter, Thanksgiving, Christmas Eve, Christmas and New Year's Day.
Tasting fee: $10/person. Last tasting is conducted 15 minutes before closing.
Group Policy: Parties of 7 or more are required to call ahead and place pre-paid reservations. Groups of 7-15 are hosted in our group tasting room with panoramic views of vineyards and mountains. We regret that we do not have the space to accommodate groups of more than 15 people.
Our times for group tastings are 11:00, 12:00 and 1:00; we do not host any groups after 2:00 at any time.
Reservations for reserved picnic space in the pavilion are available until 2:00pm. The fee is $12 per person, applicable either to a group tasting or wine purchases for picnics.
Event Policies:
Public Events: Afton After Hours music series hosted one Saturday/month with a food truck, cover charge – $5. See AMV website for full details.
Food Available: Cheeses, meats, snack food available in tasting room. Outside food is permitted.
Pet Policy: Dogs, on leashes, allowed at outside seating areas and in pavilion.
Kid-friendly: yes
Directions:
Afton Mountain Vineyards is located minutes from the junction of I-64, the Blue Ridge Parkway and Skyline Drive.
From Charlottesville: I-64 west to exit 107, left on US 250 6 miles to Rt. 151, left on 151 3 miles to Rt. 6, right on Rt. 6 1.8 miles to Rt. 631, left on Rt. 631 1.2 miles to entrance.
From Staunton: I-64 east to exit 99, right on US 250, 1.3 miles to Rt. 6, right on Rt. 6 1.7 miles to Rt. 631, right on Rt. 631 1.2 miles to entrance.
Share this article
Related Posts