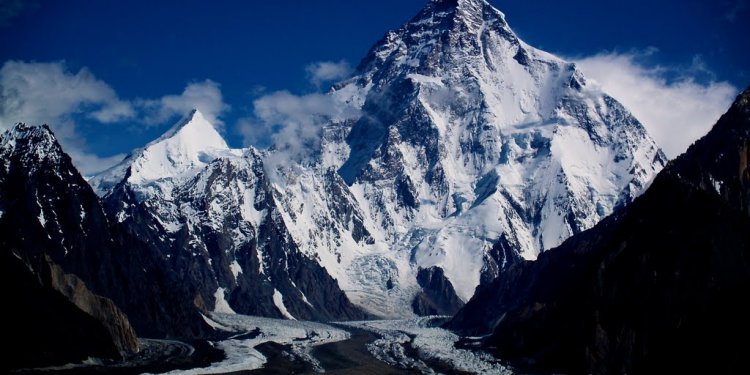 World hardest Mountain to Climb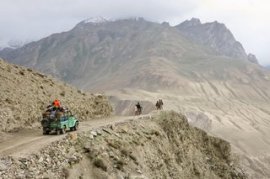 David Lama on one of the last great unclimbed routes in the world, the Northeast face of Masherbrum.
David Lama is not a man known for attempting easy things – but even by his standards, the Northeast face of Masherbrum presents a formidable challenge. It's one of the few routes in the Himalayas that has never been truly tested – only two parties have even considered an attempt – and even after a six week stake-out from Lama and his partners Peter Ortner and Hansjörg Auer this spring, it remains virtually untried. We got David to tell us about the route, and what makes it so formidable.
Just to get to Masherbrum is an epic journey © Martin Hanslmayr /Red Bull Content Pool
Masherbrum is no Everest – in fact, it's way harder.
Yes – it's one of the most seldom-climbed mountains in the world. It has all the altitude and exposure of Everest, but requires much more technical skill to summit. There's been only 15 successful summit bids in over 75 years of attempts.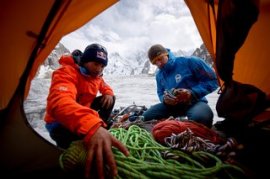 And none via the Northeast face.
Only two groups have even thought about trying the Northeast face before us – some Americans and an Eastern European group. They didn't get very far, so there's virtually no information on the climb to help us plan and strategise.
David Lama and Peter Ortner get ready © Martin Hanslmayr /Red Bull Content Pool
Tell us what you do know...
It's one of the hardest unclimbed routes left in the world – sort of like climbing the Eiger, with a Cerro Torre on top. It's at high altitude, starting a 4, 800m and finishing at 7, 821m. To compare this climb to Cerro Torre, it's twice as big, and it's twice as high - it's much more complex, you're on the wall much longer, the descent is much more difficult, and since no one has tried it, there's no way to learn from someone else mistakes. Oh, and it's also more remote – base camp is four or five days from the next village.
David Lama at base camp © Martin Hanslmayr /Red Bull Content Pool
You were in base camp for quite some time.
Yeah, we were struck with bad weather for much of the trip – so there was a lot of time in base camp. That's why I had a chair strapped to my back on the way in – when you're spending a lot of time sitting, you want something to sit on!
David Lama, Peter Ortner and Hansjörg Auer © Manuel Ferrigato/Red Bull Content Pool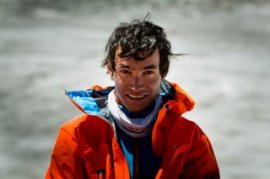 How long do you think it will take? How far did you get?
I think it will take about five or six days to climb. We only got 400m or so above base camp. When we got decent weather, it got so warm that the snow was starting to get to soft to move, slowing us down considerably – and the only way to do this is to go light and fast. Easier climbing than above, but there's so much danger from seracs, icefall and rockfall, and avalanches.
How light?
We wanted to go as light as possible, between 10 to 13kg person – including rope and our protection.
Any more details about the climb?
The middle section looks quite blank, so we'd have to climb the ice. Then the headwall starts at 7, 000m, and it must be one of the highest and hardest headwalls in the world. It's mixed climbing, high up.
David Lama preparing his equipment © Manuel Ferrigato/Red Bull Content Pool
So when you started moving above base camp, what happened?
We were climbing up with avalanches coming down on both sides of us. Because we were moving so slowly in the soft snow, there was no chance to stick to the plan, no chance to make it to the summit. We decided that going higher is risking your life, so we decided to descend.
Tough decision?
Of course it was difficult to decide not to climb. You invest so much time and so much energy that you want to get something out of it. It takes six weeks just to get there and acclimatise, and then to not really get a chance to climb is disappointing. But it was the only decision that only made sense.
David Lama slacklines in base camp © Manuel Ferrigato/Red Bull Content Pool
So when are you heading back?
These trips demand a lot of motivation and time. Next year, after three years in Pakistan, it's time for something smaller – that doesn't take 2.5 months to climb! The last three years we've come out of winter from ski and ice climbing, and went straight into Pakistan or Argentina. It's time to take off the down suits, and be able to climb in a t-shirt.
So what should we google if we want to find out more?
Nothing. You can't. There's no name to any part of the climb, there's no line drawn… it's a totally blank slate. That's what makes it so interesting to us.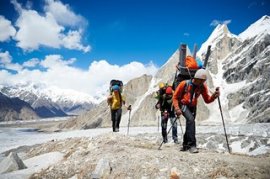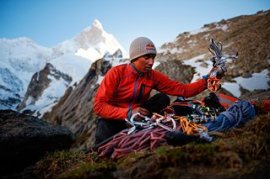 Share this article
Related Posts