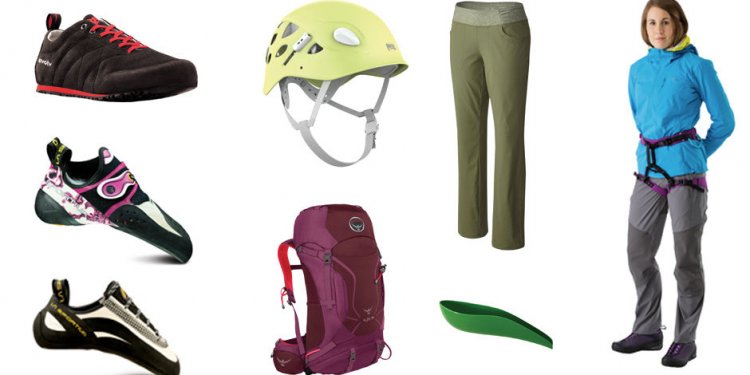 Pink Climbing Harnesses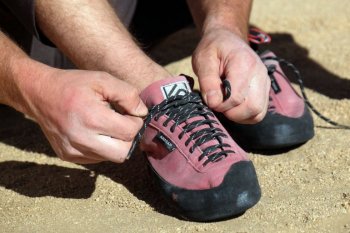 Ah, the Anasazi Pink Lace-up. If only I could review arguably my favorite shoe ever every day. How do I love thee? Let me count the ways. You edge on a dime, fit like a glove, conquer virtually all terrain, annihilate tricky corners, and you're my go-to shoe for almost everything. You also last long, feature quality craftsmanship, and ease my mind in times of runout. I could sing my praises of the Anasazi Pink all day long, but I'm not here to butter up Five Ten. Read on for a (mostly) objective look at this excellent climbing shoe. To see how the Pink stacks up against the competition, see our article on the best climbing shoes. If you're new to climbing, see our article on climbing shoes for beginners.
Premium Construction and Materials
The Anasazi Pink Lace-up is an elegant shoe and a testament to Five Ten's ability not only to create great designs, but also tweak and improve them over the years. On this shoe you see a synthetic "Cowdura" upper that rises up the foot in a single swath of fabric on each side (no seams). The Cowdura is made to maintain all of leather's comfort and durability without giving in to leather's tendency to stretch. To this end, the material performs fantastically. Where the uppers come together, a thorough lacing system provides great flexibility in the fit and shape of the shoe, making it a good choice for a variety of foot types. The tongue is comfortable and minimally reinforced, and even on toe scums high on the foot, the laces never pressed down hard into my skin.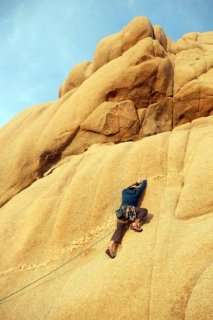 Moving down the shoe you have the secrets to the Anasazi's performance: the heel cup and rand. The Anasazi heel cup is one of the best I've ever felt and it really conforms to the shape of my heel. The heel on the Pink is narrower than previous Anasazi models, which gave me pause as my heel is somewhat rounded. However, I still found the fit excellent on my wide heel. There's a moderate degree of tension and elasticity in the rand where the heel connects to the front of the shoe, and this really drives your toes forward into the front of the shoe after you slip the heel on. I've never had a rand blow out on any pair of Anasazis, which is a testament to their quality.
Under foot is a minimalistic but reasonably durable lining, and a stiff midsole that really supports your foot through edging and tricky footwork on vertical walls. The Stealth C4 is pure magic as I've discovered time and again over the years. It's probably my favorite climbing shoe rubber, and I'm glad Five Ten used it instead of the Onyxx they have on the Blancos.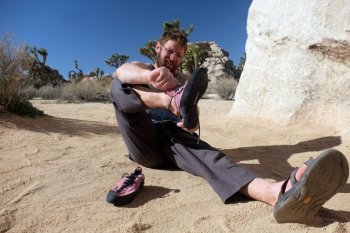 The Pink is a relatively flat shoe with essentially no downturn in the toe. The toe box is certainly asymmetrical, but not aggressively so. I believe the fabric comes up a little higher on the sides of the foot in these shoes than previous models, but not high enough to cover the ankles. If you have low ankles, the height of the fabric could be an annoyance.
Climbing with the Anasazi
I've got nothing but good things to say about the performance of the Anasazi Lace-up. In over 15 years of climbing, it really is one of the best all-around shoes I've ever worn. In its best application, vertical granite, I give it a ten out of ten. Whether smearing, sticking to a miniature crystal, stemming your way up a desperate corner, or finagling tenuous jams on thin cracks and v-slots, these shoes just dominate. They climb as well indoors as outdoors, and I think the rubber is as adaptable as any in the business. It does well on desert sandstone, river-polished schist, Yosemite granite, and Gunks quartzite.
The shoes are definitely made for the vertical environment, give or take about 20 degrees of slabbiness or overhang. That said, if you tip the scales to either very steep or very slabby—terrain the shoe was not meant for—it still climbs very well (about as well as any shoe could in a venue it wasn't intended for.) Because I love these shoes so much, I'll often wear them on steep sport climbs and boulders instead of my super-downturned shoes designed for those types of climbing. I was always impressed when I did so that the performance did not diminish. With the exception of ultra-aggressive toe-hooking for which you absolutely need more toe rubber, these shoes do great in caves and roofs.
Fit and Sizing
I have a fat, wide, and oddly-tapered foot with medium high arches, so it can be tough for me to find shoes that fit right. The Pinks seem to fit me perfectly, though. Take a look at your foot: is it broad in front and narrow in the back? Is your big toe longer than all your others? Do you have a bulbous and rounded heel? If you answer all these questions in the affirmative, the Pink probably will be a good fit.
As for sizing, I went with the same size as my street shoe, another 5.10 model called the Guide Tennie. I am happy with 8.5 in each. In the past for increased performance, I went down to 8, and even once to a 7.5. I found going down a whole size to be prohibitively uncomfortable, so I'd recommend settling on a half size down if you value performance over comfort.
Best Uses
If you are climbing vertical rock of just about any type, but especially granite between 5.10 and 5.15 with an emphasis on tricky footwork, this is the shoe for you. Sport or trad, it doesn't matter. Think vertical wall, tiny footholds, tricky technical edging, and smearing.
If you aren't climbing that terrain, that doesn't mean the Pink isn't the shoe for you. I would very comfortably recommend it for an indoor climber of just about any skill level looking for an all-around shoe for the wide variety of terrain found in most gyms. It could either be a great sport climbing shoe (size tight) or a great multi-pitch trad shoe (size a bit looser). One way or another, most people seem to like this shoe as much as I do, regardless of what they are climbing. You just don't find many negative reviews of the Pink, or anything else in the Anasazi lineup for that matter.
Compared to Past Anasazi Models
My first pair of Anasazis was the Tan Velcro model years ago. Then I had the Verdes, the Blancos, and finally the Pinks. The original Anasazi, of course, also was pink and had a major cult following.
As I understand it, this new Pink Lace-up harkens back to the original but with a far superior heel cup. I found the Verde to be a touch too soft over time, eventually losing that incredible edging platform. The Blanco, meanwhile, was too stiff, never becoming fully comfortable or as sensitive as the Verde had been. I also preferred C4 to the Blanco's Onyxx rubber.
Share this article
Related Posts