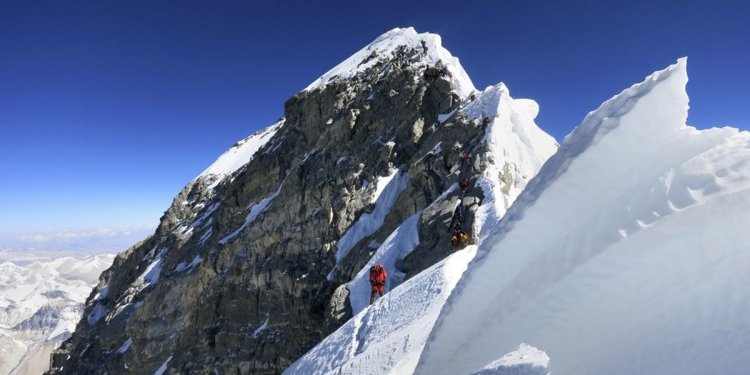 Climbing Everest book
#FRIDAYREADS
Mt. Everest is in the news again for tragic reasons. Three people have died, in as many days, on the 29, 035-foot peak, reportedly of altitude sickness. Rescue efforts are ongoing for two other missing climbers. More than 400 people have tried to climb Everest this season, including 288 foreigners and more than 100 Sherpas and guides, said Sudarshan Dhakal, director of the Nepal Tourism Department. That's more than the average for previous seasons, he said.
The mountain represents the ultimate test of man vs. nature and many books have been written about it – including those about Sir Edmund Hillary and Tenzing Norgay who were the first climbers to reach the summit in 1953.
Perhaps the most well-known book about climbing Mt. Everest is Jon Krakauer's "Into Thin Air", but the author expressed regrets about the climb last year: "I wish I'd never gone, " he told HuffPost Live . "I suffered for years with (post-traumatic stress disorder), still suffer from what happened. I'm glad I wrote a book about it, but you know, if I could go back and relive my life, I never would have climbed Everest."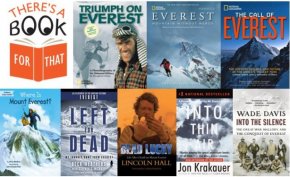 FEATURED TITLES:
by Beck Weathers, Stephen G. Michaud
In 1996 Beck Weathers and a climbing team pushed toward the summit of Mount Everest. Then a storm exploded on the mountain, ripping the team to shreds, forcing brave men to scratch and crawl for their lives. Tie-in to "Everest", starring Josh Brolin, Jake Gyllenhaal, Keira Knightley, and Robin Wright.
by Conrad Anker, Thomas Hornbein, Bernadette McDonald, David Breashears
Gripping and sumptuous, this is the definitive book on the history, mystique, and science of Mount Everest, including how climate change is impacting the world's tallest mountain.
by Lincoln Hall
Lincoln Hall's breathtaking account of surviving a night in Everest's "death zone."
by Wade Davis
The definitive story of the British adventurers who survived the trenches of World War I and went on to risk their lives climbing Mount Everest.
by Broughton Coburn
The terror and triumph of the May 1996 climbing season on Mount Everest will go down in infamy. Made famous by Jon Krakauer's bestseller INTO THIN AIR and recounted in David Breashears's gripping IMAX film, the story is relayed in National Geographic's gripping volume, updated with brilliant new panoramic photography.
by Jon Krakauer
A bank of clouds was assembling on the not-so-distant horizon, but journalist-mountaineer Jon Krakauer, standing on the summit of Mt. Everest, saw nothing that "suggested that a murderous storm was bearing down." He was wrong.
FOR YOUNG READERS:
by Nico Medina, John Hinderliter, David Groff - Ages 8 to 12
In this compelling narrative, Nico Medina guides readers through the mountain's ancient beginnings, first human settlers, historic climbs, and the modern commercialization of mountain-climbing.
– Ages 10 and up
This exciting photobiography celebrates the extraordinary life of the New Zealand farm boy who in May 1953 became the first person known to have reached the summit of Mount Everest. With climbing partner Tenzing Norgay, the iron-willed Hillary crossed deadly icefalls, clawed his way up vertical walls, and persevered through gale-force winds until he finally stood at the top of the world.
Share this article
Related Posts