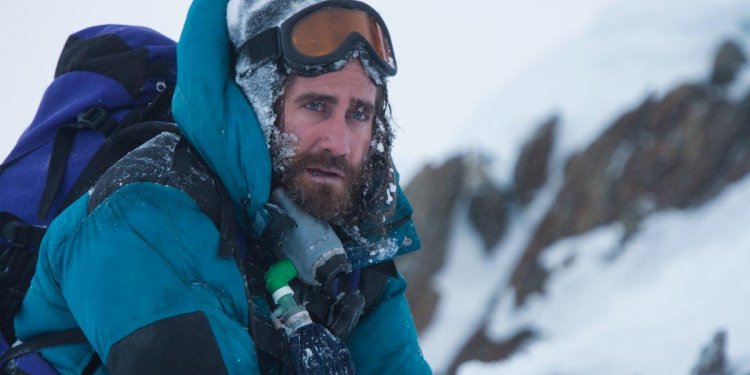 Movies About climbing Everest
Some people love to drive the fastest cars, others dream of surfing the world's biggest waves, while still others don't feel completely alive until they climb the highest mountain. Mountaineers are, for lack of a better term, totally crazy. They brave the harshest natural elements at altitudes requiring oxygen tanks, and talk about death zones, edema, and losing limbs to frostbite like the rest of us talk about blisters and paper-cuts. What drives these people to want to risk their lives for a few frozen minutes on top of a mountain? This question is not only the most prominent common denominator of all mountain climbing films and documentaries, but also is the major reason why we as an audience are so attracted to these perilous extremities.
"Everest" is the latest blockbuster to bring us into the mountaineers' milieu: Featuring a star-studded cast in Jake Gyllenhaal, Jason Clarke, Josh Brolin, Keira Knightley and others, Baltasar Kormakur's film expands wide this week. For all the mixed reviews it has received so far (including our very own from Venice), few have denied the breathtaking spectacle of its setting —and it is hardly the first film to rely on that. Watching climbers scale the world's most treacherous mountain faces towards the world's highest summits is entertaining almost by default, and as such is the subject of several fiction features (many of which are not very good, if I'm being honest) and also of many documentaries (which tend to fare rather better).
From the Himalayas, to the Swiss Alps and all way round to South America's Andes, the following nine films focus on man's burning desire for adventure and conquest where the air is thin and the view is indescribable. Often, the mountains themselves dominate; referred to variously as lovers, villains, or spiritual guides, these rocky behemoths make for quite compelling characters in their own right, not least in how they forge human bonds and test physical limits. So rope yourselves in, strap on your crampons and watch out for hidden crevasses as we scale the nine peaks below…or is that above?
"North Face" (2008)
History is fictionalized to soaring heights in Philipp Stolzl's engrossing "North Face." Based on an attempt by two German alpinists in 1936, the film follows Toni Kurz (Benno Fürmann) and Andi Hinterstoisser (Florian Lukas) on a mission to climb up the Eiger north face and be the first men to "conquer the last problem of the Alps." From the ground and observation deck, their victory is to be photographed by Luise Fellner (Johana Wokalek), a childhood friend from Berchtesgaden who strikes up a romantic connection with Kurz. After what looks like a great head start way ahead of other European rivals, Kurz and Hinterstoisser' progress comes to an abrupt halt. Two Austrian competitors, Willy (Simon Schwartz) and Edi (Georg Friedrich), have been tagging along and following their trail, when Willy gets seriously injured by a falling rock. All four men realize they must go back or seal their fates there and then. The next hour or so of "North Face" is as intense as any mountain climbing documentary, superbly engineered to keep the audience at the edge of their seats. Climbing in the moonlight and covered in darkness, Kurz and Hinterstoisser scale the great alpine north face, and the actors do a tremendous job of pulling the viewer in, while Wokalek's Fellner adds a personal, emotive touch. Kolja Brandt's wintry cinematography, and the long stretches of no-sound-but-cruel-wind while men dangle on the precipice of life itself, begs for the film to be seen on the largest screen possible. What's most incredible of all is how closely the story sticks to the facts of the 1936 expedition, making "North Face" perhaps the greatest mountain climbing narrative feature of them all. "Touching The Void" (2003)
Human resilience, the bonds of climbing partnerships, man's capacity for survival and the travails of scaling mercilessly dangerous summits —Kevin MacDonald's "Touching The Void" has it all. It's the incredible true story of Joe Simpson and Simon Yates, two climbing friends from Britain who scaled the west face of the Siula Grande in the Peruvian Andes in 1985. On their way down from the peak, a climber's worst nightmare becomes reality for Joe: he breaks his leg. Through an ingenious rope technique, a standard descent turns into a rescue mission, until the two men are hit by a severe storm. Over one particularly steep ledge, Joe is left suspended in the air, out of Simon's sight and hearing range. Believing his partner to be dead, Simon makes a decision that would later be mired in controversy —he cuts the rope. What happens next is best left unsaid for those unfamiliar with the events, but suffice it to say that it defies belief. Joe and Simon recount the events to us in classic talking-head format, while their climb is brilliantly reenacted by Brendan Mackey (playing Joe) and Nicholas Aaron (Simon). Intricate close-ups of crampons and ice-axes serve to add an almost surreal effect of being there, and MacDonald's scene arrangements furiously collocate frail man with unforgiving mountain. One of the most legendary and horrific mountain climbing stories-turned-survival tales in history, the events in "Touching The Void" ignited endless debates in the climbing community over Simon's decisions, and also make for an unforgettable and supremely visceral viewing experience.
Share this article
Related Posts