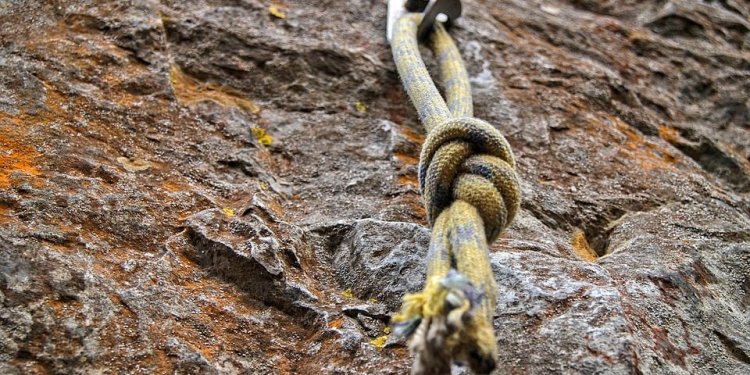 Sport climbing Equipment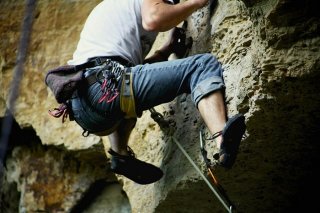 Climbing is a great way to exercise or physically challenge yourself. I guarantee a day of sport climbing, which involves using pre-drilled and set expansion bolts for the primary means of protection, is just as tough as hitting the local gym.
Aside from being physically demanding, it also pushes you mentally, both in problem-solving and getting over fears of falling. And inevitably, you are going to take a fall.
Type of closure is another question. I really like laces since there is more adjustability in the fit. With smaller, tighter-fitting shoes, hook-and-loop straps provide enough closure and they are much easier to get on and off.
Pro Tip: Periodically treat climbing shoes with an anti-fungal or odor spray or baking soda to cut down on stink and the risk of athlete's foot.
Chalk Bag
Chalk keeps your hands dry to ensure the ultimate grip on the rock. You can buy loose chalk or chalk that's inside a ball fabric ball. Most gyms require you to use a chalk ball as it cannot spill and create a mess. At the local crag outdoors I use loose chalk because it's easier to get a lot on your hands—but watch where you put the bag.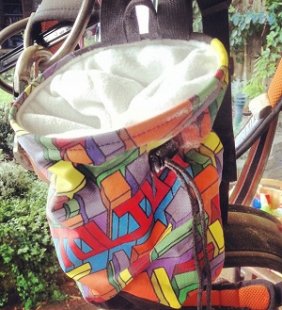 Spilling an entire bag of chalk definitely breaks the Leave No Trace principles, as does where you put your hands. There's no need to have hand prints all over the rock. In some places, like near desert drags, you can buy brown-colored chalk to maintain the rocks' natural beauty and avoid white splotches all over the wall.
There are many different types of bags. I've seen anything from Crown Royal bags to zebra print; it's a fun way to express yourself. If you find yourself chalking up a lot, just make sure you have one with a big opening so its easy for you to get in there while you are climbing.
Rope Bag
A rope bag is the best way to keep your rope organized while moving from climb to climb. Using the rope bag as a tarp is a great idea, it helps keep the rope clean and off the ground. Keeping a clean rope ensures a long life for your rope; getting it dirty or wet will shorten its overall life. Aside from cleanliness, the rope bag is an easy way to keep everything organized and the rope stacked free of knots. The last thing you want when you are the belayer is a tangled mess on the ground that you have to sort out while your partner is going for a send on a route.
Crag Pack
Most sport routes don't require a long approach (hike to the climbing area), so finding the lightest pack is not the most important thing to think about. When choosing a crag pack, look for ample padding so that you're comfortable when you are carrying all your gear—you would hate to be uncomfortable before you even get off the ground. Also, make sure the pack is big enough to fit all your gear inside the pack; having your helmet swinging on the outside of the pack is an option but it's a drag to catch it on passing branches and brush. Generally, a 35-liter pack will accommodate your quickdraws, rope, harness, shoes and a few extras.
Additional Gear
There's nothing worse than getting all the way out to your local crag to spend a day hungry or cold, so make sure you are prepared.
Snacks and water
Comfy shoes or flip-flops to wear while belaying.
Insulating Layer: Sport climbing is characterized by short bursts of intense activity followed by periods of rest or inactivity while you belay your partner. Always pack a layer (puffy, fleece, rain shell, etc.) or two, even when you don't think you'll need it.
Climbing is my favorite way to enjoy the outdoors. It challenges me physically and mentally. It is such a reward to spend a full day on the crag pushing the limits of what I thought was possible. I have found it's a great way to meet people while traveling or if you move to a new place; climbing communities are usually very tight-knit, but also open to accepting newbies and showing them the ways of climbing in a safe manner.
Remember though, climbing should be fun. Start with comfortable gear before moving to the lightweight harnesses and a really aggressive shoe. Feel free to contact me directly if you want personal recommendations.
Share this article
Related Posts