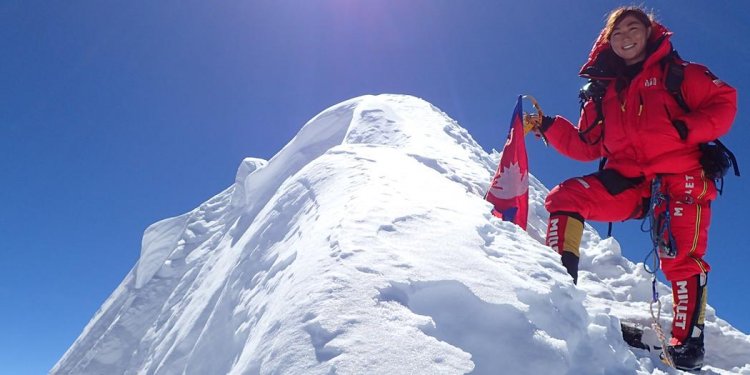 Time to climb Everest
You might not step foot on Mount Everest, but that doesn't mean the trek to Everest Base Camp (EBC) is a light-hearted ramble. Instead you will be undertaking a mini expedition, where you will be pushed to the limit both physically and mentally and where, at times, you will question your sanity and why you signed up to do it in the first place.
However, at times the pain completely disappears because every day you are rewarded with both spectacular scenery and a huge sense of personal achievement. For 12 days (eight days from the starting point in Lukla to Base Camp and four days trekking back down) you will traverse scenery that will literally take your breath away.
Like a picture postcard that changes daily, you'll find yourself lost in a mountainous terrain that changes from lush farmland and dense forest to clear blue rivers and glacial pools the higher you climb. And when you finish the day's trek emotional and exhausted, you will always feel a huge sense of pride at being one step closer to the end goal.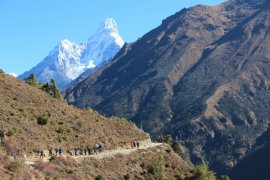 After meeting your group and guides in Kathmandu, the adventure begins in the early hours of the next morning where you'll brave a 40 minute flight to Lukla in a small, roaring aircraft. You know that famous short and steep mountain-side runway? I would be lying if I said it wasn't a scary ride.
After the nail-biter of a morning the first day is not too challenging. A three hour uphill climb is a good introduction to the general trekking pace and on-going conditions and gives you time to rest for day two – which I found to be one of the hardest aside from the Base Camp ascent day. Trekking to 3, 440 metres, you will come to the well-known Namche Bazaar – a market haven – except it takes you six hours of high climbing in the dry heat, steep steps and a series of swaying suspension bridges just to get there.
The next five trekking days include two 'rest days' (the second day in Namche Bazaar and the sixth in Dingboche where you will reach 4, 260 metres) but don't be fooled. A 'rest day' is actually an acclimatisation day which means very steep climbing, yet the views are incredible. You will start to feel the changes in the air and these days simply act as a test-run in preparation for the higher ascent the next day – a necessary evil to make the proceeding trekking days easier.
As time passes, 6am wake-up calls become a relentless and monotonous struggle; the days become long and arduous; extreme exhaustion, weakness from loss of appetite and altitude sickness kick in; the cold conditions become bitter. Personally, I got to a point where I just wanted it all to end but on the last day you do everything you can to pull yourself through the last leg of the ascent.
When you reach Everest Base Camp at an incredible 5, 364 meters, the feeling is euphoric. You can do nothing but marvel at the spectre before you - a canvas of beautiful white snow peaked mountains, the Khumbu icefall and the magnificent yet looming presence of Mount Everest._ _In between the hugs and the handshakes of congratulations, you'll find yourself standing in awe in complete silence, or if you are an emotional wreak like me, shed a few tears. Don't expect a camp full of eager mountaineers ready to scale Everest though, since the best time to trek to Base Camp falls outside of the season reserved only for the world's more daring climbers.
You get a huge, prayer flag covered rock to pose on though! And while the thought of the four day descent that follows will fill you with dread, remember one thing: a HUGE party in Lukla awaits you. __
I didn't know what to expect when I first signed up for this trek. I knew it was going to be hard, but I never realised just how hard. The key is to stay positive - approach each day knowing that with every excruciating step a magnificent view awaits you. Altitude sickness can make you feel_ _nauseous and weak; at its worst it can kill. Listen to your body, drink lots of water and don't overexert yourself. If you need to stop, do so and if you are the last to reach the end point, who cares? Don't be stubborn and carry on as it's important to keep a slow and steady pace.
Share this article
Related Posts