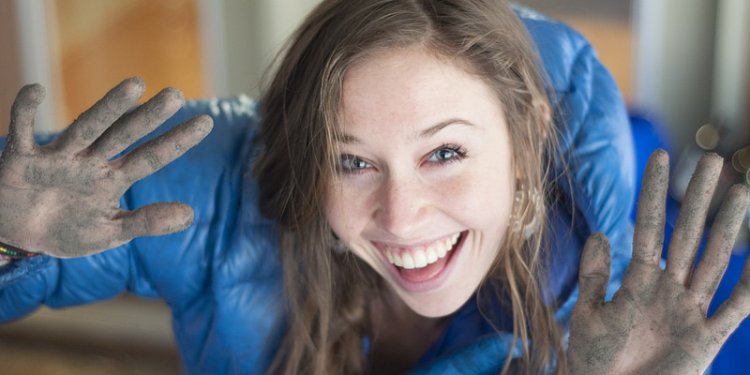 Making Climbing holds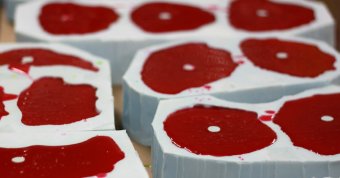 This month we are taking a look at the growth and evolution of America's climbing hold industry. In our last installment, we looked at some of the important milestones that have shaped the climbing hold industry since its inception thirty years ago. Today we are taking an in-depth look at the rise of professional hold manufacturing companies in America.
While these manufacturing companies are a growing component of the climbing hold industry, very little is publicly known about them. CBJ set out to learn more about how these companies operate, who uses them and why.
THE BASICS OF THE POUR
Before we delve into professional manufacturing companies, it's helpful to review just how modern climbing holds are made. The first step is for a hold shaper to carve an original design out of high density foam. Silicone is then poured over this foam shape to create a mold, and the mold is used to cast the shape out of polyurethane. Once the polyurethane is cured, it is popped out of the mold, the edges are sanded and inspected for quality before getting bagged and shipped to customers.
On paper, the process is pretty simple. And in fact, the recipe is straightforward enough that anyone can make their own holds by purchasing foam, silicone and off-the-shelf polyurethane from a chemical wholesaler or distributor.
The reality of mass producing holds is a little more complicated.
A STICKY, TOXIC BUSINESS
Teknik Handholds' founders Zoë Kozub and Seth Johnston began making their holds out of urethane in 2007, and learned first-hand the challenges of making holds out of polyurethane.
From the Teknik website:
"We worked with our local urethane supplier to tweak our formula over and over again. But no matter what we did our molds didn't like the new goo one bit; it stuck, it frothed, it was horribly misbehaved. We had heartbreaker after heartbreaker as we lost mold after mold to this urethane's destructive forces. On top of this we were constantly dealing with stuck components and clogs in the pouring system which created off ratio mixes that didn't cure and made unbelievably huge messes."
After a year of trial and error, Teknik switched to a different polyurethane supplier and found a formula that was easier to work with and produced a better finished product. Their production went much smoother, but Teknik's in-house production of polyurethane didn't last very long.
Kozub told us in an email interview that after years of working with climbing hold chemicals, Seth Johnston's health was suffering. "For the last year or more of our in-house pouring phase, Seth would get bad rashes on his forearms each day after working with the materials and he would feel dreadful for around 2-3hrs after each day of pouring, " Kozub said. "Finally, after a particularly heavy week of pouring, he left the pouring room complaining about chest tightness and a discomfort in breathing. So we pulled the plug; that was the last day we ever poured."
For Teknik, finding someone else to manufacture their holds was an easy choice. At the top of their list was finding a facility that had an excellent urethane formula. "We wanted to be unbeatable in every way, including material, which had always been our Achilles heel, " said Kozub. To them, this meant using Aragon Elastomers. "We actually didn't even consider anyone else. We knew they had years of experience pouring quality holds, and had without a doubt the best material. If we were going to outsource our production, we felt there was no reason to go with anything other than the best, " said Kozub.
Share this article
Related Posts