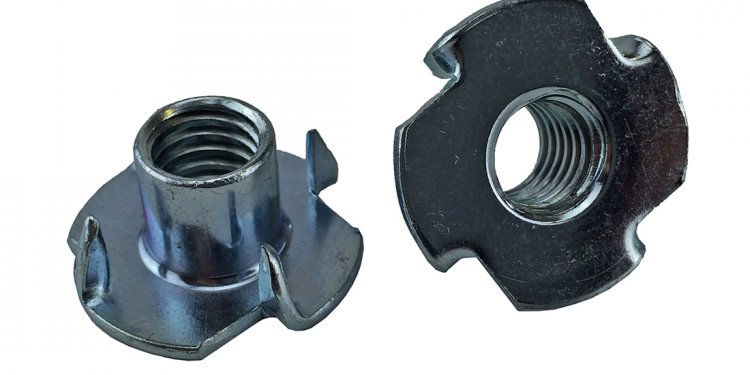 T-nuts for Climbing holds

2. What about back orders?
We are the manufacturer, therefore back ordered items are rare.
3. Is the hardware included?
No, but our website is coded to offer several hardware options. You can add hardware on the page you see the product you want.
4.What are Atomik's climbing holds made out of and how does it compare to other products?
Atomik uses a polyurethane resin. We use this resin because it offers an outstandingly strong product and it allows us to be environmentally responsible. Polyurethane does not typically emit significant amounts of either EPA-listed VOCs or "semi-VOCs."
Volatile organic compounds (VOCs) refers to organic chemical compounds which have significant vapor pressures and which can affect the environment and our employees health. Polyester resin does not afford us these benefits. It is weaker and gives off very high VOCs.
5. Can I order using a Purchase Order?
We accept Purchase Orders via fax at 866-603-8421 or email kenny@atomikclimingholds.com. If you choose to place your order online, register, fill up your cart and then choose Purchase Order for the payment option. You will be prompted to type in your purchase order # on the next page. Then email or fax us a copy of the actual PO so we can release your order.
Holds
1. How many climbing holds should I get?
The standard of 1 to 1.5 holds per 2 square feet of climbing area unless you have children not yet in Kindergarten. 1 hold for every square foot of climbing area is what I recommend for the little tykes. I recommend this number because it is not the size of hold that poses the challenge but the distance from one hold to the next. Home and commercial gym bouldering walls almost always see a much higher concentration of holds.
2. What is the difference between a bolt on hold and a screw on hold?
A bolt on hold attaches with one 3/8-16 Allan head bolt which passes through the hold, into the wall surface which has an embedded 3/8-16 t-nut. A screw on hold attaches with 2 or more wood or concrete Tapcon screws.
3. Are the holds guaranteed?
We provide a lifetime Warranty on our holds. We use a high quality polyurethane resin with grade 8 washers that provides a great product. Atomik has an impressive less than 0.0001% warranty rate. Yes, 1 hold in every ten thousand for the past 5 years. In the event you do end up in this rare event, we will replace the broken hold with two. All we ask is for a digital photograph emailed to us so we can track how it happened.
4.What is the texture like?
Our texture feels like clean sandstone. Similar to 120 grit sandpaper. One of the differences between Atomik and other polyurethane climbing hold companies is that our proprietary process affords us to offer a rock-like texture and feel. The real benefit is that if you want a more skin-friendly texture, simply use a sanding sponge or paper and rub the hold. On my wall I leave all my slopers and small incuts as is. I like the texture. On big holds that see my whole hand on it with full body weight, I comfortize them. That way I can "hang on my skin" longer. It's a personal preference. Sleep easy knowing that you have choices with Atomik's product.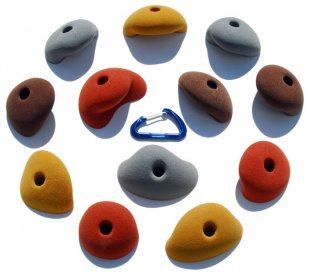 5.Are bolt ons better than screw ons?
In my opinion, yes. You can move them easily, loosen them slightly to rotate and the re-tighten with ease and you can tighten them down pretty much as hard as you want within reason. Screw ons have their virtues though. Since very little hardware is needed, the cost benefit certainly poses the question as to why not. Screw ons attach with a 3/16 x 1 3/4 long Tapcon screw. The pilot hole that is drilled using a hammer drill is 5/32 in diameter.
6. What color of holds should I buy?
Bright tones are best for children's walls.
Earth tones off a more mellow, outdoor feel to your wall.
Fluorescent tones certainly make a statement.
Wall Building
1. What pattern should I use for the t-nuts?
Staggered is best. That means if you stand your 4 x 8 sheet tall and measuring from the top left to the right, the first t-nut is 2 inches in and 4 inches down. You should have 6 t-nuts on that first row measuring to the right, spaced 8 inches apart with the last t-nut 6 inches from the right edge. The second row is 6 inches in and 12 inches down. This row will also have 6 t-nuts in the row and 8 inches apart. The last t-nuts will end up 2 inches from the right edge of the panel. Click here for an image and details T-nut Layout
2.Are the holds weather resistant?
Indoors our outdoors, Atomik holds stand the time of time. Mother Nature does have a nasty child called UV rays and that will fade all holds over time. Yes we can UV coat them but to be honest, all that does is slow the fading down. In our opinion, it's not worth charging you the extra money for the coating.
3.Can I mount climbing holds on drywall?
No, no, no. Drywall is not structural. Please do not think you can " hit the studs in the wall" and be safe. It is not.
You have 2 options.
Option #1is lay the sheets of 3/4 inch plywood directly against the drywall and attach it to the studs. We recommend only using screw on climbing holds for this method of attaching the plywood.
Option #2 is to lay 2 x 4s flat against the wall attaching them through the drywall and into the wall studs with at least 1 inch of thread from the screw you are using. The math is, 3/4 plywood + 1.5 inches ( 2 x 4 actually measures 1.5" x 3.5" ) + 1/2 drywall + 1 inch of addition thread = 3.75 inch long screw. Option #2 allows a bolt on or screw on hold to be used. The extra 1.5 inches that the 2 x 4 offers allows a bolt to pass through the hold, through the panel and t-nut and then into the space you created. Many think, "well why not just get exact bolt lengths?" In a perfect world, yes but the amount of thread that comes out the back of each hold varies.
Share this article
Related Posts