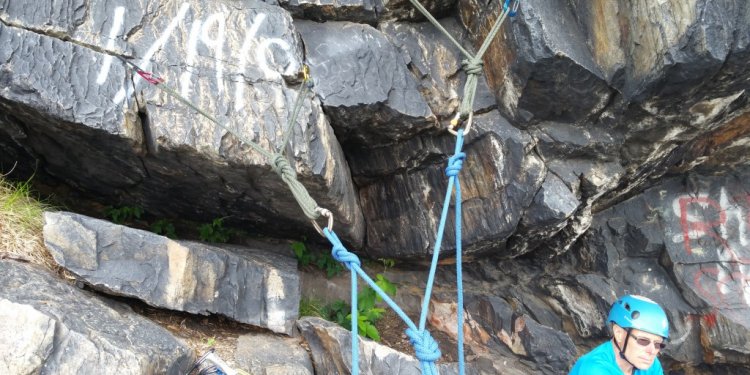 Top Rope climbing gear
The Top Rope Climbing Instructor course provides instructors and potential instructors with an in depth and standardized understanding of the skills essential to teaching climbing in an outdoor setting.
Like other PCIA courses, the course reinforces the importance of teaching technically accurate information and debunks many common climbing myths. Emphasis is put on refining core skills and improving the educational delivery of material. The thirty hour (three day) course builds upon the existing skills of competent recreational climbers and takes an in depth look at: site selection, equipment, knot selection, anchor construction, rope systems, Leave No Trace practices, rescue and assistance skills as well as key instructional skills. Most importantly, the course stresses blending these skills together to form a seamless and efficient climbing experience for participants. Upon the successful completion of all course components, participants are considered PCIA Assistant Instructors. Assistant Instructors may elect to take an optional certification exam to achieve the Top Rope Climbing Instructor™ Certification. The one-day examination stresses efficient site and gear utilization, client and instructor safety, site management and educational delivery. The exam may be taken any time after completing all course components. This course may be taken as a stand alone course or coupled together with the two-day Single Pitch Instructor Module.
Top Rope Climbing Instructor™ Course Pre-Requisites
Currently at least age 18.
Shows an adequate experience level to the course provider, illustrating that he/she is ready for the course. Examples include regular climbing for 2 – 3 years, a high intensity of climbing in the past few months, etc.
Has lead climbing experience (highly recommended but not required).
Is able to comfortably set up base managed climbs, belay, rappel without guidance and demonstrates detailed familiarity with anchoring principles, natural anchors and artificial anchors (wedges, hexes, passive and active cams). These skills may be assessed...
Share this article
Related Posts